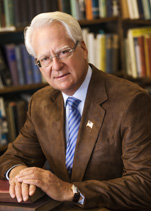 Larry Klayman
Herman Cain, Joe Paterno, and the pope

By
Larry Klayman
November 13, 2011
As we enter into the holidays, unfortunately tis not the season to be jolly. Instead, it's the season for sex scandal, hypocrisy and whoredom among establishment institutions.
First, Herman Cain, the likable black Republican presidential candidate, is ambushed by women, obviously put up to the task by political rivals, claiming, in one case, that he groped at an accuser's private parts over a decade ago. In response, Cain dissembles, his eyes shifting in early television interviews quicker than a worn out version of the wooden headed puppet Howdy Doody. While he may be totally innocent, his performance and inconsistent statements are so amateurish that he initially looks guilty and the scandal grows.
Then, predictably, one of the women, Sharon Bialek, finds her way — of course quite by "accident" — to my friend, celebrity lawyer Gloria Allred, who has made a career of representing ONLY women against men. If there were some humor to this, perhaps Jay Leno's late-night joke a while back that "the economy is so bad that Gloria Allred is now even representing men" might get a laugh or two. But while Gloria is a good person, even if I do not agree with her politics, she has gone way overboard with this one. Her client claims to have two affidavits that corroborate her story, but Allred does not release them. Instead, she disingenuously calls for her client and Cain to go under oath with testimony. This would prove nothing, as unfortunately, in today's day and age parties frequently lie. Just ask Bill Clinton in the Paula Jones affair many years back. He was one of the few liars who got caught!
The only answer is for all concerned to take polygraphs and to do so publicly. It's time to put up or shut up! And, the nation, which is on its knees and in crisis, can ill afford a protracted Monica Lewinsky-type sex scandal that preoccupies Rome as Rome burns to the ground. But none of the actors have thus far had the "guts" to take a polygraph, and the scandal continues day by day.
Whether or not Herman Cain sexually harassed women or not — and I do not know — the entire affair stinks to high heaven. Perhaps that's why Herman has not lost support in the Republican primary race for president. The people perceive that there is something rotten in Denmark, or should we say, in the establishment media and legal profession.
It's also truly sad that charges of sexual harassment and abuse are hurled around so lightly, years after the claimed fact. This says something about the moral compass of our society, where you can throw anything out and just hope that it will stick. And, there rarely are consequences to women who make false charges. They are the "weaker sex" — remember that! In the Bible, Adam, Samson and a host of other men certainly learned their lesson. Also, in modern-day terms, remember another attempted lynching of a black conservative, Justice Clarence Thomas, when he was nominated to the U.S. Supreme Court. Despite her story being discredited, there were no consequence for Anita Hill, the woman who also waited many years for her opening to try to character-assassinate Justice Thomas, and to this day continues to try to do so out of likely revenge.
Coming on the heels of the Cain sex scandal is the Penn State "massacre" of Joe Paterno, its venerable head football coach and all-time leader in career victories. It's hard to say, in Watergate vernacular, what Paterno knew and when he knew it. Certainly, the allegations, now committed to a grand jury indictment of Paterno's former assistant head coach, Jerry Sandusky, are serious. They entail Sandusky's allegedly having sex with children in the locker room and elsewhere. And, while Paterno did report the initial incident to Penn State University authorities, and minimally fulfilled his legal duties, did he leave Sandusky in place for a while so this trusted assistant head coach could help Paterno surpass all-time career wins in the history books?
Paterno and Penn State must have known more than they are saying, and for years. But now that the scandal has been exposed for all to see, Penn State's Board of Trustees, panicking that they, too, could be implicated, precipitously fired Paterno and the school's president, Graham Spanier, to "save their own skin." This was reminiscent of the my alma mater, Duke University, during the lacrosse scandal, where female black strippers accused the team of raping them at a party. The public prosecutor — who coincidentally was up for re-election — used the accusations for his own political advantage in predominantly black Durham, N.C. The university then reacted by condemning and expelling the players to again save the skin of Duke's hierarchy. Of course, these accusations later proved false, but the lives of the involved lacrosse players and their families were put through hell and forever tarnished in the public domain and elsewhere.
Whatever Paterno's involvement, he was head coach for 46 years. He first came to Penn State in 1950 and he has done much good for the university and his players. He was one of the few head coaches who cared about academics, and over 87 percent of his players actually graduated. To just throw him in the trash, without any hearing to determine "what he knew and when did he know it," more than humiliates the 85-year-old — it effectively reduces to ashes his entire career and will likely result in the now accelerated death of the octogenarian. The establishment always protects itself, though. Never mind giving Paterno due process; Penn State's brass seized the lifeboats of a sinking ship, figuratively throwing women and children overboard, to save themselves.
All of this contrasts with the Catholic Church and its current German pontiff, Pope Benedict XVI. They have historically held very few priests accountable for sex abuse of young boys. It is well documented and established that this pope and earlier popes and bishops simply covered it all up. Nor have public prosecutors pursued these sick priests to any real degree. Ironic it is, and certainly ungodly, that persons like Cain and Paterno, who may not be guilty of sex crimes, get "crucified," while deviant and perverted homosexual priests in the thousands worldwide have gotten off scot-free for their disgusting and heinous sex crimes against underage children. And, the Catholic Church, its pope and bishops — and public prosecutors — could seemingly care less!
Oh, what a world we live in! It's no wonder peoples all over the planet are beginning to wise up and wage revolution! Our establishment institutions have sold them out!
© Larry Klayman
---
The views expressed by RenewAmerica columnists are their own and do not necessarily reflect the position of RenewAmerica or its affiliates.
---