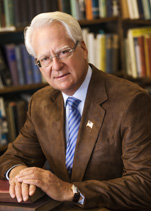 Larry Klayman
No joking: Obama must be indicted

By
Larry Klayman
May 6, 2012
At last Saturday's White House Correspondent's Dinner, the Washington, D.C. equivalent of the Academy Awards for Hollywood, President Barack Hussein Obama was feted by the leftist and overly-biased White House Correspondents' Association. Over 3000 journalists, politicians, Supreme Court justices, and other establishment "nobility" crowded in the banquet room of the Washington Hilton — ironically the hotel where one of our greatest presidents, Ronald Reagan, was shot — to pat themselves on the back for the "great job" they had done helping to destroy the nation, hear late night host Jimmy Kimmel jokes and cater to their fatness. Predictably, in honor of their hero Obama, Hollywood's leftist elite also showed up for the celebration; even "intellectual heavyweights" like Kim Kardashian, who perhaps came only for the publicity and to find and marry yet a new half-wit husband to boost her reality series.
While Kimmel is a lefty himself, much to his credit he had the good humor to take the "mullah in chief" apart with his tongue and cheek performance. In introducing the president Kimmel greeted him with the Muslim hello; "Mr. President, Salam." Then, referring to Hussein's eligibility to be president, he quipped that perhaps the reason a lot of people believe he was born in Kenya is that he is so thin that he resembles a Kenyan marathon runner. Kimmel even attacked Obama's perceived failure to push an even more leftist agenda, challenging him to "stick to his guns." For good measure, the comedian told his socialist pal that if he needed some guns, he could get them from his Attorney General Eric Holder.
Kimmel's humor was hilarious, but what is not funny is the sad and frightening reality behind his jokes. Even leftists like Kimmel — who perhaps not coincidentally looks Jewish — have come to see Obama as a Muslim who has sold out not just his principles but also his country and our ally Israel. And, Obama's reaction to Kimmel's jokes — betrayed by his forced smiles and feigned laughter — told the tale as well. It was a difficult evening for the "mullah in chief." But it was not as difficult as the dire situation the nation now finds itself in, thanks to Obama's overt efforts to destroy most of what our Founding Fathers risked their lives to create; a free country under God, that is the Judeo-Christian one.
So with the nation in dire straits and a Congress unwilling to impeach and convict Obama for his high crimes and misdemeanors, it turns again — as it did in 1776 — for "We the People" to get the job done and legally remove the so called sovereign from our lives. The Founders realized that yet another King George III could someday inhabit and rule over the land, and for that reason, seeking to avoid the bloodshed of another violent revolution(s), they gave to us the citizens grand jury to try before all hell would otherwise again break loose.
Two week ago, I wrote about the legal bases for and history of the citizens grand jury, and why it in principle is a viable weapon, as a last ditch measure short of revolution, to use against the political establishment elite and our Muslim and traitorous president. (
http://www.wnd.com/2012/04/time-to-indict-the-political-class/
). Today, I will spell out what I think some of the criminal charges in the initial indictment of the "mullah in chief" should comprise. I welcome your thoughts and suggestions as well and you may contact me at leklayman@yahoo.com.
First, there is the issue of Obama's eligibility to be president of the United States. While Republicans refuse to address his highness' "Kenyaness" as they are part of the establishment Washington, D.C. club, even the jokester Kimmel thought enough of Obama's likely non-citizen status to make fun of the "mullah in chief." It is clear to anyone with a brain that Obama was not only born in Kenya, but is also not a natural born citizen, that is having two parents who were U.S. citizens as is required by our Constitution. Obama has now had three and one half years to produce the original of his birth certificate, and has failed to do so. And, the computer-generated and doctored one he did produce is a fraud. So, let the citizens grand jury indict Obama for having defrauded the American people, notwithstanding our election laws. He is the "Kenyan Muslim president," not our president and he must be removed from office by being convicted of this crime and incarcerated in a prison where he can do no more further harm to the nation.
Second, the "mullah in chief" has orchestrated the release of national security information, revealing not only our most highly secret sources and methods of gathering intelligence about the Iranian nuclear bomb program, but also our war plans should Israel wage a preemptive strike to take out the Islamic nation's atomic weapons plants. (
http://www.wnd.com/2012/03/try-obama-for-treason/
). Just this week, I received letters from the Central Intelligence Agency (CIA) and National Security Agency (NSA), in response to my Freedom Of Information Act requests seeking to confirm that Obama had disclosed classified national security information. Of course the CIA and NSA did not mention Obama by name, but instead claimed a national security exemption to justify their refusal to release relevant documents showing the illegal disclosure, and who was involved. This confirmed that what Obama released was classified. He did this to undercut Israel and the United States from attacking his Muslim "brotherhood" in Iran. As I have previously written, I sincerely believe that Obama and his secretary of state Hillary Clinton are on the take, and that the mullahs in Tehran have bribed them — much as the Clintons were bribed by the Chinese during their administration — to sell out our nation and the western world. The "mullah in chief" must be indicted for treason and put away for good where the sun don't shine even in sunny Cuba, in a terrorist cell in Guantanamo with his fellow Muslims.
Third and Fourth, there are Obama's traitorous and illegal acts in filing a complaint against his own country before the U.N.'s Human Rights Commission over Arizona's new anti-illegal immigration law, SB 1070, and his obstruction of justice in the racially charged George Zimmerman case — where he used the Office of the Presidency to coerce the Florida prosecutor to indict Zimmerman to suit his political ends by shoring up his African American and leftist voter base in time for the 2012 presidential election. The acts are so outrageously criminal as to cry out for prosecution and significant prison time.
Yes, Kimmel's jokes were funny but also not a laughing matter when it comes to saving the nation. "We the People" must now, without fear, take it upon ourselves to enforce the principles upon which our great nation was founded. We cannot and must not be afraid to do what must be done to legally remove this traitor and criminal from office before it is too late to save the country and ourselves from this unholy Muslim Kenyan scourge.
© Larry Klayman
---
The views expressed by RenewAmerica columnists are their own and do not necessarily reflect the position of RenewAmerica or its affiliates.
---