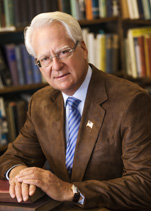 Larry Klayman
Islamic and North Korean genocidal aims

By
Larry Klayman
April 8, 2013
After months of begging by people of Judeo-Christian faith and bad publicity on Fox News and CNN, President Barack Hussein Obama, the nation's "
First Muslim President
," begrudgingly lifted his pinky finger to try to persuade Iran to at least give medical attention to seriously wounded American pastor Saeed Abedini, who was arrested, beaten and tortured in an Iranian prison for allegedly founding house churches for evangelical Christians.
As reported in last Friday's edition of USA Today
, "Since the election of President Mahmoud Ahmadinejad in 2005, authorities have cracked down on religious and spiritual movements that draw young people away from the Shiite faith, including evangelical Christians and Sufis, Bahai and self-help spiritual practitioners. ... The government feels threatened by these movements because it threatens their hold and grasp on the population." That is a gross understatement from this liberal national newspaper!
The persecution of Pastor Abedini, who remains in captivity dying in an Iranian prison, is just the tip of the iceberg when it comes to the vehement anti-Christian and anti-Semitic words and actions of the neo-Nazi Islamic Republic of Iran. In another article of last Friday, even the equally liberal Washington Post published a story by Michael Gerson in which he quotes racist statements and threats by the Iranian president and supreme leader, Ayatollah Ali Khamenei, toward Jews as well.
According to President Ahmadinejad, "Israel must be wiped off the map. Zionism is a germ of corruption. ... It is a cancer cell that must be removed from the body. ... The Zionist regime is heading toward annihilation. They should know that they are nearing the last days of their lives. Israel is destined for destruction and will soon disappear." As for Supreme Leader Khamenei, who reigns "supreme" over all other Iranian officials, Israel is a "cancerous tumor"; the perpetual subject of Iran "is the elimination of Israel from the region. ... There is only one solution to the Middle East problem, namely the annihilation and destruction of the Jewish state."
Gerson also quotes senior Iranian military leaders, presidential advisers and religious authorities stating that "Zionists are 'microbes' and 'bacteria' and a 'cancerous growth.' 'Jews are very filthy people,' who are responsible for spreading disease and drug abuse. There is a religious [Muslim] duty to 'fight the Jews and vanquish them so that the conditions for the advent of the Hidden Imam will be met.'"
In the face of all of this, over the last four years, President Obama, and his two pliant and corrupt secretaries of state, Hillary Clinton and now John Kerry, have been virtually silent in speaking out about the persecution of Christians and Jews in Iran and the Middle East in general. Given Obama's Muslim roots and predilections, this regrettably comes as no surprise; but its effects on American foreign policy and the persecution and planned genocide of Christians and Jews have been devastating. The evil Islamic mullahs in Tehran obviously see that Obama has given them a carte blanche to continue their mission to eventually wipe all Christians and Jews off the face of the earth, as they are "infidels" whose God challenges their god, Allah, and the "Hidden Imam" for supremacy.
This Islamic genocidal mission obviously is what lies behind Iran's near complete push to acquire nuclear weapons. Indeed, Ahmadinejad has promised a second Holocaust, and with little resistance from Obama and his administration – save for cosmetic and worthless economic sanctions that have been imposed on the regime – Iranians and their Muslim allies, like the terrorist groups Hamas, Hezbollah and the Muslim Brotherhood, now see this as an achievable reality. In short, they see "victory in sight."
By contrast, yesterday, in an American federal courtroom in Washington, D.C., I tried the case of two heroes of the Persian freedom movement: Akbar and Manouchehr Mohammadi. Akbar was the first student leader to call for the overthrow of this neo-Nazi Islamic Iranian regime, and his brother Manouchehr was his partner in organizing a student freedom movement that at one point looked like it might succeed in sparking a secular revolution to remove the mullahs. For their brave efforts, the two brothers were imprisoned, tried before a kangaroo Shariah court and sentenced to death. Akbar and Manouchehr were then tortured, Akbar later murdered brutally while in prison, but Manouchehr miraculously escaped after seven years of confinement. The entire Mohammadi family, including sisters Nasrin and Simin and other brother Reza, as well as their parents, have been forever emotionally and physically damaged as a result. Thus, the case against the supreme leader, president, Iranian Revolutionary Guard and the Iranian regime finally was heard,
and a decision is expected shortly for these crimes against humanity
.
While the Mohammadis have pressed for justice in the United States, where have our "fearless leaders" been? It is not just our "Muslim president" who has turned a blind eye to the genocidal racist designs of his Muslim "brothers" in Iran, but the Republican Party as well. This lack of concern by our establishment so-called leaders has not only left Christians and Jews literally hanging, but also sent a message that the United States no longer has the will to challenge Hitleresque despots globally.
And, to a large extent, this lack of resolve has given a green light not only to Islamic Iran to build nuclear weapons to carry out its planned Holocaust, but now to North Korea – not coincidentally the mullahs' ally – which also is seriously consider using its arsenal of atomic bombs to further the ultimate genocidal communist ends to annihilate and then acquire capitalist South Korea – their equivalent of Christians and Jews for the Iranian mullahs.
In short, for a variety of reasons, including Obama's Muslim sympathies and Republican lack of resolve if not cowardliness, the evil dictators of Iran and North Korea are on the verge of collectively turning the Western world into a powder keg.
This is yet another example of why "We the People" must now take control of our own fate before it is too late!
© Larry Klayman
---
The views expressed by RenewAmerica columnists are their own and do not necessarily reflect the position of RenewAmerica or its affiliates.
---