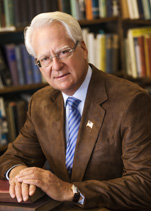 Larry Klayman
My rundown of GOP presidential candidates

By
Larry Klayman
February 3, 2015
I am currently in Washington, D.C., pursuing a number of cases and matters in the public interest. After an early morning meeting yesterday, and as I was returning to work on
the case I filed on behalf of Sheriff Joe Arpaio concerning the illegal executive orders that grant amnesty to over 5 million illegal aliens,
my taxi reached the corner on 14th Street and Constitution Avenue. I noticed a green street sign that renamed 14th Street "Ron Brown Way."
Brown was the Clinton administration secretary of commerce who was Hillary Clinton's bag man in the late 1990s, selling seats on trade missions to large campaign donors and secretly cutting under-the-table deals with the Communist Chinese for cash for the Clintons, his party and, of course, himself. Indeed,
I became well-known by exposing the Clinton-Brown corruption in a huge scandal which was coined "Chinagate."
This street-name tribute to major crook Ron Brown – who perhaps not coincidentally died in a fatal plane crash in Croatia just days before I was set to depose him
in the case that uncovered Chinagate
– was more than striking. It reminded me just how corrupt and non-representative of the American people Washington, D.C., has become. And this sentiment is not just tied to our current president and former commerce secretary but, with few exceptions, the political vermin that infests the nation's capital as a whole.
Witness the increasingly corrupt state of the nation, particularly under Obama and his leftist pro-Islamic minions in the executive branch – minions who continue to bash Israel, its prime minister and now its ambassador over acceptance of an invitation by House Speaker John Boehner for Benjamin Netanyahu to address Congress on the Iranian terrorist and nuclear threat at a time the administration is "fixing" to appease the mullahs in Tehran in the negotiations over Iran's nuclear program. Obama's term ends a long two years from now, but his successor may be someone equally as dangerous and destructive of our body politic.
On the Democratic side is the specter of Hillary Clinton, with her degenerate hubby at her side, the odds-on choice at this time to be our next commander in chief – her enjoying a huge lead in early polls against any Republican challenger. Hillary (who is more power and money hungry than ideological), will exploit her "womanhood" to divide the sexes and win election to the White House, much as Obama used the race card.
The Republican field of presidential contenders is crowded, but there are a few candidates who could help pull the nation out of its nose-dive and seek to unite the American people – a country, thanks to the likes of Obama and Hillary, that is terribly divided over race, religion and other polarizing issues. The following rundown is made in my personal capacity and not as the head of Freedom Watch. I am not endorsing any potential candidate at this time. But here is how I see the major Republican contenders for the presidency.
My first choice at this time would be former Arkansas Gov. Mike Huckabee, assuming he loses some weight so he can physically withstand the rigors and stress of being president. He not only has an excellent grasp of domestic and foreign policy, but he seems to be an honorable man who has principles. He is very pro-Israel and is not afraid to say so. In addition, he is a social conservative with the personality to reach out beyond people of faith, much like President Ronald Reagan.
My second choice, believe it or not, is Gov. Jeb Bush. I came to know Jeb in Miami, and I believe him to be a thoughtful man who, although he has wavered on immigration and education issues, is at heart a conservative. In fact, he once told me that he essentially lost his first bid for governor of Florida because he candidly answered an African-American woman's question at a town hall meeting asking him what he would "do special for a black and a woman," and he responded with "nothing."
I have similar feelings for other Republican hopefuls, such as Govs. Scott Walker of Wisconsin, John Kasich of Ohio and Rick Perry of Texas. But in my estimation, they may not have the gravitas and charisma it will take to defeat Hillary Clinton. Gov. Chris Christie is a bloated phony and a traitor to his own party, as demonstrated when he embraced Obama over Hurricane Sandy in the final days of the 2012 presidential elections.
Finally, there are Sens. Marco Rubio of Florida and Ted Cruz of Texas. Rubio is smart, articulate and a converted conservative, but he is an opportunist and somewhat insincere. Just yesterday, he missed a Senate vote on the Keystone Pipeline because he preferred fundraising for his campaign in Beverly Hills. I like Cruz, but like Rubio he is not a natural born citizen, even eligible to run for the presidency under Article II of our Constitution. As for Rand Paul, his Napoleonic style and Obama-like arrogance do not impress me.
The bottom line is this: Whoever can defeat Hillary Clinton will be a hero in my next book. The country cannot afford two more years of rule by a socialist Muslim followed by another ruthless, hardened criminal. It could be our death knell. But whoever becomes our next president will have to answer to We the People, and in the end, we must wage the next revolution by ourselves and on our terms.
© Larry Klayman
---
The views expressed by RenewAmerica columnists are their own and do not necessarily reflect the position of RenewAmerica or its affiliates.
---