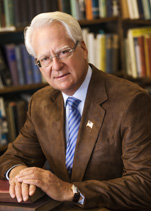 Larry Klayman
3 GOP presidential-candidate stooges

By
Larry Klayman
December 8, 2015
When I was a young boy, I religiously watched on television "The Three Stooges." At the time, the nation was on its way up, and slapstick comedy did not take on the sad significance that it does today when viewed in the context of establishment so-called leaders in and out of government. Moe, Larry and Curly's zany antics, ranging from eye gouges to other forms of crazy assaults, were simply funny, as even young children, at that time in our nation's social history, could never imagine that these theatrical routines would ever actually be committed on others.
But in today's political world, the slapstick and other behavior of the original Three Stooges, when applied especially to three of our current Republican presidential candidates – Marco (Rubio), Jeb (Bush) and Chris (Christie), the modern-day Moe, Larry and Curly – are no longer funny, but instead carry real-world consequences and damage to the populace. These Republican presidential hopeful stooges are attempting to again gouge and invade the privacy of millions of Americans with their opportunistic and cheap political claims and aspirations, in the wake of the tragic Paris and San Bernardino terrorist attacks, advocating that the now legally adjudicated, unconstitutional wholesale NSA telephonic spying on all citizens, which ranges in the hundreds of millions of Americans, is again required to prevent terrorism.
Here is what a leading conservative publication, which preaches true not perverted conservatism, has to say about these claims.
"Despite President Barack Hussein Obama's fervent hope that Syed Rizwan Farook and his wife, Tashfeen Malik, were engaging in nothing more than 'workplace violence' in San Bernardino on Wednesday, the attacks have been looking increasingly like an act of radical Islamic terror. Law enforcement officials told CNN on Thursday that Farook had been in touch with individuals under investigation by the FBI for ties to international terrorism.
Nice to see that NSA spying program has proven so effective
. ... Nonetheless, Farook had spoken by telephone and over social media with 'more than one' individual currently under investigation for terrorism by the FBI, and was known to have 'overseas communications and associations. ...' Obama can pretend all day long that these two pipe bomb manufacturing individuals were disgruntled employees, but the rest of American knows the truth." (The Conservative Tribune)
For the last few years, Freedom Watch and I have been litigating the constitutionality of the NSA mass surveillance on hundreds of millions of Americans under the illegal government pretext that this was required, even without probable cause, to prevent terrorism. However, a courageous Republican-appointed judge and, unlike the three stooges, a true conservative, the Honorable Richard J. Leon, on two historic occasions found that this invasion of the privacy of you and your loved ones was almost Orwellian, exemplary of a police state run by dictators. Judge Leon most recently again ruled on Nov. 9, 2015, that:
"As to the merits of plaintiffs' claims, I found it significantly likely that plaintiffs would be able to prove that the Program violated their reasonable expectation of privacy and therefore was a Fourth Amendment Search.
Id
. at 30-37. I held, moreover, that the Program likely failed to meet the Fourth Amendment's reasonableness requirement because the substantial intrusion occasioned by the Program far outweighed any contribution to national security.
Id
. at 37-42. Because the loss of constitutional freedoms is an 'irreparable injury' of the highest order, and relief to two of the named plaintiffs would not undermine national security interests, I found that a preliminary injunction was not merely warranted – it was
required. Id
. at 42-43."
He further found that the NSA and its lackeys at the Obama Justice Department had failed to cite one instance in the two years where this unconstitutional mass surveillance had prevented one terrorist attack.
"To date, [Appellants] ha[ve] still not cited a single instance in which telephony metadata analysis actually stopped an imminent attack, or otherwise aided the [Appellants] in achieving any time-sensitive objective."
See Klayman et al. v. Obama, (13-cv-00851) (Leon Order of Nov. 9, 2015).
Indeed, in the wake of the recent Muslim terrorist attacks in San Bernardino, it was again revealed, as was true of the terrorist attacks at the Boston Marathon and in Paris, that the NSA's massive spying had failed again to pick up the communications of these Muslim savages allowing the FBI and French authorities to head off the tragedies. Importantly, it has also been revealed in recent days that the FBI had previously questioned fellow terrorists of the perpetrators of the Boston Marathon bombings and the terrorist assaults in San Bernardino, but dropped the investigations likely due to insufficient resources at the agency. It is now established fact that the FBI, now run by the independent minded and ethical Director James Comey, has too few agents to do its job to protect the nation from Muslim and other terrorist attacks.
Despite the findings of Judge Leon and the obvious inadequacy of FBI resources, which has far fewer agents than Obama's Internal Revenue Service, the current three stooges, Marco, Jeb and Chris, are attempting to capitalize on the panic caused by Paris and San Bernardino by advocating that the NSA, which has been forced – thanks to our legal efforts – to stop its wholesale collection of and access to the telephonic communications on you and your loved ones, again be empowered, through what would be an illegal act of congressional legislation, to reauthorize Orwellian unconstitutional mass surveillance on the entire citizenry. The reason for this: All three stooges, Marco, Jeb and Chris, are doing poorly in the Republican presidential polls and are losing badly to leading candidate Donald Trump. As a result, they need to play on panic and fear to try to boost their voter standing.
These cheap slapstick antics of the new three stooges underscore why not one of them is likely to win the Republican nomination – for true conservatives do not use panic and fear to opportunistically get votes at the expense of our Constitution and Bill of Rights. These fear tactics are historically used by dictators such as the Castro brothers, who the most hypocritical and least funny of the three stooges, Marco, conveniently claims to detest from his family's experience in Cuba. The Castro brothers have used and justified mass surveillance and fear mongering about the intentions of the United States to wage "terrorist attacks" on the Cuban people for going on 50 years to convince their citizenry that their tyranny is justified and necessary.
Marco, Jeb and Chris, your cheap antics are little better than those used by dictators throughout world history. Rather than advocating unconstitutional mass surveillance, use real influence to have more money appropriated to Director Comey and the FBI so we have enough agents to protect the homeland.
© Larry Klayman
---
The views expressed by RenewAmerica columnists are their own and do not necessarily reflect the position of RenewAmerica or its affiliates.
---