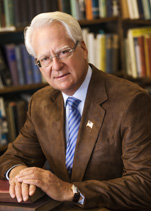 Larry Klayman
The Senate club: the Comey travesty!

By
Larry Klayman
June 12, 2017
When in 2003-2004 I ran as a "True Republican" for the U.S. Senate in Florida – the seat now ironically occupied by Marco Rubio, a member of the Senate Intelligence Committee which just held a sham hearing with its "star witness," former FBI Director James Comey, I told the voters that I was "not interested in becoming a member of the Senate Club, rather I wanted to take a club to the Senate."
Having left Judicial Watch in 2003 with this in mind, I believed at the time that becoming a Trojan Horse, and taking the concept of the legal baby I conceived of, created and nurtured for nearly ten years, inside of this falsely labeled venerable body, was the way to go at that point in my career. However, less than a year later, after I lost my Senate bid, I realized that nothing short of a nuclear blast could wipe out the inherent corruption in the upper chamber, and that it would be best to again don my "cape and sword" and form Freedom Watch, the public interest watchdog which investigates and prosecutes government corruption and abuse. Indeed, the organization which I left behind – Judicial Watch – now presided over by a non-lawyer president, Tom Fitton, does mostly Freedom of Information Act cases, not the hard hitting litigation I perfected at my former organization. That is why its current leadership conveniently changed its mission to focusing on "government transparency" and not continuing as the "People's Justice Department" after I left.
While transparency is good, and it is noble to pry documents out of the vaults of government, simply filing cases to get records and then going on television or radio to boast of the discovery is not enough. What is needed, I realized, was the continuation of hard hitting lawsuits that would get justice, assuming from time to time a rare non-political and honest jurist could be found, and a neutral jury picked, to mete it out.
Indeed, as a former prosecutor of the U.S. Department of Justice, and a trial lawyer of 40 years, that is what I have been again been doing at Freedom Watch. To this end, in 2013 and 2014, I scored perhaps the biggest victories in the history of government litigation when I obtained two preliminary injunctions against President Obama and the National Security Agency (NSA) for its illegal mass surveillance on the American people. This victory caused Congress to enact the USA Freedom Act, which was to prevent the widespread and patently illegal wholesale collection by the intelligence agencies of telephonic metadata, without probable cause under our Fourth Amendment, of the populace. The judge, Richard J. Leon, called this "Orwellian," that is reminiscent of George Orwell's "Big Brother" in his prophetic book "1984."
But as we have learned in just the last several months, Obama and his NSA, along with the CIA, and most egregiously our own law enforcement investigatory body at the FBI under the direction of James Comey, did not respect the decisions of judge Leon in my historic case, and certainly not even Congress's new USA Freedom Act. As revealed by a number of sources, including Circa News, the FBI and the so called spy agencies have not only illegally surveilled President Trump and his staff, both before and after the presidential election, they continue to criminally violate the privacy rights of millions of Americans.
Because of this, over the last several months in particular I personally went door to door on Capitol Hill to press both the Senate and House Intelligence Committees to interview my whistleblower client Dennis Montgomery, an NSA/CIA contractor who has in his possession 47 hard drives and over 600,000,000 pages of information, much of which was classified, proving that Obama, the FBI under both Comey and before him now Special Counsel Robert Mueller, who preceded Comey as FBI director, had criminally violated the privacy rights the chief justice and other justices of the Supreme Court, 156 judges, Donald Trump and other prominent Americans such as yours truly. With the aid of another honest federal judge, Royce C. Lamberth, I had previously taken Montgomery to Comey at the FBI, obtained for him immunity to turn over the hard drives and testify, and was assured by the FBI general counsel, James Baker, that Comey himself would supervise the criminal investigation.
At the time, I believed, based on what I had been told, that Comey was an honest public servant based on his reputation as Deputy Attorney General under President George W. Bush. But, after two years of waiting for the FBI to conclude its criminal investigation of the illegal and unconstitutional surveillance that Montgomery had come forward with as a government whistleblower, and being repeatedly brushed off by Comey's general counsel when I made inquiry as to the status of the investigation, I logically came to the conclusion, particularly after it was revealed that the FBI was a participant with the NSA and CIA in the illegal spying, that we had been fraudulently induced to turn Montgomery's hard drives over to the agency. In short, Comey and his general counsel at the FBI were happy to have Montgomery disgorge evidence of their own illegal conduct, and that of its co-conspirators at the NSA and CIA. so it could be buried or destroyed.
And, that is why I lobbied the Senate and House Intelligence Committees to bring Montgomery in from the cold and subpoena the incriminating materials which he had turned over to Comey and his FBI. But perhaps as might be expected, these committees, run by Republican Richard Burr of North Carolina and Ranking Democrat Minority Member Mark Warner of the Senate Intelligence Committee, and Republican Chairman Devin Nunes and Ranking Democrat Minority Member Adam Schiff of the House Intelligence Committee, turned a blind eye. It is now clear that they either already knew of these crimes and chose to look the other way to protect their "clients" in the intelligence community, or where afraid to turn over proverbial rocks for fear that Comey, the FBI, NSA and CIA would reveal sordid details about their personal and professional lives.
As a result, I again had to take justice into the people's own hands, and filed another hard-hitting lawsuit, this time making Comey himself the focus of the illegal criminal surveillance. The complaint, which can be found at
www.freedomwatchusa.org
, also joins the heads of the intelligence agencies, and sues them personally for their crimes. Its purpose is also to put my co-plaintiff, Montgomery, squarely before judge Leon, so he can do the job the congressional intelligence committees, will not do.
The moral to this story; the dog and pony show starring the corrupt James Comey of last Thursday, was simply a travesty, or what Woody Allen would call a "sham of a sham of a sham." But this, after all, was to be expected from the establishment Democrat and Republican Senate Club.
© Larry Klayman
---
The views expressed by RenewAmerica columnists are their own and do not necessarily reflect the position of RenewAmerica or its affiliates.
---