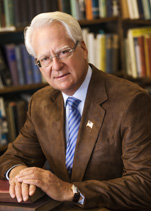 Larry Klayman
Left vilifies Trump as world burns

Larry Klayman sees double standard in how Obama was covered on race

By
Larry Klayman
August 21, 2017
Ironically, having lived through the Clinton White House years as the founder, chairman and general counsel of Judicial Watch, which I conceived of at the time to be the People's Justice Department (
Freedom Watch now occupies that mantle
), I always said that the media's focus on the Monica Lewinsky scandal, which I never thought that important given the 40-plus other Clinton scandals, allowed Osama bin Laden to plot the September 11 terror attacks as the nation was titillated with an intern and a low-class president. My tag line at the time, was that while Slick Willy was having sex with Monica, it was the nation that was about to get screwed. This same dangerous phenomenon is sadly true today, as the media and the political establishment of both parties have not learned their lesson – at the continuing expense of the American people.
The tragic events in Barcelona, Spain, Thursday, where scores of people were attacked by radical Islamist terrorists, underscore why our nation cannot afford to be diverted with leftist-generated bogus investigations of so-called Russian collusion and obsessed with whipped up racial clashes over Civil War statues – spawned and ginned up by the last eight years of racist words and actions of former President Obama and his equally destructive attorneys general. These latent white haters, with all of their support for Black Lives Matter, Al Sharpton, the New Black Panthers Party and Louis Farrakhan and his evil Nation of Islam, regrettably served as a recruiting tool for white nationalists, Neo-Nazis and the Ku Klux Klan. Ironically, these evil white groups are simply the flip side of these equally evil black nationalist white haters who masquerade as persons and groups seeking racial equality.
My brave African-American client and good friend Dr. Demetrick Pennie, a Dallas police sergeant who was assaulted in the Dallas police massacre over a year ago and for whom I have brought a lawsuit, can teach you better than anyone about these radical black separatists. Indeed, Demetrick earned a Ph.D. in this field of study. And, sure enough, true to predictions, after I filed suit on his behalf for the assault and murder perpetrated by a disciple of Louis Farrakhan, Demetrick was threatened with death, being pummeled with racial epithets by these hateful black separatists, much as one might expect from the Klan.
It is telling and instructive that just days before a Farrakhan black Muslim separatist henchman went on a killing spree in Dallas, this world-class hater of whites and cops was calling for their deaths publicly. This video speaks loud and clear:
Rather than denouncing this anti-white, anti-cop call to death and general hatred, what did our then-president do and say: you guessed it, nothing! Nor did the "racially sensitive" Eric Holder or Loretta Lynch, his past and then current attorneys general. This virtual silence toward bigotry toward whites and cops, as well as police of any color, was the modus operandi of the Obama administration. While the president was out politically whipping up racial division to further his political and otherwise bigoted interests, he and his comrades could not have cared less about anyone else who was not of his shade.
And that is why all the vitriol and bloodletting by the leftist media and politicians against President Trump for supposedly not commenting in a stronger way about the hateful acts of white supremacists, Neo-Nazis and the Klan after the tragic Charlottesville riots are not only hypocritical but simply dishonest. This drumbeat of attacks, only interrupted last Thursday by the terrorist attack in Barcelona, is designed to finally bring down Donald J. Trump and his presidency.
Where were similar attacks on President Obama and his attorneys general under similar tragic circumstances? They, unlike President Trump, were guilty of whipping up racial divide during their administration, as they also witnessed the equally hateful incitement to violence of Farrakhan, black extortionists like Sharpton and black separatists. These haters not coincidentally had a free visitor pass to the Obama White House.
Yes, President Trump was right to prudently call it evil on both sides before all facts were known, and later single out the white separatists, Neo-Nazis and the Klan when the dust cleared at Charlottesville. He was also right to later call out the sham excuse to sow more racial divide by continuing a contrived fight over Civil War statues. Notwithstanding their historical importance, and I understand this as an "adopted Southerner" myself, having spent most of my adult life in Dixie, this "theatre of the absurd" feud is simply a diversionary tactic and smokescreen. Until now, few people, African-Americans included, paid any attention to these statues. Just in the last few days, for instance, the senile House Minority Leader Nancy Pelosi claims to have experienced an epiphany that, low and behold, there are statues of Civil War Confederacy heroes lurking in the Capitol Rotunda. Not wasting a cheap opportunistic beat, she called for them to be removed!
But its not just the left and its enablers in the media and the Democratic Party establishment who are fomenting more racial divide and undoubtedly more violence, but establishment Republicans as well – who with the likes of Sen. Lindsey Graham have taken this as an opportunity to try to drive him from office. They covet running their establishment presidential candidate in 2020.
While this nation is being pulled apart at the seams over politically motivated Russian collusion investigations, shedding "crocodile tears" and feigning a nervous breakdown over whether President Trump expressed himself clearly enough in condemning white nationalists post-Charlottesville, let us not forget that the previous president and his followers – haters of whites and police, like Black Lives Matter, many of whom were also present at Charlottesville and incited and engaged in violence there – had been silent during the Obama years when whites and cops were harmed and killed.
And, while the cowards of the Republican establishment joined in the hateful chorus against President Trump, including many who pretend to be conservative cable news commentators, like Shepard Smith – all of whom are petrified of also being called white racists if they do not throw their lot in with the left – the nation is being dangerously diverted from focusing on the real threat of more terrorism on our shores, as just occurred in Barcelona. There are also the looming nuclear showdowns with North Korea and its equally evil partner, Iran, as well as other dangerous foreign threats.
Yes, the phenomenon of the nation being fatally distracted during the Monica Lewinsky scandal of the Clinton years is "alive" and well. But, the real threat is that if this is not put to rest soon, we all might wind up "dead." Just ask the thousands of good souls who died on Sept. 11, 2001.
© Larry Klayman
---
The views expressed by RenewAmerica columnists are their own and do not necessarily reflect the position of RenewAmerica or its affiliates.
---