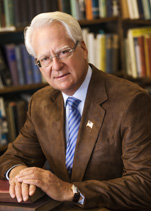 Larry Klayman
I take action when swamp lawyers won't

Larry Klayman on problem of 'Deep State' Justice Dept. Obama loyalists

By
Larry Klayman
September 13, 2017
The nation is on the brink of a catastrophic nuclear attack, if not holocaust, by a violent communist regime in North Korea, run by a lunatic and overstuffed child dictator who has been enabled by decades of neglect and inaction by Bill Clinton, George W. Bush and Barack Hussein Obama. All of them allowed this maniacal despot, who along with his father played them like the "Three Presidential Stooges," to develop atomic weapons that now can be launched on ICBMs to destroy Los Angeles, other West Coast cities, and possibly your hometown!
What makes matters even worse is that our so-called leaders – who instead of paying attention to North Korea spent their time in the nation's capital stuffing money into their slimy pockets from dishonest lobbyists – have covered up and lied to us about the now-cancerous threat from communist North Korean and Islamic Iran, which now also has atomic capability – as these two terrorist states work together and are bent on destroying "the Great Satan" – meaning our beloved country!
Ask yourself: Why is it that we the American people have just learned about this nuclear threat and increasingly possible doomsday? The answer is simple: This nightmare has been hidden from us by corrupt politicians who wanted to be re-elected, and not just our three former presidents. Where was that blowhard Sen. John McCain, a Republican and a hateful man who never saw a war he did not like?! Or his equivalent, Sen. Mark Warner, a Democrat and equal political hack who sits as the ranking member of the Senate Intelligence Committee? Warner spends his time with his buddy, Republican Chairman Richard Burr, trying to destroy President Donald Trump with their bogus Russia investigation!
The moral to this lethal story, which can cost you and your loved ones your lives, is simple. Both establishment political parties are corrupt to the core, and they are bent on destroying the one president who gives them the middle finger when it comes to their sleaze. President Trump is not perfect, but he at least knows what he is dealing with and does what he thinks is right.
Since the problem is not President Trump – but the corrupt and greedy Democrats and Republicans who want to destroy him so they can successfully run their establishment candidate for president in 2020 to get the "green light" to again crank up their "money train" – it's clear that The Donald needs Freedom Watch's strong legal support and expertise. God knows, he does not have that legal support from our neutered attorney general, Jeff Sessions, a man who has put his head in the sand and is afraid to take down much less take on the holdover Deep State of Obama, the Clintons, and the rest of hordes of lying politicized lawyers who still infest my alma mater, the U.S. Department of Justice.
Statistics show that over 97 percent of the lawyers at Justice either voted for or donated money to the Hillary Clinton and Obama presidential campaigns. Notwithstanding that Sessions is inert – he refuses to investigate and prosecute Hillary Clinton over her email scandal and bribery schemes and Obama over his criminal use of the intelligence agencies to leak classified and privileged information to destroy Trump and other adversaries – the lawyers in the Department are not loyal to him. In fact, they work against him and our interests.
Sessions has become a chameleon to these Deep State Justice Department Obama and Clinton loyalists, because he himself is under criminal investigation for alleged collusion with Russia. And, although he has unfairly been labeled a racist, the attorney general, I am sorry to say, goes into a defensive crouch to try to deflect these false charges from the left. In short, Sessions is no legal lion, but instead a timid mouse who has put his own political survival ahead of the nation.
And that is why, to fill this void, Freedom Watch and I are ramping up to take down the Democratic and Republican swamp creatures in Washington, D.C. – all of them! And it is why we continue to prosecute our cases against the Clintons, Obama, and other criminals. In this regard, we are pursuing Hillary for her traitorous actions at Benghazi, which resulted in the death of Ty Woods and Sean Smith, the sons of our clients, Charles Woods and Patricia Smith.
And, we are suing former FBI Director James Comey, who has obstructed justice by letting Hillary off the hook and then buried an FBI investigation triggered by our brave whistleblower client Dennis Montgomery over mass unconstitutional surveillance of Supreme Court justices, 156 judges, Trump and his family and associates, and even me – notwithstanding hundreds of millions of Americans.
We are also prosecuting Black Lives Matter, Louis Farrakhan of the Nation of Islam, Al Sharpton and other black racists for the murder of police in Dallas, Texas. And, we have just recently filed suit against the University of California at Berkeley and antifa, that ultra-leftist fascist movement financed by the billionaire former Nazi collaborator, George Soros, for their violent attack on a young woman who just wanted to hear a Breitbart columnist speak.
I am also representing Cliven Bundy in my private capacity. His criminal trial will soon commence in Nevada on Oct. 10, 2017. That valiant rancher, along with peaceful but armed protesters exercising their First and Second Amendment rights, successfully stood down Obama government goons who violently attacked his family, killed his cattle and tried to take their land away from them.
I am your Special Prosecutor, not the corrupt charlatan Robert Mueller, who is bent on destroying President Trump on behalf of his good friend James Comey and his fellow swamp creatures. He is another one Freedom Watch and I are taking on, for his unethical conflicts of interest and his having illegally leaked grand jury confidential information to harm Trump. Just this week we filed a complaint with the Office of Professional Responsibility and the Inspector General of the Justice Department, seeking to have Mueller removed as special counsel, and then prosecuted for his crimes.
The Freedom Watch beat goes on to cleanse the cesspool of Washington, D.C., of these bipartisan political vermin before their unhealthy toxic contagious filth destroys our body politic once and for all.
Go to
www.freedomwatchusa.org
to see more and also sign up to listen to my weekly radio broadcast, "Special Prosecutor with Larry Klayman," on Radio America, to keep abreast of our hard-hitting actions to save the republic and the Trump presidency. We have well over 35 dynamite cases, and that is why we need you at our side.
© Larry Klayman
---
The views expressed by RenewAmerica columnists are their own and do not necessarily reflect the position of RenewAmerica or its affiliates.
---