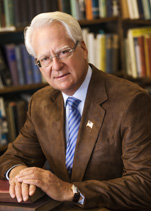 Larry Klayman
Help me take down our dual system of justice!

By
Larry Klayman
October 14, 2017
With revelations this week that Hollywood mogul and producer Harvey Weinstein is a mass sexual harasser – one who has never been prosecuted for sex crimes – this not only confirms the sleazy nature of the Hollywood left, who covered up for Weinstein for decades, feeding at his despicable trough of cash and celebrity, but also the justice system as a whole. For me, the founder of both Judicial Watch and now Freedom Watch (see
www.freedomwatchusa.org)
, this came as no surprise, but for many ordinary people it stands as yet another chink in the burgeoning side of eye-opening revelations that Gotham City is headed for a crash.
Over the years leading up to my having founded Judicial Watch in 1994, I witnessed, even as a prosecutor and defense trial attorney for the U.S. Department of Justice, the corrupt partisanship of our justice system. As just one example, detailed in my autobiography "Whores: Why and How I Came to Fight the Establishment!", I saw my section chief and higher ups at Justice deep-six a criminal prosecution of a textile factory owner in Greensboro, North Carolina, who had manufactured carcinogenic children's sleepwear only to have it seized by court order. In defiance of this court order, which would have led to the destruction of this harmful product, outlawed by the Consumer Product Safety Commission, the putative criminal defendant, Andy Troxler, broke bond and sent the harmful children's sleepwear to Venezuela, not caring that kids there could get cancer.
Troxler ultimately escaped personal criminal prosecution because he was friends with the U.S. Attorney in Greensboro who would have put forth the charges on our section's behalf. Instead, my assistant chief, John Fleder and I – on directions and orders from the higher ups at Justice – were relegated to prosecuting only Troxler's bankrupt company, which of course accomplished nothing, as it's impossible, obviously, to send a corporation to prison, nor collect criminal contempt fines when it is in bankruptcy. Our prosecution was an exercise in futility and despite John's efforts to get the higher ups at Justice to grant the go-ahead to indict, convict and throw Andy Troxler in the slammer, we failed due to the business owner's political connections.
The Troxler travesty factored into my decision to ultimately create a Justice Department for the people, one free of politics and outside influence. And so Judicial Watch was born. Later, after I left Judicial Watch to run for the U.S. Senate in Florida in 2003, having not won, I later founded Freedom Watch to carry on where I had left off. Today Freedom Watch does what Judicial Watch used to do when I ran it – that is, not just file Freedom of Information Act cases to uncover government documents, but also to file and prosecute hard-hitting cases – such as our current case against former President Barack Obama, former FBI Director James Comey, former Director of National Intelligence James Clapper, former CIA Director John Brennan, the National Security Agency (NSA), the Central Intelligence Agency (CIA), and others over mass illegal and unconstitutional spying on millions of Americans. We also have ongoing cases against Black Lives Matter, Al Sharpton, Louis Farrakhan, Antifa and other leftist counter-revolutionaries for inciting violence and carrying out mayhem and inflicting physical harm. In addition, at Freedom Watch I have sued the University of California at Berkeley for facilitating this violence and chilling our God-given rights to free speech.
Then there is our seminal case, on behalf of the parents of heroes Sean Smith and Ty Woods, who were murdered by Islamic terrorists with Ambassador Chris Stevens at Benghazi, thanks to Hillary Clinton's negligent, at best, use of a private email server while she was Secretary of State. The confirmed hacking of this server revealed their location and coordinates. Hillary has thus been sued for wrongful death and another related cause of action, such as publishing false accounts about the cause of the attack and then calling my clients Patricia Woods and Charles Smith liars when they revealed the falsehoods the Wicked Witch of the Left had told them. Hillary, to further her now failed presidential ambitions, defamed the parents of "Gold Star" parents, showed a characteristic ruthlessness and lack of class. But what's new?
These and other strong, complex and costly legal cases, which go far beyond just prying documents out of the government, are what separates Freedom Watch from other public interest groups. Obtaining documents from the government is nice, but what is needed today is cold hard justice and this is no easy task.
To give you just a few examples why we need a private justice department such as Freedom Watch, just take note of all those "criminals" who have escaped justice at the hands of the establishment-run and corrupted Justice Department in the last many years. To name just a few, not just Bill and Hillary Clinton have skated at the hands of government prosecutors, and of course now Harvey Weinstein and his leftist Hollywood enablers, but also Barack Obama, James Clapper, John Brennan, James Comey, Eric Holder, Loretta Lynch, Harry Reid, Lois Lerner, Al Sharpton, Louis Farrakhan and his Nation of Islam, Black Lives Matter, the New Black Panthers Party, George Soros, Antifa, Special Counsel Robert Mueller for his leaks of grand jury information to destroy President Donald Trump (also a former FBI Director like the equally corrupt James Comey), and scores of others who have the financial and political juice or successfully play the race card to keep themselves out of jail.
To the contrary, patriots like the Nevada rancher Cliven Bundy, who stood up to government tyranny perpetrated by Obama, Lynch and Reid, are prosecuted. I personally am currently involved in defending Cliven in his criminal prosecution which will begin shortly in a Las Vegas federal courtroom before a judge hand-picked by Obama and Reid. See
Clivenbundydefensefund.org
.
The bottom line is this, friends and supporters. Either We the People, though fearless advocates like Freedom Watch, rise up and mete out justice peacefully and legally, or this nation is about to self destruct. And, that is why I implore you to join and contribute to our cause. Not just Uncle Sam needs you, but so too do we on behalf of our great nation. Our Founding Fathers would have expected no less to preserve the great country that they pledged their honor, wagered their fortunes, risked their lives to create. Go to
www.freedomwatchusa.org
to join and contribute to our cause.
© Larry Klayman
---
The views expressed by RenewAmerica columnists are their own and do not necessarily reflect the position of RenewAmerica or its affiliates.
---