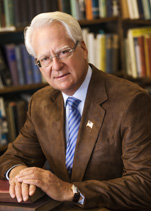 Larry Klayman
Ilhan Omar? Yes, 'send her back!'

Larry Klayman takes legal action seeking woman's prosecution, deportation

By
Larry Klayman
July 23, 2019
I am a constitutionalist and believe in equal justice, even for rabid anti-Semites and Jew and Israel haters, meaning the low-class Rep. Rashida Tlaib and the rest of her so-called "Squad," whose ringleader is the out-of-control, narcissistic and "Looney Tunes" socialist Rep. Alexandria Ocasio-Cortez, aka AOC. But when there is apparent criminality afoot, such is the case with Rep. Ilhan Omar, our legal system must take action and not be put on defense by false charges of racism.
It no longer can be a question of political correctness or fear of being branded a racist because Omar is a so-called woman of color. Who cares what color she is, be it red, green or yellow! The hard fact is that this radical Muslim not only cavorts with terrorist-connected groups like the Council on American Islamic Relations (CAIR) – which was named a terrorist co-conspirator by the U.S. Department of Justice years ago in a federal criminal prosecution of the Holy Land Foundation in Dallas, Texas, during the administration of George W. Bush – she has also apparently committed immigration and tax fraud, to name just a few of her alleged felonious acts.
In this regard, months ago Freedom Watch, the public interest watchdog I founded, filed an administrative complaint with the U.S. Department of Homeland Security, asking for a fair investigation and, if the allegations of immigration fraud proved to be true (see links below), then, after a full evidentiary hearing, her referral for prosecution and later deportation from the United States. Among a number of crimes, Omar is alleged to have married her own brother to defraud federal immigration authorities. Later, alleged charges of tax and other fraud have arisen. Just yesterday, proof has surfaced that she even used the family name of another Omar family to obtain U.S. citizenship. These are not minor matters that can or should be overlooked simply for fear of being falsely accused of being a racist.
In today's pathetic leftist-dominated media world, anyone who challenges anyone of color is deemed a racist – that is unless that color happens to be white. In that case, one is automatically assumed to be racist and then smeared as a "white supremacist," whatever that term really means.
And, so it was that when President Donald J. Trump exposed Omar for what she is earlier this week – a vile and repugnant radical anti-Semite who hates the United States and its most cherished ally, Israel, the home of Moses and Jesus – he was vilified to the point of an aborted vote of impeachment in the Nancy Pelosi controlled House of Representatives.
Believe me, this story is not over. After Special Counsel Robert Mueller testifies before the Democratic jackals of the House Judiciary Committee next week, with the likes of Chairman Jerrold Nadler at the helm, beefed up articles of impeachment will be up for a new vote, and this time they will probably succeed, as the Democrats control the lower chamber.
It is thus no wonder that during a political campaign rally in North Carolina this week, peaceful assemblers who came to greet The Donald chanted, in reference to Omar, "Send Her Back!" Indeed, if the charges of immigration and tax fraud prove to be true – and thanks to the hard investigative research and reporting of my brave client Laura Loomer, they most likely will be – yes indeed she should be both criminally prosecuted and then deported from our shores. In this regard, Omar can immigrate to a terrorist state of her choosing such as Iran or Syria, or just set up a homestead on the West Bank or Gaza in Israel, the home of the Palestinian Authority and its even more Jew-hating and terrorist brother Hamas, respectively.
Perhaps Omar's upcoming "homecoming trip" to the Middle East, along with her radical Muslim "soul sister" Tlaib, is, tongue in cheek, just for that purpose. Not coincidentally, this Shariah-obedient congresswoman introduced a House resolution just this week supporting the boycott of Israeli goods. (See Lukas Mikelionis,
"Omar Introduces Resolution Defending Boycott of Israel, Likens It to boycotts of Nazi Germany Soviet Union,"
Fox News, July 18, 2019.) Not coincidentally, the measure is sponsored by her radical Islamic twin, Tlaib, who has repeatedly called Trump a "M – F**ker."
The two Jew and Israel haters then plan to take their anti-Semitic road show to Israel, where Prime Minister Netanyahu hopefully, for a change (he has always been much more talk than action),
will have the courage to bar them from entry.
For my part, I am relentlessly pursuing Omar, through Freedom Watch, the group that does much more than just get documents but brings hard-hitting lawsuits and citizens grand juries – most recently having indicted Special Counsel Robert Mueller for witness tampering and obstruction of justice – to have her removed from the United States. Go to
www.freedomwatchusa.org
and sign up for and support our Justice League.
If this nation is to survive, We the People cannot be afraid. For we are not racists if all that we seek is to enforce the law and protect and preserve our Judeo-Christian-based system of justice.
Please listen to my radio show, "Special Prosecutor with Larry Klayman," this week by going to
www.freedomwatchusa.org
, where it will be posted. I discuss this and other relevant important issues with my client and friend Chief Justice Roy Moore, who is running for the U.S. Senate and is fighting these and other forces of evil in general.
Read complaint for writ of mandamus to order U.S. Department of Homeland Security to commence investigation of Rep. Ilhan Omar.
Read petition to commence deportation proceedings for removal from the United States and/or prosecution of Ilhan Omar.
© Larry Klayman
---
The views expressed by RenewAmerica columnists are their own and do not necessarily reflect the position of RenewAmerica or its affiliates.
---