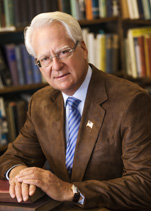 Larry Klayman
I'm 'pathologically litigious'? Sure, and proudly so!

Larry Klayman quotes Thomas Paine to counter 'pure evil termites' of Deep State

By
Larry Klayman
September 10, 2019
The Southern Poverty Law Center (SLPC), that ultra-leftist band of miscreants now in deep trouble for unethical misconduct, repeatedly features me and other conservatives on its website as purveyors of hate. In reality, it is SLPC and its colleagues on the left who are spewing hate not just toward President Donald Trump but anyone who supports him. From many Democrat-appointed federal judges, to left-leaning bar disciplinary counsels who are trying unethically to remove pro-Trump conservative lawyers from the practice of law, to the Democratic leadership of the U.S. House of Representatives and U.S. Senate, to radical groups such as antifa, Black Lives Matter, the New Black Panther Party, the Council on American Islamic Relations, the American Civil Liberties Union, elements of the liberal Jewish Anti-Defamation League and other leftist entities funded by World War II Nazi collaborator George Soros, all backed and promoted by the fake news media – it is clear that the vision and institutions conceived of and implemented by our Founding Fathers are under extreme attack.
This leftist onslaught began long ago, even before I conceived of and founded Judicial Watch 25 years ago, but it has grown more pronounced with each passing year since then. Frustrated and disgusted by the lack of courage and desire by my former alma mater, the U.S. Department of Justice, to combat this by enforcing the law equally and not allowing the elite political and legal classes – infesting both the Democratic and Republican establishments – to be exempt from the rule of law, much more the Constitution – and Bill and Hillary Clinton, James Comey and Special Counsel Robert Mueller are just a few examples of these "protected species" – my only recourse on behalf of the American people has been to bring hundreds of hard-hitting lawsuits and commission citizens grand juries to indict and then try and convict these dastardly felons who are eating away at the ethical and moral fabric of the nation, like the pure evil "termites" they are.
Indeed, in this context, I am proud to proclaim that I accept the pejorative characterization given to me by the SLPC as a "pathologically litigious" attorney. What other choice do I have, as someone who ideologically and in practice believes in an honest and just governmental and legal systems, short of taking to the streets armed like our forefathers in colonial times?
In this regard, I get up every morning thinking of what Freedom Watch and I can do to right the course of the nation's downward slide toward leftist socialism, fascism, anti-Semitism, anti-Christianity and atheism and defeat the onslaught of barbarians who are now at the gates, armed and ready like newly minted and rabid radicals Alexandria Ocasio-Cortez, Ilhan Omar and Rashida Tlaib – all figuratively foaming at the mouth and poised to take total control of the levers of power in the deepening swamp known as our nation's capital.
So it has come to pass that I pledge to you, fellow patriots, that if the SLPC and its vile leftist allies think that I am "pathologically litigious," in the words of our great former President Ronald Reagan, "they ain't seen anything yet!"
This was the reason I conceived of and founded Judicial Watch 25 years ago, to investigate and then prosecute – yes PROSECUTE! – government and legal corruption and abuse; not just to obtain documents, go on cable news and boast, and then beg our Deep State corrupt government to take action. The fate of the nation cannot be treated like a Hollywood television reality mini-series! We live in very dangerous times, and dangerous times require hard-hitting action, peacefully and legally, to right the ship of state! In the words of Thomas Paine, which I have quoted in these columns from time to times, and as Paine wrote in the days leading up to the signing of the Declaration of Independence and the ensuing revolution:
"The real man smiles in trouble, gathers strength from distress, and grows brave by reflection. The harder the conflict, the more glorious the triumph. I love the man that can smile in trouble, that can gather strength from distress, and grow brave by reflection."
This recitation of true courage not coincidentally describes my clients Dr. Jerome Corsi, Sheriff Joe Arpaio, Chief Justice Roy Moore, Cliven Bundy and his sons and family, Laura Loomer and a host of others who have laid their lives and reputations on the line – people continually smeared if not threatened with harm by the radical left and their enablers in the fake news media – in their quest to bring light to and prevent the nation from going dark and then to hell in the proverbial hand basket.
This is why you fellow patriots cannot and should not, again, in the powerful words of Thomas Paine, fail to act and instead relegate your concern to simply watching the television reality shows that play out each evening, in particular on Fox News, and not be like "The summer soldier and the sunshine patriot (who) will, in this crisis, shrink from the service of their country."
Paine added:
"Tyranny, like hell, is not easily conquered; yet we have this consolation with us, that the harder the conflict, the more glorious the triumph. What we obtain too cheap, we esteem too lightly: it is dearness only that gives every thing its value. Heaven knows how to put a proper price upon its goods; and it would be strange indeed if so celestial an article as FREEDOM should not be highly rated."
Heed Paine's words and join in the modern-day equivalent of the colonial army by going to
www.freedomwatchusa.org
by enlisting in and supporting Freedom Watch's Justice League. You, fellow patriots, no longer have the luxury of acting like "summer soldiers and sunshine patriots" in the face of dangerous and continued leftist Deep State cancerous tyranny embedded in our governmental and legal systems!
© Larry Klayman
---
The views expressed by RenewAmerica columnists are their own and do not necessarily reflect the position of RenewAmerica or its affiliates.
---