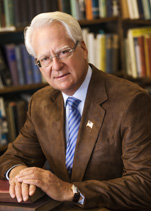 Larry Klayman
Ronald Reagan and Popeye were right!

Time to Stop Drinking the Kool Aid!

By
Larry Klayman
September 13, 2019
President Ronald Reagan, perhaps our greatest modern day president, had this to say when talking about the government: "The most terrifying words in the English language are: I'm from the government and I'm here to help."
If you fellow patriots have not learned this lesson by now, then the nation is doomed for extinction. And this is why it is not in my psyche to ask the government to do anything anymore, save for national defense and law and order.
It is because of this that I can no longer watch cable news, be it Fox News, CNN, or MSNBC, to name just a few. What good does it do anymore, particularly with regard to Fox News, who ideologically I used to be more akin to before it moved left under the ownership of the Murdoch sons? This so-called conservative network continues to parade out each evening on its prime time programming the same guests, who with the same host, spew forth the same "major new breaking developments." As just one example, there are the Mueller witch hunt, Fusion GPS, the Steele dossier and related scandals, but it does not stop there!
Then, after these so-called major developments are marketed for the consumption of the gullible masses who tune in on their couches munching popcorn or some other tasty snack, first the prime time host launches into his or her monologue, which he or she retools but essentially repeats each evening. This is followed with the tired and shop worn perennial guests – great purveyors of repetitive wisdom and alleged inside knowledge and sources, making bold but at this point provably dishonest pronouncements that justice is just around the corner and that with our new "messianic attorney general" things will be different.
No, they are not different! In fact, they are growing worse each day, week and month. At least during the Clinton and Obama years we could not be deceived that justice was just around the corner. With the likes of Janet Reno, Eric Holder and Loretta Lynch in charge of my once proud alma mater, the U.S. Department of Justice (DOJ), we conservatives, libertarians, and people of faith knew the score from these evildoers! But with the propaganda now being spewed each evening from the likes of Fox News, that things are different now that Trump is president and now that we have a new attorney general, the citizenry is being lulled into a false sense that things are indeed different.
All of this wants to make me throw up, as this dishonesty, calculated to maintaining ratings and jingling the change of advertising dollars, as well as lining the coffers of certain public interest groups claiming to be fighting government corruption by getting what have become more useless documents, has become unbearable to watch, as the nation sinks further into an abyss of deceit and corruption.
As a child I used to watch the cartoon "Popeye." His prophetic line, complementing that of President Reagan's comment about the government, was "Enough is enough and enough is too much!", before he finally lost his cool and beat the literal crap out of Brutus or some other villain.
And, this sadly is where the country is headed. Frankly, it is a miracle that civil war has not already broken out and it probably would have by now, with the right going to the streets as the left has done, to take matters into its own hands – save for the majority on the right continuing to swallow the Kool Aid of the likes of Fox News and its primetime hosts and guests!
The American people are now at a crossroads, particularly since it is now clear that attorney general William Barr is mostly just occupying space, at taxpayer expense, but is little more than another Washington, D.C., insider establishment politician. If you need proof of this, just consider that two times in the recent past, his DOJ has the opportunity to indict, try and attempt to convict that criminal, former FBI Director James Comey, and instead he and his compromised Deep State Justice Department took a dive. And consider that Barr's Justice Department is continuing to persecute Cliven Bundy and his family, with a frivolous appeal of the dismissal of the Obama DOJ's indictment of this American hero. Go to
www.clivenbundydefensefund.org
.
Now we conveniently learn that DOJ is considering indicting former Deputy FBI Director Andrew McCabe. As I have predicted, this is the way it works in the swamp. Indict lower hanging fruit, assuming this ever happens at all, and allow the elites at the highest levels to walk off scot free. The reason for this: there by the Grace of God go thee after my term in office is over and the opposition party takes over. So predictable, I am almost embarrassed with myself with being right 100 percent of the time. Establishment Republican clowns like former Representative Trey Gowdy have predictably declared, right on cue hot off the presses of Fox News, that DOJ's advertised possible indictment of McCabe amounts to a "celebration of our justice system." Charles Creitz, "Gowdy Calls DOJ's Rejection of McCabe Appeal a 'Celebration of Our Justice System,'" Fox News (Sept. 12, 2019). Give me a break!
Then again, I have been in the business of fighting governmental and legal corruption for 25 years, since I conceived of and founded Judicial Watch on July 29, 1994, which used to do what my group Freedom Watch does now – bring hard hitting cases in addition to seeking documents to actually use as evidence in lawsuits and citizens grand juries. While I have been in this anti-corruption business, the governmental law enforcement powers have been engaged in their usual monkey business. The nation's capital thus has come to seem more like the "Planet of the Apes," than a haven to enforce the tenets of our Constitution and our Judeo-Christian based rule of law.
So my dear fellow patriots, it's time to get off of the couch, put the popcorn and other treats down, turn off the likes of Fox News, and really get to work on peacefully and legally preserving our God given freedoms and liberties. Go to
www.freedomwatchusa.org
and enlist and support our Justice League if you really want to do something other than watch and drink the Kool Aid!
© Larry Klayman
---
The views expressed by RenewAmerica columnists are their own and do not necessarily reflect the position of RenewAmerica or its affiliates.
---