Administrator of the Catholic Diocese of Charleston stepped in it... Part One

Barbara Kralis
, RenewAmerica analyst
November 17, 2008
Recently, a Charleston Catholic diocesan pastor, Father Jay Scott Newman, JCL, wrote a column to his flock which he published within his November 9, 2008 St. Mary's Catholic parish bulletin.
[1]
In it, Fr. Newman advised:
"Voting for a pro-abortion politician when a plausible pro-life alternative exists constitutes material cooperation with intrinsic evil, and those Catholics who do so place themselves outside of the full communion of Christ's Church and under the judgment of divine law. Persons in this condition should not receive Holy Communion until and unless they are reconciled to God in the Sacrament of Penance, lest they eat and drink their own condemnation."
Everyone who is in good standing with the Catholic Faith would automatically agree with Father's statement and applaud his pastoral action. And they should. Fr. Newman holds graduate degrees in Sacred Theology and Canon Law and knows whereof he speaks.
[2]
Fr. Newman's Catholic parish, very supportive of his courageous stand, is most likely wondering right now: Why does the diocese's temporary Administrator,
[3]
Msgr. Martin Laughlin, repudiate the Church's teachings regarding Catholics voting for pro-abortion politicians?
Recently, this writer asked Fr. Newman for an interview. This was Father's response:
"Dear Barbara, Thank you for your email. The diocesan administrator has asked me not to give interviews about this matter, and in obedience to his request, I must refer you to the Diocese of Charleston for all inquiries. Thank you. May the LORD bless the work of your hands."


When this writer tried to re-read Fr. Newman's essay published at his parish website, it was apparent the link had been removed. Readers are now automatically forwarded to the diocese of Charleston's website where Msgr. Laughlin's repudiation, in both .PDF and video formats, is found on their
front page.
Thankfully, I had earlier captured Fr. Newman's bulletin column permanently to my computer and can provide it for you
herewith.
Msgr. Laughlin repudiates, in part:
"Christ gives us freedom to explore our own conscience and to make our own decisions while adhering to the law of God and the teachings of the faith. Therefore, if a person has formed his or her conscience well, he or she should not be denied Communion, nor be told to go to confession before receiving Communion. The pulpit is reserved for the Word of God.... We should all come together to support the President-elect...."
Nowhere within Fr. Newman's column could this writer find implied that Father Newman could read the minds and hearts of how his parishioners voted in the privacy of their voting booth. Nor did Fr. Newman say he would deny anyone Holy Communion [based on canon 915].
[4]
Father would not deny Holy Communion because he would not be aware of any voter's hidden sins. In addition, Fr. Newman did not discuss the principle of 'the ends justifying the means.' Instead, he was measuring the outcome — what is the proportion of good or evil that can be done.
The Charleston diocesan administrator, Msgr. Laughlin, thereby creates more scandal to the already bumfuzzeled faithful. Catholic laity, as well as clergy, is asking each other:
"Does the Church really teach the way Msgr. Laughlin teaches or does Fr. Newman's column actually represent the Church's infallible moral teachings regarding Catholics voting for pro-abortion politicians?"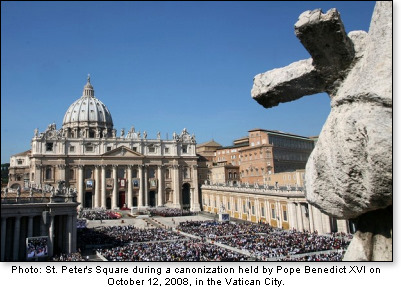 The answer to that question is not difficult to find among the Church's documents. Catholic libraries are filled with the Church's infallibly taught moral documents teaching that abortion has always been condemned by the authority which Christ Himself first conferred upon Peter [the Pope, the 'Solemn Magisterium'] and then his Successors, and to the apostles [those bishops and theologians when in complete communion with the Pope, 'Ordinary Magisterium'] as being a grave mortal sin, intrinsically evil and illicit. This basic moral teaching is based upon natural law and the written Word of God, proclaimed by the Catholic Church through its Sacred Tradition and through its Solemn and Ordinary Magisterium, that no one, no law, can ever make licit an act, which is intrinsically evil and illicit.
Keeping in mind that there will be other faithful priests who will be preaching in the same manner as Fr. Newman, and there may possibly be other diocesan Bishops or heads that try to repudiate these priests, one would do well to recall this column and use it to rebuke error and heresy to those who are confused.
"The theocentricity of the priestly existence is truly necessary in our entirely function-oriented world in which everything is based on calculable and ascertainable performance. The priest must truly know God from within and thus bring him to men and women: this is the prime service that contemporary humanity needs." [5]


Before we visit a few of the many teachings on this moral subject, let us first take a brief look at some of the pro-abortion policies and legislations that President elect Barack Obama supports and has promoted.
Since July 2007, over one year before the presidential election would take place, Barack Obama
pledged to his supporters
that he would overturn every [hundreds] pro-life law in all 50 states limiting abortion. He said that his very first action would
be signing the FOCA
, if it became law, codifying Roe v Wade and allowing unlimited abortions in the land. He promised he
would not yield
nor would he allow Planned Parenthood to yield to pro-life pressures. He vowed to elect judges who would affirm a women's right to abortion. And, he consistently for past 4 years
voted against
the Illinois Born Alive Infants bill to protect babies who are born alive after a botched abortion.
[6]
For example, in 1997, Obama voted against Illinois Senate Bill [SB] 230, which would have turned doctors into felons by banning so-called partial-birth abortion [click
here
and
here
and
here
[7]
for videos of this infanticide]. The excellent legislation defined a 'fetus' as a person, & could have criminalized virtually all abortion.
No one can doubt, therefore, that it is perfectly clear Barack Hussein Obama will do everything in his power to carry out his campaign promises to continue to make abortion and infanticide the law of our nation and among third world countries. Why would 54% Catholics vote for such a man?
With this clearly established proof of President elect Obama's pro-abortion support the question must be asked:
Is what Fr. Newman taught in his bulletin really "diverting the focus from the Catholic Church's clear teaching against abortion" and Catholics' consciences allowing them to vote for pro-abortion politicians, as Msgr. Martin Laughlin said, or is Msgr. Laughlin seriously confused?
Please go to
'Part Two'
to examine what the Catholic Church, its Popes and those Bishops in union with the Pope, teaches us about its Church members forming right consciences, wrongly voting for pro-abortion politicians, and being worthy to receive Holy Communion.
NOTES:
© Barbara Kralis
---
The views expressed by RenewAmerica columnists are their own and do not necessarily reflect the position of RenewAmerica or its affiliates.
---