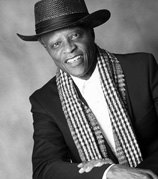 Lloyd Marcus
Blue Lives Matter / All Lives Matter

By
Lloyd Marcus
August 31, 2016
I saw a dolphin this morning. In honor of our 39th wedding anniversary, a patriot couple whom we have never met gave Mary and me the use of their beautiful condo for a week on the water in Perdido Key, Florida. We drove 9 hours to get here. We were here a few years ago and I remember seeing dolphins swimming in one direction in the morning and the other in the evening. We have been here for 3 days and had not seen a single dolphin. I wondered, is it a seasonal thing? Are dolphins not around this time of year?
This morning while listening to Joel Osteen's sermon on TV, I glanced out the slider and saw a dolphin swimming by. For some inexplicable reason, it filled me will joy. The dolphin swam with such elegance and grace. And then, I saw the second fin. There were two dolphins swimming side by side like a couple. The dolphin couple appeared to glide effortlessly through the water. Peaceful and calm.
Folks, for those of you who do not know, I am hosting a national Blues Lives Matter Celebration event in Daytona Beach, Florida. It will be LIVE streamed over the internet.
Forgive me for seeing the event through a spiritual lens, but that is who I am. God has brought all the right people together to make our celebration great; a much deserved love letter to America's police.
My Blue Lives Matter Celebration is Saturday, September 10th at the Ocean Convention Center, Daytona Beach, Florida. The time is 11am to 2pm. Admission is FREE.
If you are in the area please come by and show your support for our brave men and women in blue. I promise you will be blessed. I do not want to scare anyone away, but I have decided to sing and speak more that I originally intended.
What inspired me to produce a Blue Lives Matter Celebration event was hearing an interview with author, Heather Mac Donald on Rush's radio show. Her book is titled, "The War on Cops: How the New Attack on Law and Order Makes Everyone Less Safe."
Heather exposed cop's heroic efforts to protect and serve us. Her research revealed that police are the greatest advocates and defenders of black lives.
http://bit.ly/2a6dzIL
And yet, the narrative despicably promoted by the Left is the polar opposite of the truth. Heather said there needs to be a Blue Lives Matter movement.
Well, God led me to move; not to produce a protest rally, but a love letter of appreciation for our heroes; America's police.
A funny thing has begun happening. More and more people are approaching me about having Blue Lives Matter Celebration events nationwide. A famous comedian buddy is investigating the possibility of he and I together on a Blue Lives Matter bus tour.
Whatever God calls us to do He provides the funding. Therefore, I repent of stressing. If you feel lead to help with production costs, please make a donation at:
http://www.lloydmarcus.com/
Where we are staying in Perdido Key, Florida is only two miles from Alabama. We are originally from Maryland and LOVE steamed crabs. Yesterday, we drove a mile across the state line into Alabama and purchased steamed crabs. We are having a wonderful relaxing time. Hopefully, we will see dolphins this evening swimming in the other direction. That would be awesome!
© Lloyd Marcus
---
The views expressed by RenewAmerica columnists are their own and do not necessarily reflect the position of RenewAmerica or its affiliates.
---