Marielena Montesino de Stuart
A special report -- pastoral letter from the Conference of Cuban Catholic Bishops: more offensive socialist rhetoric

By
Marielena Montesino de Stuart
September 16, 2013
Rapprochement
...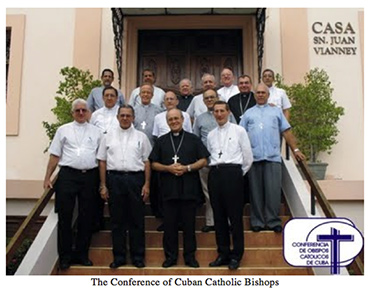 The Conference of Cuban Catholic Bishops continues to march to the beat of socialist ideals, with their latest pastoral letter, titled "LA ESPERANZA NO DEFRAUDA" ("
Nor does this hope delude us
" /
spes autem non confundit
) – taken from Romans 5,5.
On June 3, 2013 I published an article titled
"
Cuba's Cardinal Jaime Ortega Must Resign"
denouncing Cardinal Jaime Ortega's brazen socialist propaganda in the Archdiocese of Havana. Having lived under communism in Cuba, I asked that Cardinal Ortega step down.
While my request for Cardinal Ortega's resignation may appear to be symbolic, my article containing this request has circled the globe and has received the enthusiastic support of Cubans exiled in Europe and in the United States. This is another reaffirmation that Roman Catholic Cubans, as well as non-Catholic Cubans, have had enough with the modernist Vatican and their socialist "dialogue" with the enemy.
The latest socialist appeasement message from the Cuban Bishops comes in the form of a pastoral letter, which does not contain a single mention of the words "Communism" or "Communist." Instead, the emphasis is on "dialogue" – following the modernist (socialist) Vatican rules of
rapprochement
.
This "dialogue" also came in the form of Benedict XVI's refusal to meet with dissidents during his visit to Cuba, in 2012. No amount of excuses from Vatican officials can make the world forget such a betrayal.
In the interest of time, I have focused on key excerpts from this pastoral letter signed by the Cuban Bishops, with my translations of specific sections that need to be vigorously denounced. I have added bold to the original Spanish, to reference the translated sections:
EXCERPT FROM PARAGRAPH 31 – CUBAN BISHOPS: "
Como ha venido ocurriendo en el aspecto económico, creemos imprescindible en nuestra realidad cubana una actualización o puesta al día de la legislación nacional en el orden político
."

Translation of excerpt from paragraph 31 – CUBAN BISHOPS.
"As has been taking place in the economic arena, we believe it is essential in our Cuban reality to upgrade or update the national political legislation
."
MY COMMENT:
What aspect of communism is there to "upgrade" or "update"?
What are the Cuban Bishops afraid of? Why can't they forcefully denounce communism and publicly encourage the immediate dismantling of the Communist dictatorship – which has brought nothing but misery to the Cuban people, a misery which has been exported by Cuban political emissaries – and blessed by liberal Catholic theologians throughout the world.
EXCERPT FROM PARAGRAPH 35- CUBAN BISHOPS:
"En los últimos años también ha habido grandes transformaciones en otras naciones, de modo particular en nuestra región latinoamericana. En un mundo cada vez más globalizado e interdependiente, las necesarias reformas internas, tanto políticas como económicas, pueden ayudar a insertarnos de manera más dinámica y segura en el contexto internacional
.

Translation of excerpt from paragraph 35- CUBAN BISHOPS: "
In the last few years great transformations have also taken place in other nations, particularly in our Latin American region. In a world which is more and more globalized and interdependent, the necessary internal reforms, both political and economic, can help us to insert ourselves in international affairs, in a more dynamic and secure way
."

MY COMMENT:
The Cuban Bishops seem to forget that Cuba has been participating and inserting itself in international affairs, through its membership in the United Nations – an evil entity which has unashamedly supported the bloody Castro Communist regime for nearly 54 years, while helping promote communism throughout the world. The "globalized" and "interdependent" approach mentioned by the Cuban Bishops is nothing but Agenda 21, which is devastating Latin America, Spain and every country it touches. Agenda 21 is the infamous socialist initiative, also known as Sustainable Development, which promotes depopulation (abortion on demand), controls the production and distribution of food – and violates property rights – all under the pretext of environmental stewardship. In other words, international socialism.
Instead, the Cuban Bishops should assert that the basis for all public policies should not rest on ambiguous catch phrases or socialist ideology, but rather on the Commandments of God and on the Natural Law – which binds all men, for all time and in all circumstances.
The Cuban Bishops also cite John Paul II's visit to Cuba and his concern for "social, economic and cultural development." What the Cuban Bishops seem to forget is that John Paul II, after vigorously negotiating the freedom of the Polish people from communism, proceeded to pat Fidel Castro on the back,
praising his socialized health care and education.
The double standards, under John Paul II, are legendary.
THE U.S. GETS THE BLAME, AGAIN...

EXCERPT FROM PARAGRAPH 36 – CUBAN BISHOPS: "
En este contexto de política internacional se hace necesario considerar las relaciones de Cuba con los Estados Unidos, que durante largas décadas, de diverso modo y de manera constante y profunda, han afectado la vida de nuestro pueblo. A esto se refirió el beato Juan Pablo II al decir que "el aislamiento provocado repercute de manera indiscriminada en la población, acrecentando las dificultades de los más débiles en aspectos básicos como la alimentación, la sanidad o la educación
"14. Y
concluyó pidiendo se suprimieran "las medidas impuestas desde fuera del país injustas y éticamente inaceptables.
"

Translation of excerpt from paragraph 36 – CUBAN BISHOPS:
"In this context of international politics it is necessary to consider the relations between Cuba and the United States, which during many decades, in different ways and in a constant and profound manner, have affected the life of our people. The Servant of God, John Paul II, referred to this by saying that "the provoked isolation has indiscriminate repercussions on the population, increasing the difficulties of the weakest, in terms of basic needs like food, health or education." He
[John Paul II
] concluded by asking that "the measures imposed from outside the country which are unjust and ethically unacceptable, be removed
."
MY COMMENT:
The Cuban Embargo has turned into a mere symbolic message of opposition to the Communist dictatorship in Cuba. Cuba has been open to the world for decades under the Castro regime, because its military rulers need money to control the island prison, while lining their pockets. The world visits Cuba every day, in the form of tourism (including sexual tourism) as well as through "cultural" and economic exchange. As I write this commentary, a PBS station is aggressively promoting a trip to Cuba, at the price of nearly $4,000 per person, leaving from Florida. President Obama has enthusiastically relaxed travel restrictions, making Cuba accessible from various U.S. airports. All this, while political dissidents are tortured in Cuban prisons – and the graveyards of those who have been executed by Castro's regime, remain an uncomfortable topic of discussion for those promoting "dialogue." Cubans exiled in the United States and in different parts of the world support a
parallel Cuban economy
through remittances to relatives in Cuba, with estimates as high as one billion dollars per year.
Despite the "embargo" and financial restrictions, U.S. exports to Cuba reached $711 million in 2008 before declining in 2009 and 2010. Cuba has become the 12th largest market in the Western Hemisphere for U.S. agricultural products.
The U.S. Dollar value of U.S. exports to Cuba in 2012 was $457,318,357.00 under the
Trade Sanctions Reform and Export Enhancement Act
(TSRA) of 2000, which re-authorized the direct commercial (on a cash basis) export of food products (including branded food products) and agricultural products (commodities) from the United States to Cuba. This does not include healthcare products, which remain authorized by the Cuban Democracy Act (CDA) of 1992.
After the TSRA was set in motion, the United States became Cuba's fourth largest trading partner behind Venezuela, China, and Spain. While product types may vary, the United States is Cuba's largest supplier of imported food during most years.
Based on the above facts, the only
"unjust and ethically unacceptable
"
policies that keep the people of Cuba in misery, are those that have been imposed by Castro's bloody Communist regime, for nearly 54 years.
EXCERPT FROM PARAGRAPH 37 – CUBAN BISHOPS: "...
un intercambio comercial justo y orientado al beneficio de todos
."

Translation of excerpt from paragraph 37 – CUBAN BISHOPS:
"...
a just economic exchange aimed at benefitting everyone
."
MY COMMENT:
It is preposterous for the Cuban Bishops to assume that the Castro regime has any desire to be "just" or "beneficial" to the U.S. – as in the U.S. one-sided relationship with China, where China wins and we lose.
THIS ONE TAKES THE CAKE...

EXCERPT FROM PARAGRAPH 39 – CUBAN BISHOPS:
"Es significativo el llamado que han hecho las autoridades del país acerca del creciente deterioro en las manifestaciones de conducta y en la moralidad pública. Ante esto consideramos que no son suficientes las medidas de exigencia y de disciplina, sino que se hace apremiante un proceso educativo que favorezca, en todos los cubanos, el deseo de ser buenos y la práctica de la virtud
.
A tal fin deben contribuir, conjuntamente, la familia, la escuela, los medios de comunicación y las instituciones religiosas teniendo a los niños y a los jóvenes como los primeros destinatarios de una formación integral."
Translation of excerpt from paragraph 39 – CUBAN BISHOPS:
"It is noteworthy that the country's authorities have denounced the growing deterioration of conduct and public morals. In light of this, we consider that the measures involving requirements and discipline are not enough. Instead, it is critical that an educational process be implemented to instill in Cubans a desire to be good and virtuous. To this end, it is necessary to have the joint contribution of the family, schools, media / means of communication and religious institutions, with children and youth as the first recipients of comprehensive training."
MY COMMENT:
These young Cubans who are now being punished for not having good moral values and for not being virtuous, are the result of Fidel Castro's promise of a
"new man"
(hombre nuevo) formed under principles of "social justice" in an atheist state. So after 54 years of Communist indoctrination, vicious and uninterrupted persecution of Christian values – and removal of God as the basis of moral education – the Cuban Bishops are now entrusting the Cuban government with the reeducation of Cubans, so that they can be turned into good and virtuous people.
Note that
"measures involving requirements and discipline are not enough
." And the Cuban Bishops want everyone to cooperate – including
"media / means of communication
." What "media / means of communication" are these? The only media / means of communication in Cuba are strictly controlled and censored by the Communist government. So the Cuban Bishops are asking the people of Cuba to turn themselves in – and allow their captors to reeducate them. What reeducation camps are the Cuban Bishops suggesting? What cruel and evil proposition is this?
Final thoughts
There is a clear and constant message coming out of the Vatican, which has intensified even more since "Pope" Francis's election – which is that socialism is good. None other than the Prefect of the Congregation for the Doctrine of the Faith, Archbishop Gerhard Ludwig Müller,
is forcefully promoting Liberation Theology, a dangerous Marxist movement
in the Catholic Church, which is being reintroduced, dusted off and given a new coat of varnish.
The socialists (impostors) who infiltrated the Vatican have been hard at work for many, many decades – and they are finally seeing the fruits of their labor, across the globe.
Someone has to say the truth...
–
REFERENCE:
"Cuba's Cardinal Jaime Ortega Must Resign"
"Why Not Cuba?"
"Vatican Readmits Leftist Thinking"
(The Times – The Australian)
U.S. Census Bureau: Trade in Goods with Cuba (1992-2013)
http://www.census.gov/foreign-trade/balance/c2390.html
(Also available in PDF)
Risk Management – Emerging Markets for U.S. Agriculture: Focus on Cuba
http://cnas.tamu.edu/wp-content/blogs.dir/7/files/2013/08/E312.pdf
2012-2001 U.S. Export Statistics for Cuba
http://www.cubatrade.org/CubaExportStats.pdf
PASTORAL LETTER FROM THE CONFERENCE OF CUBAN CATHOLIC BISHOPS: "La Esperanza No Defrauda"
© Marielena Montesino de Stuart
---
The views expressed by RenewAmerica columnists are their own and do not necessarily reflect the position of RenewAmerica or its affiliates.
---