Marielena Montesino de Stuart
La Chiesa Cattolica, a vostro comodo (The Catholic Church, at your convenience)

By
Marielena Montesino de Stuart
September 21, 2013
TEA WITH MARIELENA... Today's brew: A dark and eclectic mix of herbs

Tea drinkers can stop practicing tasseography. There is nothing to decipher in "Pope" Francis's statements. It's all very clear. Denouncing abortion, homosexual "marriage" and contraception, is simply
not
his cup of tea.
This is why I decided to title this commentary,
"La Chiesa Cattolica, a vostro comodo"
(The Catholic Church, at your convenience) – as a reflection on the statements made by "Pope" Francis during an interview, on August 19, with Antonio Spadaro S.I, Director of
La Civiltà Cattolica.
The interview was published on September 19.
Two original excerpts in Italian, and my translations, are presented below.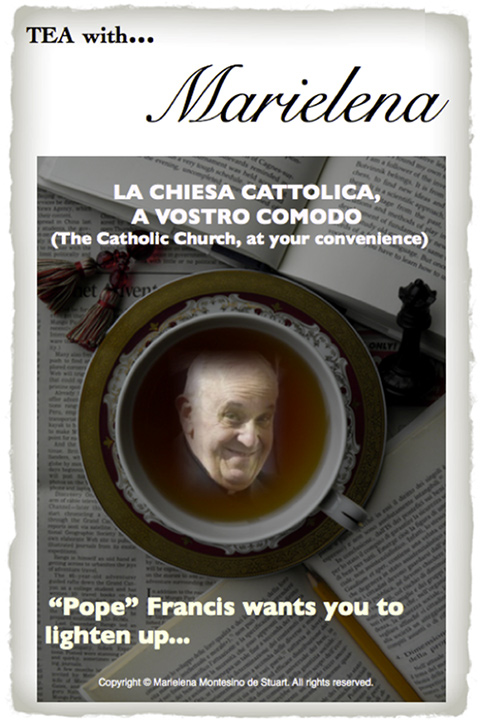 EXCERPTS FROM INTERVIEW OF "POPE" FRANCIS:
«La Chiesa a volte si è fatta rinchiudere in piccole cose, in piccoli precetti».

«Non possiamo insistere solo sulle questioni legate ad aborto, matrimonio omosessuale e uso dei metodi contraccettivi. Questo non è possibile. Io non ho parlato molto di queste cose, e questo mi è stato rimproverato. Ma quando se ne parla, bisogna parlarne in un contesto. Il parere della Chiesa, del resto, lo si conosce, e io sono figlio della Chiesa, ma non è necessario parlarne in continuazione».

TRANSLATION FROM ITALIAN INTO ENGLISH (courtesy of Marielena Montesino de Stuart):
"The Church has at times locked itself in small things, in small precepts."

"We cannot insist only on issues related to abortion, homosexual marriage and the use of contraceptive methods. This is not possible. I have not spoken much about these things, and for this I have been reprimanded. But when we speak about these issues, it is necessary to speak about them in a context. The viewpoint of the Church, moreover, is known, and I am a son of the Church, but it is not necessary to speak about it [the viewpoint] continuously."

The modernist (socialist) Roman Catholic hierarchy is imploding.
May God protect Holy Mother Church.
© Marielena Montesino de Stuart
---
The views expressed by RenewAmerica columnists are their own and do not necessarily reflect the position of RenewAmerica or its affiliates.
---