Marielena Montesino de Stuart
Murder in China

By
Marielena Montesino de Stuart
October 8, 2013
There is no peace in the land of Confucius...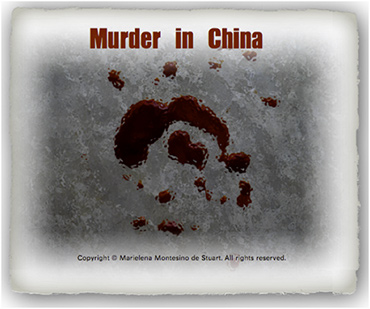 (
A narrative based on the story of Liu Xinwen
)
It is difficult to steady your nerves, when your humble home in Shandong Province is broken into in the middle of the night, by government officials.
You find yourself being dragged to a hospital where you will receive a lethal injection that will end the life of the child, who sleeps peacefully inside your womb.
Do you keep your eyes open, while the poison circulates through your body?
Do you fight back?
Maybe you can convince the nurses, by telling them that you have chosen a name.
In case it's a boy.
In case it's a girl.
That you love this baby with all your heart. That so many of your dreams and hopes surround this wonderful, innocent being.
And in the spring, the baby could help you pick the blossoms that fall from the apricot tree.
That your only child, a son, could now share the joy of having a sibling in his life.
Is there room for mercy? Will the nurses change their minds? – or will it happen so violently and quickly that there is no time to react?
Suddenly, everything is still – and the waters of the Yellow River turn red again.
(
A narrative based on the story of Liu Xinwen
).
–

Additional commentary:
Liu Xinwen is one of millions of victims of population control – imposed by the Communist government of China on the Chinese people – through the National Population and Family Planning Commission of China (NPFPC).

The United Nations Population Fund (UNFPA) and China's NPFPC work closely in the implementation of China's population control model in other nations.

Population control is an integral part of Sustainable Development (Agenda 21) – the United Nations massive international socialist initiative, which is part of public policy in the United States.

Socialism is phase one of communism.

Liu Xinwen's experience could one day be yours.

–
Reference:

China couple speak of forced abortion (includes video):
http://news.sky.com/story/1150016/china-couple-speak-of-forced-abortion
Also in PDF: China couple speak of forced abortion
Outline for China Case Study on UNFPA
China's role in promoting Sustainable Development
China's Training Workshop for Officials from 18 Countries
© Marielena Montesino de Stuart
---
The views expressed by RenewAmerica columnists are their own and do not necessarily reflect the position of RenewAmerica or its affiliates.
---