Marielena Montesino de Stuart
What's going on at Chick-fil-A?

It's time to put the skin back on this chicken

By
Marielena Montesino de Stuart
October 23, 2013
"...
take biblical truth and put skin on it
..."
– Dan T. Cathy, President and COO of Chick-fil-A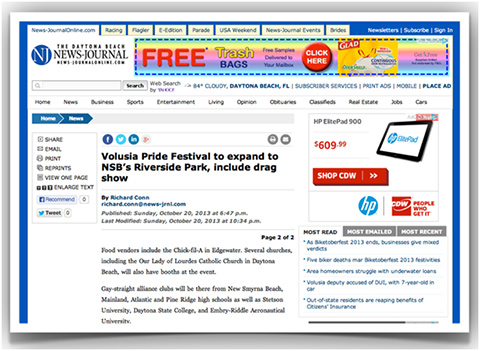 Citizens across America who support the sanctity of traditional marriage rallied around Chick-fil-A during the firestorm of attacks that this fast-food chain suffered at the hands of the homosexual collective.
The Chick-fil-A battle, which played out in the media, began in
2011 and continued through 2012,
as a result of the
biblical views about marriage and family
espoused by the Cathy family, who owns the chain of restaurants.
Indeed, sales of Chick-fil-A even soared – thanks to the swarm of conservatives, from many religious backgrounds, who lined up to buy their chicken sandwiches and other products. Chick-fil-A's corporate philosophy is based
on selling chicken and training employees to focus on values rooted in the Bible.
Given the size and power of its corporate structure, Chick-fil-A gained the attention of not just the media, both mainstream and conservative blogosphere – but it also benefitted immensely through the attention and promotion it received from well-known media personalities and politicians, such as Sean Hannity and Mike Huckabee, who took on the Chick-fil-A cause as a crusade against the well-known homosexual collective bullying – carried out through boycotts, bans and online attacks against Chick-fil-A.
But Americans have a short memory – and they like the idea of moving on.
As for Chick-fil-A, the Cathy family members toned down their rhetoric against homosexual marriage. By July 2012 the company issued a press release, which included the following statement:
"
Going forward, our intent is to leave the policy debate over same-sex marriage to the government and political arena
."
Dan T. Cathy, President and COO of Chick-fil-A even
deleted his June 26, 2013 Tweet
where he had denounced the U.S. Supreme Court decision against the Defense of Marriage Act. Why? Are his biblical convictions getting in the way of the bottom line?
What about all the monetary support that Mr. Cathy and his family members have received from conservative citizens across America – who went out of their way to buy Chick-fil-A products, so that the Cathys and their business could thrive – and not give up their influential participation in the public battle against homosexual marriage?
While the owners of the Chick-fil-A brand say that they are against homosexual marriage – it appears that they do not prohibit Chick-fil-A franchises from donating Chick-fil-A products for homosexual events or groups involved in the "gay" world.
Case in point: the Chick-fil-A store in Edgewater, Florida – will be a "food vendor" for the Volusia Pride Festival (Oct.26-27) – known as
"the biggest annual LGBTQ (Lesbian, Gay, Bisexual, Transgender, Queer/Questioning) pride festival for Volusia County"
– where visitors will be entertained with a drag show.
Chick-fil-A's participation as a "food vendor" was announced through this news service.
On Monday, October 21, during the course of a run-around which lasted several hours, I was able to obtain confirmation from Chick-fil-A's Media Relations as well as from Chick-fil-A's Customer Care, that the company, in fact,
does not
prohibit Chick-fil-A franchises from acting as vendors of Chick-fil-A products at homosexual events in their communities; however, each person I was transferred to at Chick-fil-A's Media Relations chain of command was not willing to go on the record with their name.
Given the reticence from Chick-fil-A's corporate office, I contacted the Edgewater, Florida Chick-fil-A restaurant, and its General Manager was willing to speak to me. He politely informed me that while he will not have a Chick-fil-A booth at the Volusia Pride event – he is indeed donating sandwiches and sweet tea to show his support for the Gay-Straight Alliance – "because they are against bullying."
The Gay-Straight Alliance is one of the sponsors of the Volusia Pride homosexual event.
On the subject of bullying...
Chick-fil-A corporation, please take note:
Small family businesses across America, who do not have the political influence and access to the media that Chick-fil-A has enjoyed, are being bullied and shut down by the homosexual collective, through boycotts, lawsuits – and even violent threats, when they peacefully refuse to provide services or products for homosexual weddings and events, based on their religious and moral convictions. See the reference section at the end of this article. I highly doubt that the Gay-Straight Alliance stands up for these victims.
I was finally referred to Carrie Kurlander, Chick-fil-A's chief spokeswoman, to whom I presented the following simple and straightforward question, along with the media source:
Does Chick-fil-A allow its franchises to participate and/or contribute Chick-fil-A products to homosexual events, such as the Volusia Pride event in Florida? – as noted by this news service:
http://www.news-journalonline.com/article/20131020/NEWS/131029941?p=2&tc=pg
I received an evasive reply from Kurlander. She deferred to the General Manager at the Edgewater store,
"who knows the most about the particulars of your inquiry
." Kurlander added,
"we strive to treat everyone with honor, dignity and respect
."
No one is questioning how Chick-fil-A treats "everyone." It is obvious that Chick-fil-A and its franchises have been selling and donating their products to whomever they wish. As such, there was no need for the Chick-fil-A corporation to go on an all-out media and social network campaign, defending the
"biblical definition of the family unit"
as part of their work ethos – only to end up allowing the donation of their Chick-fil-A products, for the enjoyment of sponsors at a homosexual drag queen show.
All in the name of
"honor, dignity and respect
."
How many other Chick-fil-A locations are doing the same thing? Edgewater, Florida now joins
California
and
New Hampshire.
There could be others.
Dan Cathy has stated that his traditional family biblical principles of enforcing 'Closed on Sunday' never affected the company's bottom line. Why is he afraid to enforce the same traditional family biblical principles when it comes to his franchises' support of homosexual events?
The entire scenario described above is a very sad one – and reminiscent of politicians who claim that they believe this or the other – but that their "personal" beliefs would
never
get in the way of public policy.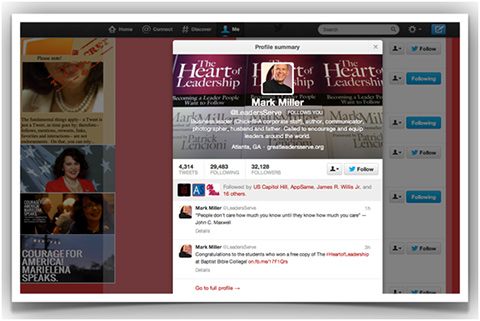 Final thoughts...
My campaign for the United States Senate, as a principled conservative Republican, came to the attention of the Chick-fil-A corporation, including the internationally known business leader and corporate staff member, Mark Miller – who also follows me on Twitter.
By now, Mr. Miller and the Chick-fil-A corporate family are aware of my aversion to political expediency.
This is NOT a call to action against Chick-fil-A or its franchises. My hope is that this article will remind the Cathy family, as founders and leaders of Chick-fil-A, that the traditional marriage values that they have made so public as part of their work – a stance which has brought them so much financial and moral support – must not be left abandoned on the side of the road.
It's time to remind Dan Cathy of his own words:
"
take biblical truth and put skin on it..."
Someone has to say the truth
...
You may send your comments through the following
link.
–
THESE ARE JUST A FEW EXAMPLES OF SMALL BUSINESSES ACROSS AMERICA THAT HAVE BEEN THREATENED, BOYCOTTED AND/OR SUED FOR NOT PROVIDING SERVICES OR PRODUCTS FOR HOMOSEXUAL "WEDDINGS":
Masterpiece Cakeshop refuses to bake a wedding cake for gay couple
Boycott Fleur Cakes – Mount Hood, Oregon | Facebook
Boycott Anti-Gay Wedding Party Facility – ForceChange
Boycott Victoria's Cake Cottage – Des Moines | Facebook
New Jersey judge ruled against a Christian retreat house that refused to allow a same-sex civil union ceremony -OGCMA-BernsteinRuling
Court rules against photographer in gay bias case – The Santa Fe New Mexican: Local News
Wedding venue turns away same-sex couple | Local News – KCCI Home
Vermont's Wildflower Inn Settles Gay Marriage Lawsuit With Lesbian Couple
Judge stays on Wash. gay wedding flowers case – Yahoo News
© Marielena Montesino de Stuart
---
The views expressed by RenewAmerica columnists are their own and do not necessarily reflect the position of RenewAmerica or its affiliates.
---