Marielena Montesino de Stuart
The International Atomic Energy Agency, Cuba and the American taxpayer

By
Marielena Montesino de Stuart
October 30, 2013
Should American taxpayers continue to fund the International Atomic Energy Agency?
The IAEA (International Atomic Energy Agency) is based in Vienna, Austria. It identifies itself as an "independent" international organization "related to" the United Nations.
The IAEA states that its purpose is
"to build, strengthen and maintain capacities in the safe, peaceful and secure use of nuclear technology in support of sustainable socioeconomic development
."
"Sustainable socioeconomic development" refers to Sustainable Development (Agenda 21) – a corrupt socialist international initiative of the United Nations, which siphons an obscene amount of money from taxpayers all over the world. This alone should be cause for concern, when it comes to the IAEA's credibility.
As an "independent" international intergovernmental organization, the IAEA also acts as a gigantic center of activity for NGOs and INGOs (national and international non-governmental organizations).
As such, the IAEA will visit countries and issue reports that appear very official and credible – when in fact, the IAEA's connection with, and dependence on government funding, often shows that its operation is questionable.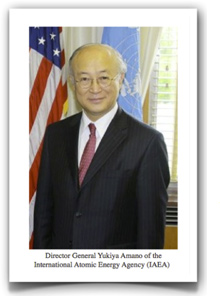 During the Fukushima nuclear plant disaster in Japan, the IAEA was the agency in charge of informing the world about radiation levels. The IAEA's monitoring of the Fukushima disaster has been described as
"sluggish" and "confusing"
– at best.
The IAEA and Cuba
The Cuban Communist government never misses an opportunity for propaganda – and the IAEA's visit to Cuba was no exception.
The IAEA's Director General, Yukiya Amano, issued a
report
after his recent visit to the communist island prison, stating that he
"was able to see first-hand the impressive use of nuclear technology for medical diagnosis
."
REALLY?
Then why is it that Cuban people are often mutilated and killed in Castro's government-funded hospitals? – which are feared for their deplorable state and subhuman conditions.
Who is benefitting from all this great technology?
Certainly NOT the people of Cuba!
Did the IAEA Director General visit Castro's hellish socialized "medical" centers?
Is nuclear technology being advanced in Cuba for another purpose? After all, the current geopolitical situation in the Western Hemisphere has China written all over it.
China has the world's biggest energy market, and its Communist government is determined to establish and defend its energy strongholds all over the world. China has economic and technological interests in Cuba. Likewise, Cuba's Communist government will do
anything
to strengthen its participation and influence in the international community – and nuclear energy is another gateway for its agenda, under the United Nations Sustainable Development initiative.
The IAEA has a history of reliability problems with GAO (the U.S. Government Accountability Office) – as in the following reports:
U.S. GAO – Nuclear Nonproliferation and Safety: Concerns With the International Atomic Energy Agency's Technical Cooperation Program
U.S. GAO – Nuclear Nonproliferation and Safety: Challenges Facing the International Atomic Energy Agency
U.S. GAO – Nuclear Nonproliferation: IAEA Has Strengthened Its Safeguards and Nuclear Security Programs, but Weaknesses Need to Be Addressed
In addition,
US House Bill 893 (2013-2014)
states that funds from any United States assessed or voluntary contribution to the International Atomic Energy Agency (IAEA) may not be used to support any assistance provided by the IAEA through its Technical Cooperation Program to Iran, North Korea, or Syria.
Considering this entire scenario, why does the United States government continue to force the American taxpayer to fund Sustainable Development – through institutions such as the IAEA? – whose underlying purpose is to advance international socialism.
In a world of international socialist lies, the IAEA's report on Cuba serves as a prototype of science and technology being compromised by government funding and the special interests of illegitimate governments.
Meanwhile, the American taxpayer's wallet continues to bleed.
Someone has to say the truth...
You may send your comments through the following
link.
–
The IAEA's report on Cuba:
http://www.iaea.org/newscenter/news/2013/dg_cuba.html
(also available in PDF):
IAEA Director General Visits Cuba
© Marielena Montesino de Stuart
---
The views expressed by RenewAmerica columnists are their own and do not necessarily reflect the position of RenewAmerica or its affiliates.
---