Stone Washington
1968-2018: Honoring the 50-year legacy of Martin Luther King and the other America

By
Stone Washington
April 19, 2018
"Every city in our country has this kind of dualism, this schizophrenia, split at so many parts, and so every city ends up being two cities rather than one. There are two Americas."
~Rev. Dr. Martin Luther King Jr.
Background
The year 1968 forever transformed the History of the Civil Rights movement in America. For exactly 50 years ago on April 4, 1968, the legendary leader of the Civil Rights movement, Dr. Martin Luther King Jr., would be tragically assassinated by James Earl Ray in Memphis Tennessee. King was in the midst of orchestrating his latest wave of protest, the Poor People's Campaign, arguing for an end to the Vietnam War and to instead focus funds on aiding the poorer communities in America. Only 3 weeks before Dr. King's assassination, the would be civil rights martyr gave an impassioned speech to my former high school, Grosse Pointe South, being the first Black man to deliver such a prominent address to my school in its 109 History. I wrote about that historic event by Dr. King in a 2013 essay entitled,
"45th Anniversary of Dr. King in Grosse Pointe"
, where Dr. King would deliver his famous
"The Other America"
speech, exposing the forgotten and ignored people in Americans, the segregated Blacks, who represent the other, overlooked and abused portion of American society. Dr. King's
Other America
address is perhaps his single greatest address after his
"I Have a Dream"
speech, where King reveals the bleak and devastating sufferings of Black America, as representative of White America's extreme neglect and racial segregation imposed on Blacks. Dr. King's address was one of the final speeches he ever gave in the short amount of time he had left on Earth, highlighting the historical significance of the timing and the setting at my school, set in a predominately White neighborhood, where King would deliver a prophetic message to the White citizens on behalf of the forgotten and ridiculed Black Americans. In this article, I will honor Dr. King's profound legacy as the head of the Civil Rights Movement in America, while revealing the profound components of his
Other America speech
at my high school in Grosse Pointe, spoken at perhaps the most crucial period of Dr. King's final days before death.
Dr. King exposes the "Other America"
On March 14, 1968, approximately 2,700 people gathered in the main auditorium of my alma mater, Grosse Pointe South, in Grosse Pointe Farms, a suburb of Detroit Michigan, to hear this civil rights icon, Dr. Martin Luther King deliver a major speech for the first time in the city, amid Dr. King's "Poor People's Campaign." Grosse Pointe South, founded in 1928, would host the largest audience to assemble for a major speech in the school's history. Evidently this was not King's first time speaking in Michigan, as five years earlier Dr. King had visited the neighboring city of Detroit on June 23, 1963, and led a march for racial equality throughout downtown Detroit, where he gave an early version of his most famous
"I Have a Dream"
speech.
Harry C. Meserve, Grosse Pointe council president at the time, educated the Grosse Pointe News on the profound purpose of hosting and sponsoring Dr. King in Grosse Pointe amid a critical year in the Civil Rights era, "We feel that his visit here symbolizes the concerns of thousands of white people for the injustice Negroes have suffered too long," Meserve explains, "Dr. King's presentation should furnish both information and inspiration for those in our community who are concerned about the Negro's search for justice."
Dr. King was escorted through the chaotic streets of Grosse Pointe Farms, filled with hundreds of disgruntled student protesters. Police Chief Jack Roh was forced to sit on the lap of Dr. King in order to ensure his safety and shield King's body for extra precaution, as King was hastily rushed by police into the back entrance of the school's auditorium. According to Steve Neaviling, an investigative journalist in Detroit, Jude Huettman described Chief Roh feelings as thus, "He was determined, as was I, that nothing was going to happen to Dr. King in this town," Huetteman said. According to writer Nancy Derringer, multiple racist protesters circled the school in cars, shouting, "King is a traitor," while local teenagers shouted multiple insults and threats, with some emphasizing their hateful remarks by launching icy snowballs at police. Neaviling notes when King finally ventures onto the stage that those around him noticed that his hands, which were normally calm, were shaking and his forehead glistening with sweat, indicating that he was very nervous from the intensity of the crowd, and the nearly 200 protestors picketing outside of the school.
Nevertheless, King delivered his hallmarked speech,
The Other America
, which immediately sparked roaring cheers and applause. King begins his speech by explaining the significance behind his title "The Other America," which is meant to personify the ignored and neglected segment of society, comprised of impoverished Black citizens segregated away from the wealthier White suburbs. King elaborates,
"Every city in our country has this kind of dualism, this schizophrenia, split at so many parts, and so every city ends up being two cities rather than one. There are two Americas. One America is beautiful for situation. In this America, millions of people have the milk of prosperity and the honey of equality flowing before them. This America is the habitat of millions of people who have food and material necessities for their bodies, culture and education for their minds, freedom and human dignity for their spirits. In this America children grow up in the sunlight of opportunity. But there is another America. This other America has a daily ugliness about it that transforms the buoyancy of hope into the fatigue of despair."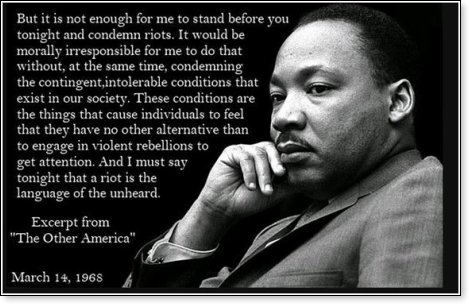 Throughout his speech, Dr. King emphasized the grave racial and financial disparity between the two Americas. He explains how White Americans enjoy and take for granted their daily blessings, basking in the abundance of wealth and opportunity handed down in a free and prosperous nation, while actively ignoring the growing plight of the millions of Negro poor classes separated and segregated from the freedoms and luxuries Whites enjoy. This message plays perfectly into King's overarching themes of wealth inequality and financial disparity as vocalized in his Poor People's Campaign.
As Dr. King's many followers and the SCLC (Southern Christian Leadership Conference) were planning to protest in Washington, King brings to light the staggering rate of unemployment among Black communities across America along with the fact that nearly 40% of Blacks are forced into choosing sub-standard housing, in addition to the poor educational opportunities youth are forced to accept. King associates this urban blight within the Black community to an economic depression,
"All too often when there is mass unemployment in the Black community, it's referred to as a social problem and when there is mass unemployment in the white community, it's referred to as a depression. But there is no basic difference. The fact is, that the negro faces a literal depression all over the U.S."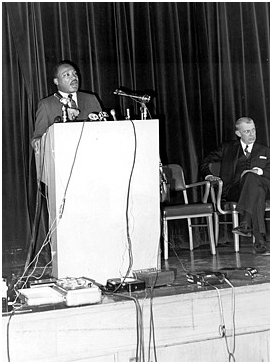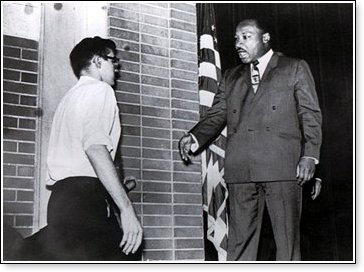 Dr. King speaks at my alma mater, Grosse Pointe South High School.


Later on in his speech, Dr. King brings to light the many myths and excuses made by White Americans concerning the perpetual agonies endured by the Black race. King exploits the false preconceived notion of how "time" will solve racial injustice in America, which he debunks by explaining how time is neutral and inactive unless acted upon. Time can either be used constructively to tear down past aggressions and rebuild Black society or destructively by continually allowing the disregarded segment of society to suffer. Another notion that Dr. King rebukes concerns those who believe that "legislation" isn't capable of fixing the growing levels of poverty and systemic racism that cripples the Black community. In contrast to this, King argues for a greater need to pass more legislation to answer the woes of the Black community and to end racial discrimination, stating,
"It may be true that morality cannot be legislated, but behavior can be regulated. It may be true that the law cannot change the heart but it can restrain the heartless. It may be true that the law can't make a man love me, but it can restrain him from lynching me, and I think that's pretty important also."
King's demands for greater legislation later paved way for the passing of the Fair Housing Act of 1968, answering a major proposition within the Poor People's March in prohibiting any act of discrimination regarding the sale, rental, and financing of housing based on race, religion, national origin or sex. The final notion that King debunks involves Whites having an over-reliance of the "bootstrap" philosophy, most famously advocated for by
Booker T. Washington
in overcoming life's hardships. This philosophy advocates for Blacks to use their own skills, work ethic, and self-motivation to overcome the troubling situations and disproportionate social status against Whites.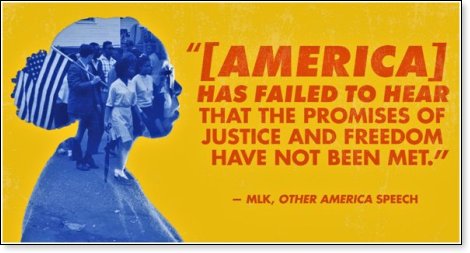 King doesn't discard the truth concerning how many notable Black Americans were capable of pulling themselves up from impoverishment, yet argues against the belief of how Blacks are solely capable and responsible for solving the overwhelming social and financial issues impressed upon them. King closes his speech by reminding the audience of the indisputable similarities Black and White Americans share with one another, emphasizing how both races should strive toward a shared pursuit in establishing a mutual acceptance and betterment of race relations in America. King states,
"Our destinies are tied together. Whether we like it or not culturally and otherwise, every white person is a little bit Negro and every Negro is a little bit white. Our language, our music, our material prosperity and even our food are an amalgam of black and white, so there can be no separate black path to power and fulfillment that does not intersect white routes and there can ultimately be no separate white path to power and fulfillment short of social disaster without recognizing the necessity of sharing that power with black aspirations for freedom and human dignity. We must come to see ... yes we do need each other, the black man needs the white man to save him from his fear and the white man needs the black man to free him from his guilt."
In King's final words, Dr. King pronounced the transcendent prophesies of renewing race relations, while establishing an era of Black and White brotherhood, imbued with faith in God. King reveals a hope for all humanity and confidence in man to create a more just society for all races of people – Blacks, Whites, Hispanics, Asians, Indians and all people of color to coexist as equals in peace. Dr. King ended his lengthy yet profound speech with a victorious crescendo of excellence, declaring that: truth, justice, peace and love will one day triumph over lies, injustice, racism and hate. Dr. King's concluding words to his famous "The Other America" speech was spoken for the ages:
"With this faith we will be able to speed up the day when all of God's children all over this nation – black men and white men, Jews and Gentiles, Protestants and Catholics will be able to join hands and sing in the words of the old negro spiritual, "Free at Last, Free at Last, Thank God Almighty, We are Free At Last."
Dr. King's 50 Year Legacy for today
In 2015, my father, Professor Ellis Washington, published a law review article with the provocative title,
Nigger Manifesto: Institutional, Ideological and Intellectual Racism in America's Academy. The substantive of this scholarly work was to dramatize and chronicle that history has not fulfilled equal justice under the law for Black people in the twenty first century, particularly in the poor numbers of Black faculty holding to a conservative ideology inside the American Academy. In 2018, this law review article was commissioned in book form by EAE Publishing and imprint of SIA OmniScriptum Publishing, Latvia, European Union and will be published by July 2018.

It is also important to note that one of Dr. King's most enduring legacies was not only being a champion of civil rights, but being a modern-day champion of Natural Law and Natural Rights the original intent of the constitutional Framers. My father, Professor Ellis Washington has written extensively on this forgotten legacy of Dr. King in the following article links:
Dr. Martin Luther King's profound vision for an end to violent racism and segregation in America has been beautifully fulfilled in the 50 years following his passing. Dr. King's biblical teachings of peace through oneness under God between Blacks and Whites laid the foundation for the renowned success produced by the Civil Rights movement. Dr. King's famous The Other America speech was ultimately the catalyst that fueled the success of the Poor People's Campaign, seeking to advocate for equal rights and an end to financial disparity among millions of struggling Black citizens.

A 1974 article in the Grosse Pointe News spoke on Dr. King's profound impact on the suburb of Grosse Pointe as thus, "In those few months, Grosse Pointe, a community of about 60,000, stood divided between King's supporters and protestors, a microcosm of the national divide resulting from the Civil Rights Movement." Dr. King's lasting message in his speech stretched far beyond Grosse Pointe, as it inspired the fight to demand greater living conditions and rights for poor Blacks across America. Dr. King's tragic assassination at the Lorraine Motel in Memphis Tennessee, merely three weeks following his appearance in Grosse Pointe, forever hallmarked the significance of the speech in my city, and the larger implications it had upon inspiring the Poor People's Campaign.

Dr. King's legacy would profoundly inspire many of his children and grandchildren, including most notably his niece, Dr. Alveda King, who proudly champions her Uncle's legendary impact on mending race relations in America. Alveda King, like her Uncle is an unapologetic Republican (although much more outspoken about her political ideology), hailing the beneficial effects of Republican legislation to better the lives of Black Americans over the Democrats' slavish philosophy of welfare dependence. Dr. Alveda King has worked closely with President Donald J. Trump in honoring her late Uncle's legacy, with the signing of a special Proclamation, that hailed Dr. King's triumphant impact 50 years following his passing. Many attended the event and delivered words of remembrance, including Dr. King's nephew, Isaac Newton Farris Jr, HUD Secretary Ben Carson, Vice President Pence, and spokeswoman Katrina Pearson.



President Trump signs Martin Luther King Proclamation re- designating the Martin Luther King, Jr. National Historic Site to the Martin Luther King, Jr. National Historic Park, on January 12, 2018.

We as Americans should honor and forever remember Dr. Martin Luther King's blessed legacy and impact, and strive to perpetuate his ideas of peace through unity and acceptance of all races and ideologies. We must honor the 50 years that have passed and pave way for another 50 years of working toward and upholding Dr. King's legacy for each successive generation to come.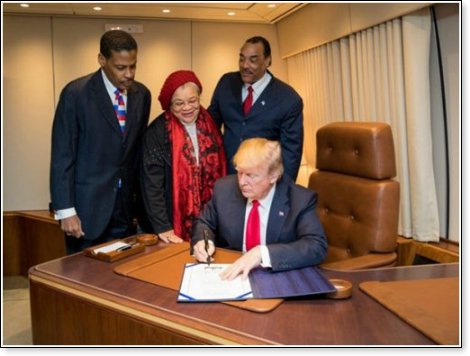 On Monday January 8th, President Trump signs the H.R. 267, the "Martin Luther King, Jr. National Historical Park Act," with Dr. Alveda King, and Issac Farris Jr.

© Stone Washington


---
The views expressed by RenewAmerica columnists are their own and do not necessarily reflect the position of RenewAmerica or its affiliates.
---