Stone Washington
Twisted media: How the Biden-Ukraine scandal warped into the Trump "impeachment inquiry"

By
Stone Washington
October 31, 2019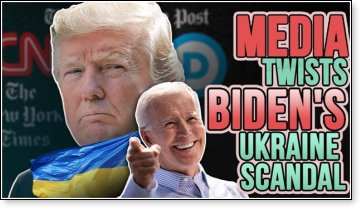 "I looked at them and said, 'I'm leaving in six hours. If the prosecutor is not fired, you're not getting the money.' Well, son of a b – . He got fired. And they put in place someone who was solid at the time."
~Joe Biden
"I did not make a statement that 'you have to do this or I'm not going to give you aid. I wouldn't do that. I wouldn't do that. With that being said, what I want is – I want, you know, we're giving a lot of money away to Ukraine and other places. You want to see a country that's going to be not corrupt."
~President Donald Trump
Background to the Biden...I mean..."Trump" Ukraine Scandal.
Following the anticlimactic conclusion of the
Mueller investigation in April
, House Democrats have now set their sights on a new topic of impeachment: the Ukrainian scandal. The scandal focuses on President Trump's
phone call
with Ukrainian president Volodymyr Zelensky, occurring July 25th, 2019. Zelensky was elected president after defeating incumbent (Obama crony) Petro Poroshenko with 73.22% of the vote, following the second round of the elections. Zelensky ran on a popular anti-corruption platform, seeking to restore integrity and trustworthiness into the Ukrainian government, known for being notoriously corrupt. Zelensky sought "to bring professional, decent people to power" and motivated his base to stand against the country's history of political cronyism. Beginning his campaign on New Year's Eve 2018, Zelensky successfully upstaged Poroshenko's own address on national TV. From there, he rode a wave of success in the election, standing out as one of the lead nominees. Zelensky was elected President of Ukraine on 21 April 2019, beating Poroshenko with over 73% of the vote to Poroshenko's 25%.
The center of Zelensky's fame in America, however, is associated negatively among House Democrats tirelessly seeking to impeach President Trump. Zelensky's once private phone call with Trump has now turned into the center of an infamous impeachment inquiry proposed by House Democrats Adam Schiff and Nancy Pelosi. The phone call's transcript was voluntarily released by President Trump as part of his ongoing efforts to be as transparent as possible in both the Russia-collusion investigation and now the Ukrainian-Biden scandal. In the call, Democrats allege that President Trump coerced President Zelensky into investigating former Vice-President Joe Biden's son, Hunter Biden, who was caught funneling millions of dollars a month from a coveted position on the board of a Ukrainian energy company, Burisma.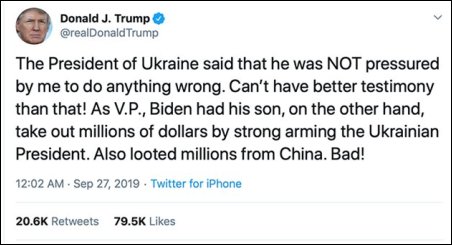 This, while having absolutely no experience in energy production, and while his father Joe Biden was the "point-man" on Ukraine in the Obama Administration. Two years prior, in 2012, the Ukrainian Prosecutor General had been investigating Burisma's owner, Mykola Zlochevsky, over accusations of money laundering, tax evasion, and fraud. In 2015, after a new Prosecutor General, Vicktor Shokin, was hired, pressure from Joe Biden and other Obama Administration officials to fire him arose. They claimed that Shokin was slow walking the process, deliberately shielding Ukrainian political elites and not pursuing anti-corruption efforts. But Shokin claims that he was fired because of his Burisma investigation was close to unraveling Hunter Biden's undeniable connection to the criminal activity in the company. In December 2015, Biden personally visited Kiev and threatened to withhold a $1 billion loan to the Ukrainian government unless officials implemented anti-corruption reforms and immediately removed Shokin.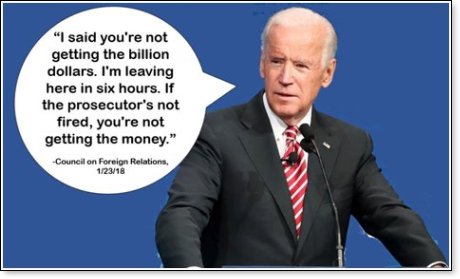 Video of an Council on Foreign Relations interview where V.P Joe Biden made to above incriminating statement @ https://www.youtube.com/watch?v=HhrLWL7jzPY
Fast-forward to October 2019, and the script is flipped in the mainstream media narrative, painting President Trump as guilty of an impeachable offense in threatening to withhold aid to Ukraine, unless they investigate Hunter Biden's scandalous dealings. This, despite the fact that President Trump did not threaten to withhold $400 million in military aid over the Biden's criminality as Fake News sources allege. Trump sought to ensure that Zelensky would abide by his promising anti-corruption platform that propelled him to become the newly elected President of Ukraine.
In this article, I will set the record straight on what has been a scandal against the V.P. Joe Biden weaponizing U.S. foreign policy in a shameless attempt to impeach a duly elected President of the United States for absolutely no wrongdoing. This article will also bridge my
two-part series
on the Russian-collusion Mueller witch-hunt, which served as a failed precursor to this phony impeachment inquiry by Adam Schiff and Nancy Pelosi. I will examine key passages from the actual text of President Trump's
transcript
and prove his innocence in the matter regarding his perfectly legal conversation with President Zelensky in July 2019.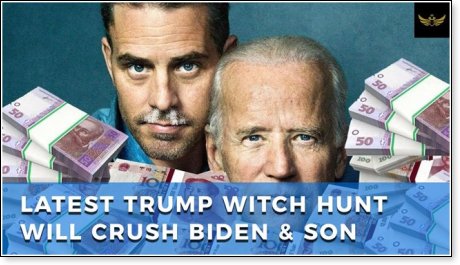 The World's Most Infamous Phone-call: Donald Trump congratulates President Zelensky
Transcript
PRESIDENT TRUMP: Congratulations on a great victory. We all watched from the United States and you [Zelensky] did a terrific job. The way you came from behind, somebody who wasn't given much of a chance, and you ended up winning easily. It's a fantastic achievement. Congratulations.
PRESIDENT ZELENSKY: You are absolutely right Mr. President. We did win big and we worked hard for this. We worked a lot, but I would like to confess to you that I had an opportunity to learn from you. We used quite a few of your skills and knowledge and were able to use it as an example for our elections and yes, it is true that these were unique elections. We were in a unique situation that we were able to achieve a unique success.
PRESIDENT TRUMP: Well it is very nice of you to say that. I will say that we do a lot for Ukraine. We spend a lot of effort and a lot of time. Much more than the European countries are doing, and they should be helping you more than they are. Germany does almost nothing for you. All they do is talk and I think it's something that you should really ask them about. When I was speaking to Angela Merkel, she talks Ukraine, but she •doesn't do anything. A lot of the European countries are the same way so I think it's something you want to look at, but the United States has been very, very good to Ukraine. I wouldn't say that it's reciprocal necessarily because things are happening that are not good, but the United States has been very, very good to Ukraine.
PRESIDENT ZELENSKY: Yes, you are absolutely right. Not only 100%, but actually 1000% and I can tell you the following; I did talk to Angela Merkel and I did meet with her I also met and talked with Macron and I told them that they are not doing quite as much as they need to be doing on the issues with the sanctions. They are not enforcing the sanctions. They are not working as much as they should work for Ukraine. It turns out that even though logically, the European Union should be our biggest partner but technically the United States is a much bigger partner than the European Union and I'm very grateful to you for that because the United States is doing quite a lot for Ukraine. Much more than the European Union especially when we are talking about sanctions against the Russian Federation. I would also like to thank you for your great support in the area of defense. We are ready to continue to cooperate for the next steps specifically we are almost ready to buy more Javelins from the United States for defense purposes.
ANALYSIS: President Trump's relationship with Ukrainian is proven to be strongly respected by President Zelensky. Contrary to the propaganda in mainstream media, President Trump has indeed been very strict to check Russian aggression, compared to previous Presidents before him. Trump was swift to impose harsh economic sanctions on Russia over the poisoning of a Russian spies Sergei and Yulia Skripal, and most recently to punish Russia's
interference in the 2018 mid-term elections
. Zelensky is aware of this and respects President Trump's support of Ukraine far beyond the lack of support from members of the European Union, most notably France and Germany, who have proven to be all-talk and no-action. It is clear that the U.S is far more reliable on protecting Ukrainian interests than the globalist EU, with Ukraine even investing in dependable U.S anti-tank javelins for needed defensive purposes.
PRESIDENT TRUMP
:
I would like you to do us a favor though because our country has been through a lot and Ukraine knows a lot about it. I would like you to find out what happened with this whole situation with Ukraine, they say Crowdstrike... I guess you have one of your wealthy people... The server, they say Ukraine has it. There are a lot of things that went on, the whole situation. I think you're surrounding yourself with some of the same people. I would like to have the Attorney General call you or your people and I would like you to get to the bottom of it. As you saw yesterday, that whole nonsense ended with a very poor performance by a man named Robert Mueller, an incompetent performance, but they say a lot of it started with Ukraine. Whatever you can do, it's very important that you do it if that's possible.
I heard you had a prosecutor [Shokin] who was very good and he was shut down and that's really unfair. A lot of people are talking about that, the way they shut your very good prosecutor down and you had some very bad people involved. Mr. Giuliani is a highly respected man. He was the mayor of New York City, a great mayor, and I would like him to call you. I will ask him to call you along with the Attorney General. Rudy very much knows what's happening and he is a very capable guy. If you could speak to him that would be great. The former ambassador from the United States, the woman, was bad news and the people she was dealing with in the Ukraine were bad news so I just want to let you know that. The other thing, There's a lot of talk about Biden's son, that Biden stopped the prosecution and a lot of people want to find out about that so whatever you can do with the Attorney General would be great. Biden went around bragging that he stopped the prosecution so if you can look into it... It sounds horrible to me.
PRESIDENT ZELENSKY: I wanted to tell you about the prosecutor. First of all, I understand and I'm knowledgeable about the situation. Since we have won the absolute majority in our Parliament, the next prosecutor general will be 100% my person, my candidate, who will be approved, by the parliament and will start as a new prosecutor in September. He or she will look into the situation, specifically to the company that you mentioned in this issue. The issue of the investigation of the case is actually the issue of making sure to restore the honesty so we will take care of that and will work on the investigation of the case. On top of that, I would kindly ask you if you have any additional information that you can provide to us, it would be very helpful for the investigation to make sure that we administer justice in our country.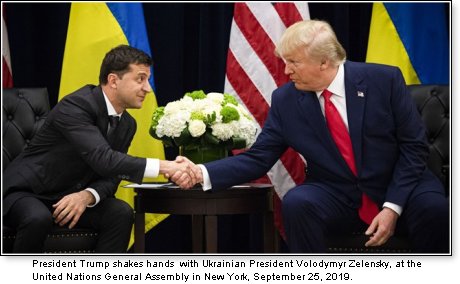 ANALYSIS: This segment comprises the crux of the House Democrat impeachment probe into President Trump's phone call with President Zelensky. Many on the Left have accused President Trump of committing a quid pro quo (Latin for "something for something," "this for that") in threatening to withhold hundreds of millions in foreign aid to Ukraine if Zelensky did not promise to investigate Hunter Biden's fraudulent involvement in Burisma. Democrats accuse Trump of committing a crime in seeking to investigate a 2020 Democrat during an election while levering foreign aid over an allied nation. But no where in this phone call has President Trump mentioned foreign aid to Ukraine and no where in this call is Trump seeking to coerce Zelensky to investigate Biden's illegality. This compared to
Joe Biden's obvious quid pro quo statement
when he bragged about withholding $1 billion in aid to Ukraine unless Shokin was removed as prosecutor.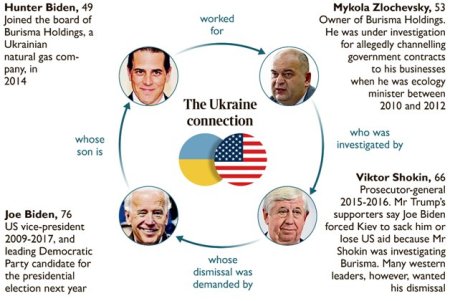 In this phone call, President Trump expressed concern with two major investigations already transpiring: (1) the investigation into the origins of the Trump – Russia collusion investigation potentially extending to Ukrainian involvement (including CrowdStrike's involvement in the hacked DNC server in 2016), (2) the ongoing investigation into Joe Biden's firing of Prosecutor General Vicktor Shokin and cover-up of Hunter Biden having been paid millions for being on the board of Ukrainian energy company, Burisma. President Trump, in requesting Zelensky to look into these investigations, was merely asking for him to be aware of what was already transpiring inside of his own government. There is no coercion, quid pro quo, or foreign aid leveraging by President Trump. While
$400 million in foreign aid
was indeed frozen near the time of the July phone call, this was done to ensure that Ukraine was properly abiding by Zelensky's renewed promise to handle his country's rampant corruption, so as to be worthy of receiving this aid. Trump, like any other concerned and self-aware American citizen, is merely seeking to get to the bottom of a shadowy cover-up by Joe Biden while he was vice-president and a potential corruptible involvement by Ukraine in the hacking of the DNC server during the 2016 election.
Conclusion to never-ending impeachment delusion?
In examining the nature of and plain text of President Trump's phone-call with President Zelensky, any reasonable person would find that there was absolutely no indication of quid pro quo coercion or threats of any kind. This in contrast to what has proven to be a completely unreasonable impeachment inquiry into President Trump's phone call, launched by House Speaker Nancy Pelosi shortly
before
Trump was even able to release the transcript of the call to the public on September 24th. This proves that Nancy Pelosi, Adam Schiff and others pushing for impeachment essentially didn't even care about the facts and text of the phone call, despite claiming that the impeachment inquiry grew out of concern of illegality from the call.
Donald Trump has proven to be perhaps the most transparent President in history to have released a sensitive phone call with a foreign leader so willingly in response to the unsubstantiated attacks from House Democrats and the Fake Media. Even President Zelensky himself backed President Trump and said that he was
in no way pressured
to investigate the Bidens. The exact identities of the alleged two whistle-blowers have yet to be revealed, and Adam Schiff faces growing demands to reveal the original whistle blower's identity, after Michael Atkinson, the Intelligence Community's inspector general, revealed to members of Congress that the whistleblower is a left-wing individual who
worked for Joe Biden
while he was vice president.
Last week, House Republicans were so incensed by Adam Schiff's closed door hearings that over two dozen Congressmen and women gathered together and
stormed through one of the hearings before it began
. The gathering was led by people like House Whip Rep. Steve Scalise (R-LA), Rep. Matt Gaetz (R-FL) and Rep. Mark Meadows (R-NC), who have vocally criticized the unorthodox and devious tactics of Adam Schiff (conveniently nicknamed "Shifty Schiff").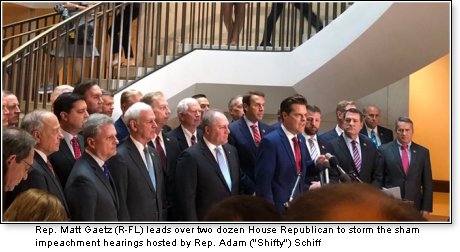 When speaking to reporters, Scalise voiced his rebuke of Schiff's impeachment interrogations well in stating, "The fact that Adam Schiff won't even let the press in – you can't even go in and see what's going on in that room. Voting members of Congress are being denied access from being able to see what's happening behind these closed doors, where they're trying to impeach the president of the United States with a one-sided set of rules, they call the witnesses."
The surprise move shocked Adam Schiff so much that he grabbed the hand of Laura Cooper, the deputy assistant secretary of Defense for Russia, Ukraine and Eurasia, and fled out of the room, like the coward he is. If Adam Schiff and other House Democrats are so motivated by the impeachment push and so certain that President Trump broke the law in his phone call with Zelensky, what do they have to hide behind closed doors? Why was the inquiry launched before President Trump even revealed the transcript? And why hasn't Nancy Pelosi called an open vote on the House floor to impeach President Trump?
My short answer: because this whole controversy is merely another hoax investigation and a continuation of the failed Russian – collusion witch hunt, one last politicized attempt to oust President Trump before he wins re-election come November 2020. Despite being political suicide for dozens of House Democrats running for re-election in Trump won states, Republicans must not allow this treachery to continue, and should continue to push back against this impeachment hoax like Senator Lindsey Graham (R-SC) is doing with his 50 signatures from Senate Republicans and Vice President Pence,
condemning the impeachment inquiry
. It's time to go on offense and take the fight to the Democrats who have planned to unwarrantedly impeach President Trump since he took the oath of office at his
Inauguration
January 20th 2017, my 20th birthday.
© Stone Washington
---
The views expressed by RenewAmerica columnists are their own and do not necessarily reflect the position of RenewAmerica or its affiliates.
---