Stone Washington
President Trump: Year 3

By
Stone Washington
December 31, 2019
"Looking around and all over this large, magnificent planet, the truth is plain to see: If you want freedom, take pride in your country. If you want democracy, hold on to your sovereignty. And if you want peace, love your nation. Wise leaders always put the good of their own people and their own country first."

"The future does not belong to globalists. The future belongs to patriots. The future belongs to sovereign and independent nations who protect their citizens, respect their neighbors, and honor the differences that make each country special and unique."
~ President Donald J. Trump, remarks at the 74th Session of the United Nations General Assembly.
Background to the Triumphant Third Year of the Trump Presidency
With the year 2019 coming to a close, it is important to reflect upon the many blessings that have been bestowed upon our great country. When examining the many accomplishments of the Trump Presidency in 2019, no other administration has achieved such astoundingly rapid success in U.S. history. In continuing my tradition of covering the many ground-breaking achievements by President Trump throughout the year, I will provide a detailed timeline archiving the most prominent successes of 2019. Following
last year 2018
, and his
first year 2017
, President Trump's third year in office has been monumentally fulfilling, despite facing the strongest levels of opposition and harassment from House Democrats over temporarily withholding foreign aid to Ukraine, surviving the most unorthodox and unwarranted impeachment process as a result, and constantly defending himself from a torrent of hostile fake news stories from CNN, ABC, MSNBC, NY Times, Washington Post, and other mainstream press.
In his third year alone, the American economy has broken through record after record, as the DOW gains its 10,000th point and other stocks surge to record highs amid remarkable levels of consumer spending, steady rise of median household income, and the lowest recorded unemployment ever. With the assistance of Senate Republicans, President Trump has appointed a record number of federal judges to various federal Circuit and District courts across the country (nearly 200) – unseen since the first administration of George Washington, where everything had to be started from nothing.
Under Trump and the Joint Chiefs of Staff, U.S. special forces have raided and destroyed the remnants of ISIS in northern Syria, killing ISIS leader Al Baghdadi and his successor in the process. Trump pulled all of our troops out of that 18-year quagmire War in Afghanistan. And Trump also became the first sitting President to cross over the South Korean – North Korean Demilitarized zone without former notice or hesitation. *N.B.: Trump kept his campaign promise not to go to war and to pull U.S. out of all the Rothschild/Illuminati False Flag Wars that Obama, Bush-43, Clinton and Bush-41 got U.S. into. He did that in Syria, Afghanistan and in North Korea, despite the Neocons and Democrat Socialist Party trying to push Trump into perpetual war with false flag chemical attacks on civilians in Syrian and Afghanistan and false rocket launches by the CIA or China trying to frame N. Korea's Kim Jong Un.
But these and so many other significant accomplishments by President Trump often go uncovered by the mainstream media, who deliberately hype up the failed Mueller investigation, hysteria surrounding the Ukrainian phone call, and now the delayed impeachment by House Democrats obsessed with removing Trump from office, which Nancy Pelosi is afraid to send to the Senate knowing she and her Democrat allies have perpetrated a fraud up President Trump and upon the American people. The timeline provided below supersedes the agitprop disinformation that has become commonplace for mainstream news media and does justice in honoring many of the phenomenal achievements of the Trump Presidency this past year.
President Trump's accomplishments in less than 3 years is more than all of his 44 predecessors combined!
President Trump's Third Year Timeline

January

Border Security-
In lockstep with the President's call to defend the southern border from a rising flow of illegal crossings, the Pentagon ordered thousands of additional U.S. troops to safeguard the border – 250 of which would defend the Texas border from an incoming caravan of illegals from Central America. This would later inspire the Mexican government to personally crack down on their own citizens in sending troops to prevent illegal crossings. And in a
valiant bid
to ensure that Congress provides $5.7 billion in funding for a U.S. – Mexico border wall, President Trump presided over the longest government shutdown in history, lasting from December 22, 2018, until January 25, 2019.
Economy and Job growth-
Just before the New Year, the 2018 4th quarter jobs report revealed that wages rose more than 3%; marking the first time in 10 years this has occurred.
Standing against abortion-
During his third State of the Union Address (which many call his greatest), President Trump vowed to push for a
ban to late-term abortions
, asserting that many states, like New York, have laws that would allow "a baby to be ripped from the mother's womb moments before birth."
February

Restoring Jobs-
After January, it was reported that the many Americans who were formerly left out of the economy, flooded back to the job market, as labor participation reached its highest level in 6 years.
Standing against Socialism-
On February 4th, the United States pressured 8 other European countries into formerly recognizing the democratically elected Juan Guaido as the legitimate President of Venezuela.
Cutting Taxes-
Under the Trump tax-cut, small businesses are now able to deduct 20% of their business income as exempt from tax. It was also reported that small business hiring reached an all-time high in February.
Fighting against unfair Trade practices-
The Trump Administration called upon Congress to stand behind the United States Reciprocal Trade Act, which allows for the U.S. to impose tariffs on nations like China and Canada that bear a long track record of unfair cheating in trade.
Military Funding-
This year, President Trump secured a record $716 billion in military spending to better support America's troops. In addition to domestic military spending, Trump also secured an added $100 billion in defense spending from NATO allies.
Restoring dilapidated neighborhoods-
In mid-February, HUD Secretary Ben Carson oversaw the creation of 8,764 Opportunity Zones, seeking to promote new job opportunities in low income communities.
Second Korean Summit-
President Trump hosted the second U.S. – North Korean Summit with Chairman Kim Jung Un from February 27–28, 2019 in Hanoi Vietnam. The summit sought to develop and further steps for denuclearization by the North Koreans in exchange for sanction relief from the U.S.
March

Foreign trade -
Multiple U.S. farmers and agricultural organizations placed their unwavering support behind the United States-Mexico-Canada Agreement (USMCA).
Standing against Socialism
– President Trump slapped members of Nicholas Maduro's socialist regime with economic sanctions, while revoking 77 visas of individuals connected to Maduro, as punishment for their role in blocking humanitarian aid to Venezuela, while increasing pressure on the regime.
Caring for our Veterans-
The Trump Administration passed an executive order to
eliminate Veteran student loan debt
and took preventative action against the rising rate of Veteran suicide.
Sustaining Record Unemployment-
The U.S. unemployment rate remained at or below 4% for an entire year, far surpassing the Obama administration's struggle to keep the rate at 3% for at least a year. Because of this, labor participation attained a 5-year high, as there were 1 million more jobs available than unemployed people, a continued reflection of the administration's pro-worker policies.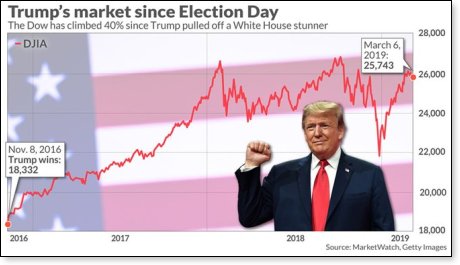 Standing with Israel and against Iran-
On March 25th, the United States finally recognized Israel's ownership and sovereignty over the Golan Heights in the Levant, a historic show of solidarity with Israel. The U.S. also imposed sanctions on 9 individuals and 14 entities from Iran, holding the hostile regime accountable for its destabilizing, erratic, and anti-American hostility.
Mueller Investigation concludes-
The nearly 2-year
Mueller probe
concluded in March, unable to "establish that members of the Trump campaign conspired or coordinated with the Russian government," according to the report. The report also could not cite any actual instances of Trump obstructing justice in his capacity as President.
April

Standing against Iran-
In early April, the Trump Administration designated Iran's Revolutionary Guard as a foreign terrorist organization in lieu of the radical Islamic regime's unlawful and disruptive authority. The Administration also took measures to bring Iran's oil exports to zero, denying them their primary source of revenue.
Job Growth-
The economy added exactly 5.1 million new jobs since Trump took office in January 2017. The unemployment rate also continued to remain at or below 4%, particularly among Blacks, Hispanics (who also have the highest homeownership in a decade) and women in the workforce; the longest in 50 years. The Department of Labor also spent $2 million to help employers promote, recruit and retain workers with disabilities.
Pressuring the Fed-
President Trump was notable for standing up to Jerome Powell and the Federal Reserve, pressuring them to cut interest rates and renew quantitative easing in order to
stimulate economic growth
.
Opposing U.N. Globalist Policy-
On April 26th, President Trump
un-signed the ATT
(Arms Trade Treaty), effectively withdrawing the U.S. from the restrictive U.N. pact. The White House issued a statement, stating that the ATT "will only constrain responsible countries while allowing the irresponsible arms trade to continue," citing that major arms exporters China and Russia are not bound by the pact.
May

Transparency in Drug sales-
Health and Human Services imposed a rule to create better transparency in the pharmaceutical industry, requiring drug companies to disclose the price of medication in direct-to-consumer TV ads.
Bold new Immigration Plan-
President Trump addressed a crowd from the Rose Garden as he unveiled a two-part revolutionary
immigration plan
that vows to repair America's broken and divisive immigration system into a system of "pride and national unity." The plan involves the imposition of securing a full protective barrier across the southern border with Mexico and impose a merit-based legal immigration system.
Appointing conservative Judges-
President Trump and the Republican Senate reached a milestone in appointing 116 federal judges to the bench.
Job Growth-
Wages have increased beyond 3% for the 10th month in a row.
As of May 2019, President Trump has confirmed the fourth-most federal judges and the most appeals court judges overall at this stage of his Presidency, compared to the last 13 presidents.
June

Honoring History-
President Trump participated in the historic D-Day celebration, a 5-day international trip to the United Kingdom, Ireland, and France in order to reestablish our alliance with the three nations and honor their profound sacrifice during the second World War.
Aborting the Abortionists-
A federal Appeals court allowed for a Trump Administration policy that restricts taxpayer dollars given to "family planning facilities" through Title X. Companies receiving funds through Title X are prohibited from mentioning abortion to patients or sharing a space with abortion providers. As a result, Planned Parenthood, the leading proponent of abortion services,
withdrew from the Title X program
.
Bettering Former Trade Deals-
Working with U.S. trade officials, Trump revised the Korea U.S. Free Trade Agreement following multiple meetings with South Korean President Moon Jae-in.
Second Chance Hiring-
In coordination with the Departments of Education, Justice and Labor, in addition to the Personnel Management and Bureau of Prisons, new initiatives were unveiled to promote second chances in hiring after applicants had committed a felony.
Historic Meeting in North Korea-
Amid a June 2019 meeting with South Korea, President Trump shocked the world after
crossing the Korean Demilitarized Zone
, becoming the first American President to step inside North Korea.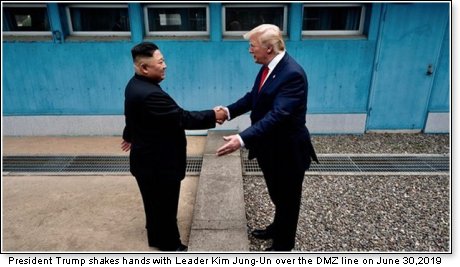 July

Record Job Growth-
The United States has added exactly 6,370,000 new jobs since Trump first took office. Asian and Black American unemployment reached its lowest levels ever recorded.
Historic Tax Cut-
After Trump successfully signed the largest tax-cut and regulatory reform package in history, a massive $876 billion poured back into the U.S. economy.
Decline in Drug Overdose-
According to the CDC, the rate of drug overdose
dropped by 5%
, the first decline in nearly three decades.
Wage Growth-
Wages increased by 6.6% for the bottom 10% earners amid the first 6 months of 2019.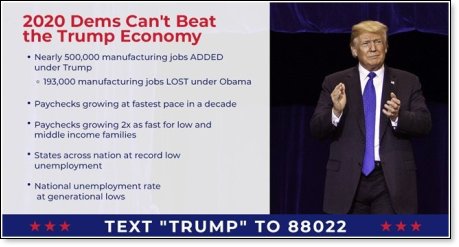 August

Safeguarding Fair Trade-
On August 23rd, President Trump retaliated against China's increasingly unfair trade practices by
raising existing tariffs
on Chinese imports to $550 billion. On a positive note, President Trump was able to secure a major trade deal with the European Union to increase U.S. exports to various European nations.
Regulatory Rollback-
As reward for the Trump Administration's slashing financial regulations, the average American middle-class household received an extra $3,000 in tax returns.
King of Natural Gas-
The United States officially surpassed Saudi Arabia and Russia in becoming the World's largest producer of oil and natural gas. As a result of Executive Orders that allow companies to frack and reinvest in coal mining, the U.S. became a net exporter of natural gas for the first time since 1957.
September

Record Unemployment-
More Americans – 160 million – are employed; the greatest labor participation ever. September represents the 18th consecutive month where there are over a million available jobs compared to people already working.
Confirming Conservative Judges-
President Trump, with the aid of the Republican Majority in the Senate, confirmed exactly 150 new federal judges.
October

Reforming Healthcare-
HHS took executive measures to reform Medicare so as to prevent the overcharging of senior citizens regarding their much needed drugs.
Successful Trade Deals-
The United States and Japan concluded trade talks and formerly passed the Japan Trade Agreement, in addition to passing the Japan Digital Trade Agreement.
Demolishing ISIS-
Under President Trump's fearless leadership and with the guidance of the Joint Chiefs of Staff, ISIS leader Abu Bakr al-Baghdadi took his own life in a suicide bombing after being surrounded by U.S. special forces and K-9 units. President Trump has also brokered a ceasefire in the war-torn country of Syria between Turkish and Kurdish fighters.
November

Wage Growth-
For the 15th straight month in a row, wage growth has remained at or above 3%, a record that far surpasses the Obama economy, which only maintained this level for 3 months total.
Enabling our Youth-
The Youth unemployment rate reached its lowest recorded levels in 50 years, as the greatest number of teens and young adults are working.
Defending Israeli Sovereignty-
President Trump
reversed
decades of foreign policy views against Israel's occupation of territory surrounding the West Bank. Secretary Mike Pompeo declared that, "the establishment of Israeli civilian settlements in the West Bank is not
per se
inconsistent with international law."
December

Regulatory Rollback-
By December, the Trump Administration added much needed reform to the EPA, overturning/in the process of rolling back 78 environmental regulations.
Stock Market Record-
As of mid-December, the Dow Jones Industrial Average crossed 28,332.74,
gaining 10,000 points
since Trump's election victory on November 8, 2016.
Record Unemployment-
The U.S. unemployment rate continues to remain at the lowest recorded levels ever among Blacks, Hispanics, Asians and women.
Conclusion – Looking Forward to 2020
Truly, President Trump has capitalized on his most triumphally successful year thus far in his presidency. With 2019 coming to a close, the Trump Administration has achieved record-breaking success after success, far surpassing layers of expectations and predictions, while at the same time producing the greatest number of victories for the benefit of the American people more than any other previous Administration. Whether it's restoring the original strength of the mighty U.S. military, destroying ISIS, inspiring unprecedented stock market growth, reversing decades of self-inflicting trade deals, appointing the greatest number of federal judges in the quickest amount of time, or creating millions of new jobs amid the lowest unemployment of all time, President Trump has delivered on his promises to the American people time and time again. This despite 2019 overseeing the highest level of sabotage, obstruction, and outright treasonous actions by the Democrat Party, who have targeted Trump with every underhanded political weapon in their arsenal.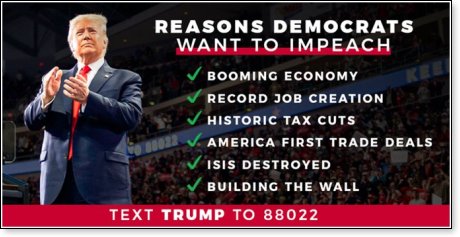 In 2019 alone, President Trump has survived an onslaught of endless obstruction:
1. The conclusion of the Mueller witch-hunt, unsubstantiated accusations by the Left/Fake Media of obstruction of justice (explicitly not found in Mueller's report),

2. Accusations of committing "quid pro quo"/bribery with President Zelensky of Ukraine (as the Media ignores/hides Joe Biden's clear expression of quid pro quo toward Ukrainian officials),

3. The Democrats' launch of the impeachment hearings against the President, House Democrats impeaching President Trump with no regard for due process or factual basis to the Ukraine phone call,

4. And now Nancy Pelosi's refusal to even send the articles of impeachment to the Senate (guilty of obstructing Congress herself?).

Despite all of these and many more politically motivated assaults, President Trump remains stronger than ever before, more determined to continue making America into an exceptionally prosperous and plentiful nation, while defending his renowned progress thus far after winning reelection come November 4th, 2020.
Happy New Year!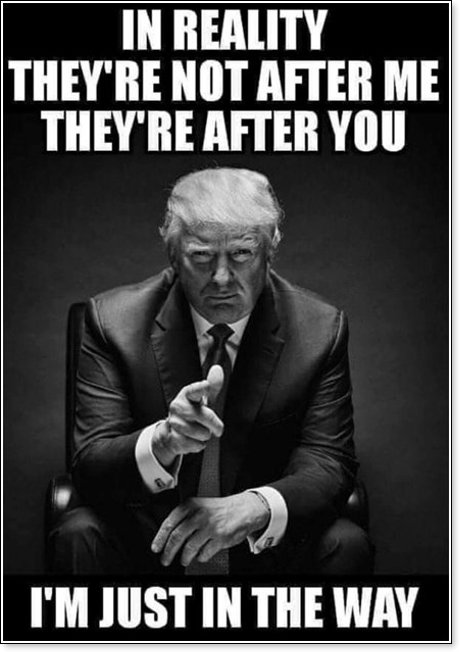 *N.B.: This essay is based in part on the following timeline produced by the Trump Campaign:
https://www.promiseskept.com/timeline/
.
© Stone Washington
---
The views expressed by RenewAmerica columnists are their own and do not necessarily reflect the position of RenewAmerica or its affiliates.
---