Stone Washington
From energy independence to energy crisis: How American oil production has suffered under Biden

By
Stone Washington
March 4, 2022
"We were energy independent one year ago, now we are at the mercy of OPEC, gasoline is selling for $7 in parts of California, going up all over the country, and they are taking oil from our Strategic Reserves. Is this any way to run a country?"
~President Donald Trump
With the situational stability of Ukraine gradually deteriorating by the day and America's former energy self-sufficiency now diminished by dependency on OPEC and Russia, it has become more important than ever to assess the primary reasons for how the U.S. has found itself in this precarious predicament. Under the Joe Biden's hasty and feckless decision-making, the United States has restricted its own sources of oil distribution, with the most detrimental example being the decision by the Biden administration to close off the Keystone XL Pipeline traversing from Alberta Canada to oil refineries in Cushing Oklahoma and the U.S. Gulf. On what was an $8 billion project, Biden's decree to revoke a key cross-border presidential permit caused the owner of the pipeline, TC Energy, to halt its efforts to complete the 300-mile-long pipeline in what had been a meandering 10-year process.
In an NPR article, the Vice President of the American Petroleum Institute, Robin Rorick, lamented how it was "unfortunate that political obstructionism led to the termination of the Keystone XL pipeline. This is a blow to U.S. energy security and a blow to the thousands of good-paying union jobs this project would have supported." The move also marked a blow to Canada's economy, which, last year, was the largest exporter of crude oil to the and petroleum products to the U.S. The pipeline building process had been revived under President Trump in 2017 and was clear to cross through Nebraska, following a favorable decision by the Nebraska Supreme Court.
A month prior to the decision to restrain America's historically booming oil production under the Trump administration (2017-21) by shutting down the Keystone Pipeline, Biden made a comparably misguided decision to waive existing sanctions on the Nord Stream 2 Pipeline connecting Germany and Russia. Biden and his Secretary of State Antony Blinken sought to justify the move as a step toward mending relations between the U.S. and Germany, which they felt "deteriorated" under Trump's pressure on the country to increase its NATO spending and criticism on its strong dependency on Russian oil. The pipeline was the largest European fossil fuel initiative, part of an $11 billion project that would transfer oil from Russia across the Artic to Germany, providing a cheaper alternative to U.S. LNG oil, while being disadvantageous to America's exports between the three countries. Critics of the Nord Stream pipeline in Congress are fearful that it can be used as leverage over EU countries by the Russians in terms of weakening them over dependency on cheap oil.
During the time Secretary of State Blinken issued the waivers, stopping the pipeline's completion received bipartisan support from Congressmen, with GOP Senator Jim Risch of the Foreign Affairs Committee criticizing the move as "a gift to Putin that will only weaken the United States' leverage in the lead up to the impending Biden-Putin summit." On the Democrat side, Senator Bob Menendez, who chairs the Foreign Affairs Committee, urged Biden to stop the pipeline permanently. Fast-forward to today, Biden recently scrambled to reactivate sanctions on the Nord Stream pipeline following Russia's official move to begin invading Ukraine on Thursday. After talks, Germany, which relies on Russia for 50% of its natural gas, officially terminated its contract to complete the pipeline's construction.
During the Trump presidency, America made history by becoming an energy dominant country for the first time in 75 years. This was steadily achieved over the course of Trump's term in office when his administration severed a reliance on OPEC countries selling the U.S. oil and controlling the price of oil on their terms. Instead of depending heavily upon OPEC-member countries like Saudi Arabia and Pakistan, United Arab Emirates, and Qatar for the bulk of our oil importation, President Trump reversed this trend to tap into the vast domestic oil reserves inherent in petroleum-enriched states across the nation, such as Ohio, Texas, and West Virginia.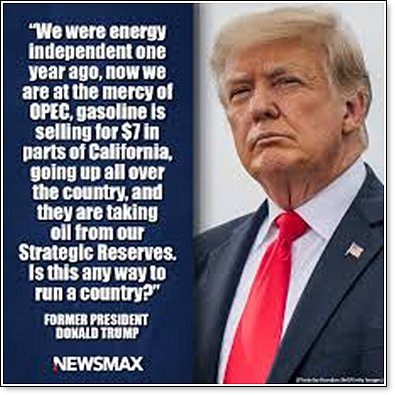 Under Trump's direction, the U.S. Department of Energy was instrumental in rolling-back previous years of red-tape and bureaucratic blockades by repealing administrative rules preventing states from engaging in fracking or setting restrictive caps on oil refineries. These states were unrestrained from preparing large quantitates of oil for the federal government to export to foreign nations at a more rapid rate than the level of oil being imported into the U.S. The resulting shift to net exports marks a dramatic result of an extraordinary boom in American oil production in 2020, with the U.S. having unleashed thousands of wells pumping from the Permian region of New Mexico and Texas, all the way to Marcellus in Pennsylvania and the Bakken in North Dakota.
According to Trump White House Archives, in 2019, America became a net exporter of oil for the first time in 67 years, exporting more barrels of oil than imported. And as of December 2020—January 2021, during the final month of Trump's term in office, the United States became the leading global producer of oil and natural gas. In addition to this boon in oil exports, America reached its lowest levels of carbon emission in 25 years, as many Americans received reliable access to various forms of energy, while the Labor Department oversaw an expansion of stable, high-earning energy jobs for small businesses. This, in lieu of the fact that Trump withdrew the U.S. from the controversial Paris Climate Accord, as America had maintained the lowest levels of carbon emissions compared to any other country in the agreement.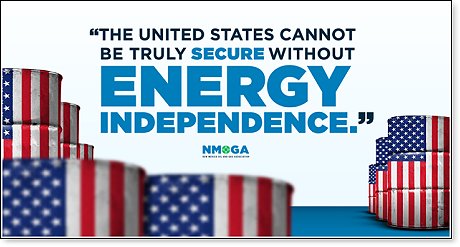 President Trump was instrumental in reviving construction on the Keystone XL pipeline, after progress on the project lied dormant under the Obama presidency. Days after his inauguration, Trump also signed an order to approve access to the Dakota pipeline, serving to fulfill a major campaign promise to rebuild America's energy infrastructure, extending American access to various streams of oil, while rapidly rejuvenating petroleum production across oil enriched states. Beginning in 2017, the Dakota pipeline has been instrumental for transporting oil over a 1,200-mile-long underground passage, carrying hundreds of thousands of barrels of oil through North Dakota, South Dakota, Iowa and Illinois. It represents an essential network of access across these four states, and serves as a major boon for domestic oil production.
The benefits of both pipelines have reduced the costs associated with transporting oil and streamline the distribution between states producing and refining crude oil for various purposes. Protests by various Native American tribes and environmental activist groups had served to delay the completion of the $3.8 billion Dakota pipeline, with claims that it affected a lake near the Standing Rock Sioux reservation. This impediment was similar to how in 2015, former President Obama rejected TransCanada Corp's Keystone XL oil pipeline, transporting Canadian crude from Alberta into the U.S. Gulf, after radical environmentalists campaigned against the project for more than seven years. Despite the Biden Administration's ill-informed decision to close the Keystone XL pipeline in June 2021, which served to reduce America's momentum toward energy independence and prevented the creation of thousands of well-paid energy sector jobs, Biden decided against any attempt to shut down the Dakota pipeline, which angered many of the environmental groups championing its closure.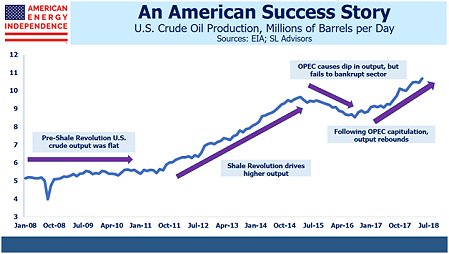 Conclusion: how to return to Trump Era of Energy Independence
In closing, it cannot be emphasized enough how much less reliant America was on foreign oil from Russia and OPEC, while also being more environmentally friendly with the lowest levels of carbon production, during the Trump presidency. The radical left's hasty calls to close down valuable sources of oil production via projects like the Keystone pipeline has only served to make the U.S. unreasonably more reliant on exports from foreign nations for oil, drastically increase the cost of gas at the pump to levels unseen in 40 years, reduced marketable opportunities to frack in oil-enriched states, and has continually reduced the number of available jobs in coal and oil production.
Every day Americans have directly suffered from the negative effects of Biden's assault on energy independence, most notably at gas stations across the country that have seen exorbitant prices per gallon continually increase, with some cities across the country, like San Diego, continuing to shatter records by the month. Instead of working to restore America's once lucrative and predominant domestic oil production, Biden has only developed a stronger reliance on exporting expensive oil from OPEC nations and Russia, while gifting Russia and Germany with an approval of the Nord Steam 2 pipeline in the spring of 2021, despite Trump's sanctions against this. Biden only recently re-imposed Trump sanctions on the pipeline, in what was a hasty response to the Russian invasion of Ukraine.
Compare the above crisis scenario to two years earlier under the Trump administration which saw the U.S. become a net exporter of oil. Trump's bold policy on energy helped remodel America into a self-reliant nation that produced oil at greater levels than many of the world's leading producers, while drastically reducing the cost of transporting oil, and creating thousands of energy-based jobs for American citizens. Below are just a few of the many achievements made during Trump's tenure:
The average American family saved $2,500 a year in lower electric bills and lower prices at the gas pump
Reduced the time to approve drilling permits on public lands by half, increasing permit applications to drill on public lands by 300 percent
Guided the U.S. to be among the top three Liquefied Natural Gas (LNG) exporters in the world
The development of natural gas and LNG infrastructure in the United States provided tens of thousands of jobs and has led to the investment of tens of billions of dollars in infrastructure
Renewable energy consumption and production attained record highs in 2019
Resolved the OPEC oil crisis during COVID-19 by strategically convincing OPEC, Russia, and others to cut nearly 10 million barrels of production a day, stabilizing world oil prices
Invested over $38 billion in providing clean water infrastructure
With the ongoing deterioration of peace in Ukraine, as many NATO countries are hesitant to act against Russian aggression, due in-part, to over-dependency on Russian oil, let us hope that the U.S. does not fall into a similar trap by outsourcing too much of our petroleum production to Russia and granting too much leverage to OPEC countries, all at the expense of energy independence, the rising price of oil, and further destabilization of the U.S. economy.
© Stone Washington
---
The views expressed by RenewAmerica columnists are their own and do not necessarily reflect the position of RenewAmerica or its affiliates.
---