Arlen Williams
GOP voters: don't fall for pundits' psyops, Mitt Romney is a traitor

By
Arlen Williams
March 13, 2012
We are told it is inevitable. All you have to do is vote for Mitt Romney and you will comply. Pundits imply it is your duty, to best prepare to defeat Barack Obama in November. Obey. Never mind it is unnecessary and senseless to ask people to do what is "inevitable," that to do so belies the label. Never mind, he would be a weak, easily targeted, and very vulnerable candidate. Never mind, he is a traitor.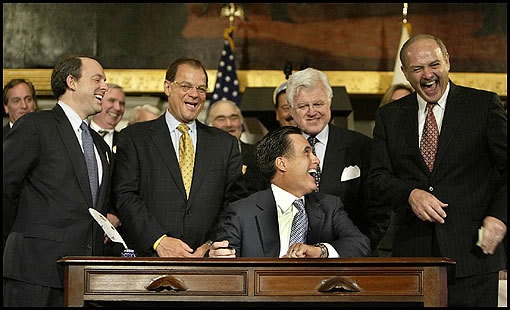 "Traitor" is extreme term. Yet that is what he is, by thoroughly demonstrated conspiracy fact. That is what someone is, who implements Agenda 21 "sustainability" policy according to the dictates and encroaching hegemony of the United Nations kleptocracy.
Read and hear what experts and citizen journalists say about it, a sample from Gulag Bound's selection of articles, tagged
Agenda 21
:
James Simpson, who
in 2008 detailed the Cloward-Piven plan of manufactured crisis
showing how that relates to the events of the mortgage meltdown, and to George Soros, Barack Obama, and ACORN, breaks it down:
It is the path of Cap and Trade, of climate exchanges, of fascistically taxpayer funded green energy, and of energy hording by the most elite in our world.
It is also the tyranny of land confiscation. And ultimately, the plan includes forced resettlement and population reduction. Here it is in initial action, this example in California, from
"Battle for the California Desert: Why is the Government Driving Folks off Their Land?"
:
Mitt Romney
And this is how we may know that Romney is a participant in this vast strategy, violating our Constitution, our American property rights, and America's popular and national sovereignty. The following is excerpted from
"GOP Presidential Candidates on Agenda 21 'Sustainable Development,"
January 12, 2012 (where Newt Gingrich, Ron Paul, and Rick Santorum are also assessed).
---
Mitt Romney
, his favoring of and participation in Agenda 21, putting him at enmity with the sovereign United States of America:
Video, "Romney answers question about renewables and green jobs," uploaded December 27, 2007
---
We are also warned by the fact that wealthy Agenda 21 proponents and opportunists
fund Mitt Romney's campaign
.
As for me, if Romney were nominated, this treachery coupled with his
consistent history of dissembling and deceit
would require my vote for a third option. I may vote for the lesser of two evils, if necessary. It is my
duty
according to the principles of the Declaration of Independence, to throw off the lesser of two enemies, just as I would the worse of them.
© Arlen Williams
---
The views expressed by RenewAmerica columnists are their own and do not necessarily reflect the position of RenewAmerica or its affiliates.
---