Eradicating minorities

Barbara Kralis
, RenewAmerica analyst
March 1, 2011
Abortion providers — such as Planned Parenthood (PP), with their 850 U.S. abortion mills — certainly know of the power of a single, truthful graphic photograph to change a person's conscience and heart.
Therefore, Planned Parenthood and other abortion providers will go to great lengths to prevent the gruesome consequences of birth control, abortion, eugenics, and genocide planning — especially against America's minority women and children — from being understood.
"Too horrific"
Examine one bizarre event that took place in St. Louis in January 1993. The St. Louis
Post-Dispatch
newspaper rejected this ad's photo of a disconnected African-American baby doll. The newspaper editor rejected, in addition, over 5,200 ad signatures, as well as the accompanying ad payment of $25,000 paid by various Missouri pro-lifers.
What was the reason for such a rejection? The
Post-Dispatch
editor said the photo of the "dismembered doll was too horrific for its readers to see."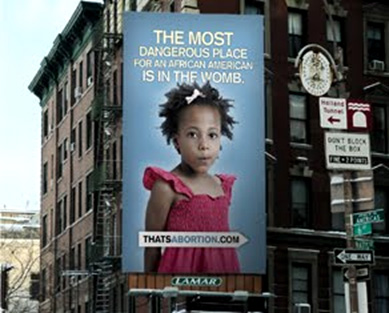 In another extreme example, a pro-life billboard was recently posted in the area of 6th Avenue and Watts of the SoHo district of Manhattan, New York. The neighborhood is primarily one of minority Hispanics and African-Americans.
Sadly, hundreds of local minority residents and civic leaders denounced the pro-life message, saying it was grossly offensive to black and Hispanic women and children.
In a final coup de grâce, the employees working in the Mexican restaurant right below the billboard were so offended by the message they forced Lamar Outdoor Advertising Company to take the billboard down just two days later.
Ironic deception
Pastor Stephen Broden, an African-American leader in Dallas, TX, is the pastor of
Fair Park Bible Fellowship
and member of the Board of Directors of the Texas pro-life group
Thatsabortion.com
who sponsored the SoHo billboard.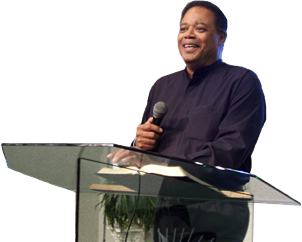 When asked about the irony of the fact that so many African-American women are employed at Planned Parenthood's 850 U.S. abortion mills and are not able to see that PP is their worst enemy, Pastor Broden explained to this writer:
Yes, there are many African American women working in these abortion mills where African American babies are murdered each day, an indication of the monolithic monotone coming from PP and the others within the abortion industry to deceive minority women that abortion is the best answer to poverty. Abortion providers tell the women that killing her child will end her problems.

There's not been an alternative pro-life voice in the African-American community other than "kill the baby." The women are not told to put the baby up for adoption, or better yet, that they should keep and raise the baby themselves. No, those pro-life messages are not heard in our minority communities. Instead, the message given is the unfettered, unchallenged message of Planned Parenthood to "kill the baby" and thus solve all of your problems.

The reaction to this billboard is centered on trauma; abortion IS traumatic! It is the emotional and physical trauma that women face after abortion that necessitates access to post-abortive healing services.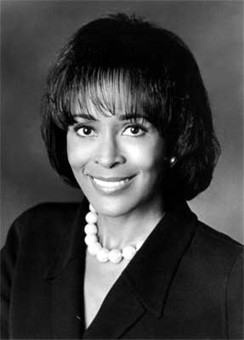 Faye Wattleton, B.A., R.N., was from l978 to l992 the first African-American and the first woman to serve as the President of Planned Parenthood Federation of America.
Minority genocide
Each February, our nation celebrates "Black History Month" by promoting national black leadership; many are the same leaders who also support black children's murders. This year, Black History Month honored Faye Wattleton, PP's first African-American president. Ironically, PP fails to mention the 1,500 black children it kills each day during "Black History Month."
In the New York City metro area alone, the 2009 rate for black abortions was 60% of all abortions. PP locates nearly 80% of its clinics nationwide in minority neighborhoods and performs 1/3 of all its abortions on blacks, even though blacks make up only 13% of the population.
[1]
Blinded by political gains to channel more tax dollars to
Planned Parenthood
, and purposely ignoring the real statistics of black genocide perpetuated against colored minorities, Rev. Al Sharpton and other African-American civil rights leaders protesting the SoHo pro-life message said, "The billboard demonized minority mothers and their reproductive freedoms."
Recent statistics reveal that abortions do disproportionately affect black Americans — as black "mothers" abort their children 4.8 times more than non-Hispanic white women.
The Center for Disease Control puts the reality another way: One out of every five white mothers' pregnancies ends in abortion, compared to one out of every two among black mothers.
PP kills more blacks in one year than the Ku Klux Klan ever could in hundreds of years, yet prominent medical groups and society elites such as Bill and Melinda Gates (who have given millions of dollars to PP), the Susan G. Komen Cancer Foundation, the NAACP, major television networks, and Hollywood toadies actively support and promote PP in countless ways.
As active pro-lifers well know, the elimination of black and immigrant children was always the modus operandi of PP, which has 20 very profitable abortion mills called "Health Centers" strategically located within a 23-mile radius of the New York SoHo minority district.
Margaret Sanger
Margaret Sanger (1883-1966), founder of Planned Parenthood, spent her entire life promoting birth control through eugenics with her "Negro Project," intending to eradicate the blacks, immigrants, the poor, and the infirm. Sanger said eugenics is
"the most adequate and thorough avenue to the solution of racial, political, and social problems."
Sanger believed that, for the purpose of racial "purification," couples who chose sterilization should be rewarded;
[2]
that couples should be required to submit applications for approval to have a child;
[3]
that minorities, immigrants, and poor folks were
"human weeds and reckless breeders spawning human beings who never should have been born."
[4]
Sanger espoused the thinking of other eugenicists — similar to Darwin's "survival of the fittest" — urging compulsory sterilization of poor "'colored" people as a prerequisite to receiving any public aid.
[5]
Tax support
Sadly, hardworking U.S. taxpayers' money is funding Planned Parenthood's eugenics here and abroad. For example, between the years 2002 and 2009, U.S. taxpayers funded abortions to mostly black and Hispanic women in the amount of over one billion dollars.
When Barrack Hussein Obama took office and immediately dissolved the "Mexico City Policy," which previously prevented American tax dollars from funding abortions outside our borders, U.S. government subsidies to the abortion industry using taxpayers' money increased by 50 percent.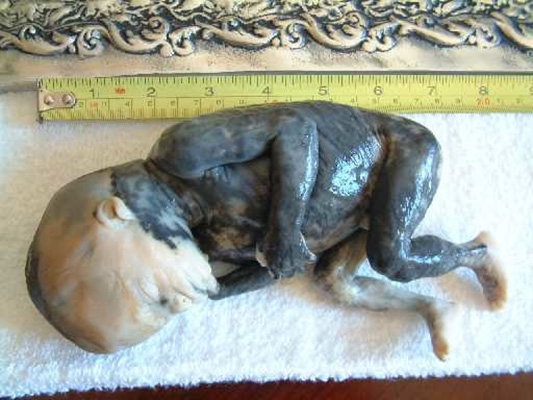 Actual photo of burned 2nd trimester aborted baby
We will never, ever, ever end abortion unless pro-lifers continue to expose the truth using graphic photographs, graphic and informative videos, poignant billboards, and other mainstream media advertising.
NOTES:
[2]
(
Birth Control in America, The Career of Margaret Sanger
, by David Kennedy, p. 117, quoting a 1923 Sanger speech).
[3]
Sanger wrote in her "Plan for Peace." (
Birth Control Review
, April 1932).
[4]
Pivot of Civilization, by Margaret Sanger, l922, p. 80.
© Barbara Kralis
---
The views expressed by RenewAmerica columnists are their own and do not necessarily reflect the position of RenewAmerica or its affiliates.
---