Is the Pope Catholic?

Barbara Kralis
, RenewAmerica analyst
August 10, 2015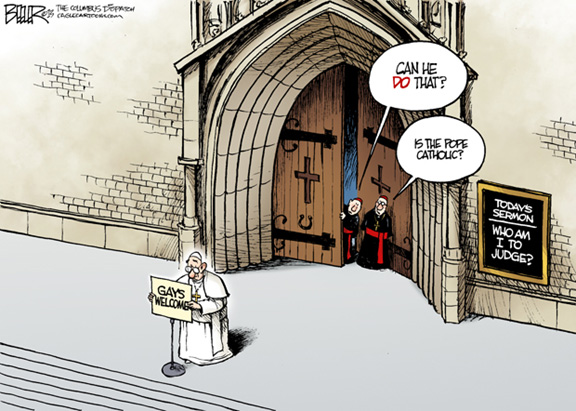 Pope Francis' conciliatory language toward irregular sexual unions for the past two years has caused the fiercest fighting within the Catholic Church since Vatican II. These matters are the heart of the Church's infallible teachings on faith and morals.
On
July 7, 2015,
during Pope Francis' outdoor celebration of the Holy Sacrifice of the Mass in Ecuador, he
asked the hundreds of thousands of Hispanics in attendance
to pray for the coming October 2015 "Extraordinary Synod of Bishops on the Family" asking that
"God might transform into a miracle even what might seem impure, scandalous or threatening."
The statement drew cheers from Francis' audience who may not have been catechized well enough to understand what he was asking of them – to pray that God facilitate the Synodic Bishops to relax the moral integrity of the teachings of the Catholic Church to deny the indissolubility of a Sacramental marriage, thereby permitting couples in invalid, irregular "second" marriages including those unions between same-sex partners, to be allowed to receive Holy Communion.
Some Church pundits say that Pope Francis CAN do such a thing
Some say Francis could do such a thing, as he would only be changing discipline, not doctrine.
"Not so," said Cardinal Gerhard Mueller, Prefect of the Congregation for the Doctrine of the Faith: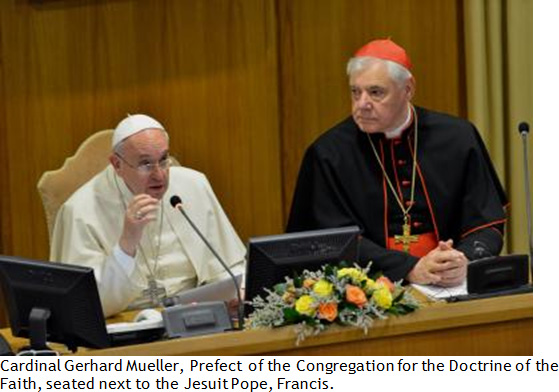 "The discipline of the Sacraments is the expression of the Doctrine of the Faith. These are not two different domains. One cannot affirm a Doctrine and then initiate a practice that would be contrary to the Doctrine... We must be obedient to the word of Jesus Himself. When Jesus was asked if it were permitted for a man to repudiate his wife, Jesus replied, No! Jesus said: 'if a man divorces his wife and marries another, he commits adultery.' When people encounter difficulties, they should do everything they can to overcome them, seeking to become like Christ crucified, who rises from the dead on Easter. They should seek help and support in the efforts. But we cannot say that our pastoral practice should improve on that of Jesus Himself!"
"Not so," seconded Cardinal Raymond Burke in an interview with reporters on September 30, 2014. "The Pope and all the bishops of the world cannot change the truth about marriage."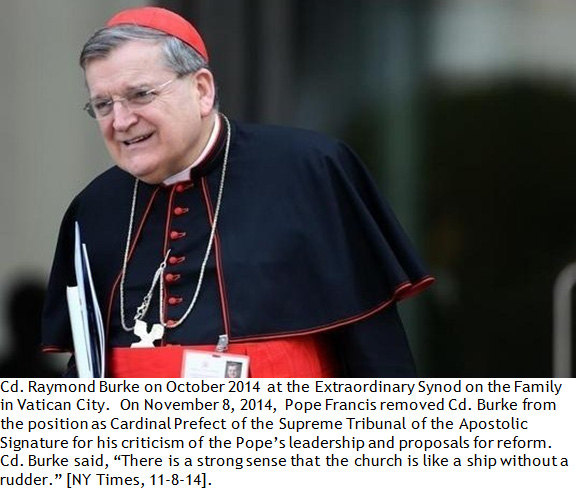 On March 27, 2015, Cardinal Burke explained to
LifeSiteNews in Rome:
"There cannot be anything that's truly pastorally sound which is not doctrinally sound. And so to say that we're just making pastoral changes that have nothing to do with doctrine is false. If you admit persons who are in irregular matrimonial unions to Holy Communion, then you're directly making a statement about the indissolubility of marriage, because Our Lord said:
'He who divorces his wife and marries another commits adultery.'
If you are living publicly in a state of mortal sin, there isn't any good act that you can perform that justifies that situation: the person remains in grave sin. And, to give the impression that somehow there's something good about living in a state of grave sin is simply contrary to what the Catholic Church has always and everywhere taught. It is not enough to be kind and generous and dedicated. It is like the person who murders someone and yet is kind to other people."
Where does so much confusion come from?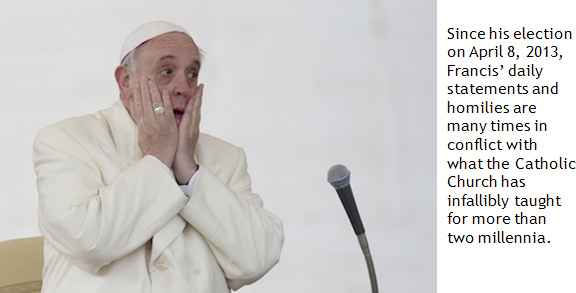 It is when Francis diverts from the Vatican's pre-written statements and speaks extemporaneously without an approved text that reveals his plan to change the Church's teachings on Sacramental marriage. It is during this impromptu, off the cuff mode of speaking that he commits almighty chaos.
One example: On June 6, 2013, Francis was quoted by several members of the Latin American and Caribbean Confederation of Religious Men and Women as crudely mocking a group of traditional Catholics for gifting Francis with a spiritual treasure of 3,525 rosaries prayed for his intention. The Pope said to the LACC group afterwards,
"It's like turning back 60 years! They count rosaries... Please, don't laugh," Francis told his friends.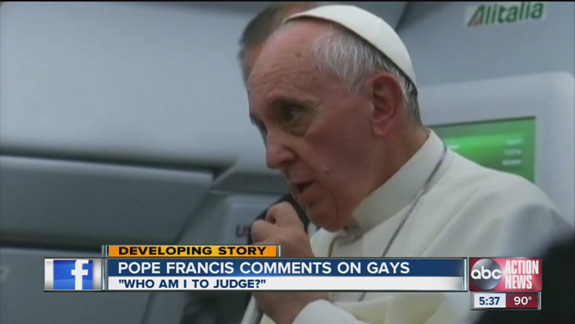 Another of many awful statements was made on July 29, 2013, as Francis answers questions from world journalists on his flight back to Rome from Brazil. When asked about the Vatican's "gay" priest lobby, Francis replies that while the "gay" lobby may exist, "Who am I to judge if they are seeking the Lord in good faith."
In fact, it was this awful remark by Francis that led Catholic legislators in Illinois recently to cite Francis' words to explain their legislative support for their state's same-sex [sodomy] marriage bill.
Cardinal Raymond Burke corrected the Pope's comment in a September 2014 interview with Thomas McKenna of Catholic Action Insight.
"We have to judge acts, we have to," Cardinal Burke replied. "All day long we make judgments with regards to certain acts; this is what the natural law is: to choose good and to avoid evil.... the acts themselves we have to judge or we couldn't live a good and moral life otherwise."
Along with Cardinals Gerhard Ludwig Mueller and George Pell, Cardinal Burke co-authored a book in 2013 on the subject of the Bishops' Synod in 2015. In it, Cardinal Burke has vowed to "resist" if the pontiff moves to allow divorced and remarried Catholics to receive Communion, saying:
"I will resist the Pope should he contravene doctrine."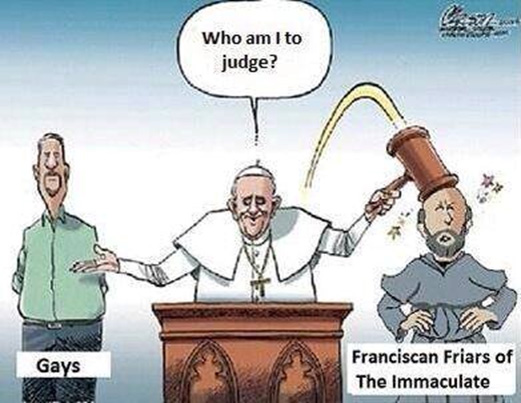 Why all the secret meetings?
The author of a National Geographic article titled "Will the Pope Change the Vatican? Or Will the Vatican Change the Pope?",
American journalist Robert Draper,
quotes an exchange that took place in Rome between Pope Francis' Director of the Holy See Press Office, Fr. Federico Lombardi, and Argentine journalist, Mr. Federico Wals, once Cd. Jorge Mario Bergoglio's [now Pope Francis] former press aide in Buenos Aires.
"How do you feel about my former boss?" Mr. Wals asked. Father Lombardi answered: "Confused."
Father Lombardi explains that each of Francis's co-workers, even the most intimate, knows only part of what the pope decides and does.
"Just yesterday," Father Lombardi said, "the pope hosted a gathering in Casa Santa Marta of 40 Jewish leaders and the Vatican press office learned about it only after the fact. No one knows all of what he's doing. His personal secretary doesn't even know. I have to call around: One person knows one part of his schedule, someone else knows another part."
"This is the life," said Father Lombardi, shrugging.
Father Lombardi
also demystifies Pope Francis's strategy in the field of geopolitics, making a comparison between what Benedict XVI would tell him after a meeting with this or that world leader, to allow him to summarize the contents of the conversation in a statement, and what Pope Francis tells him today:
"It was incredible. Benedict was so clear. He would say: 'We have spoken about these things, I agree with these points, I would argue against these other points, the objective of our next meeting will be this' – two minutes and I'm totally clear about what the contents were. But with Francis I am told, ''I have met this person, he has some interesting experiences, we now have a personal relation, let us now do good for the people and for the Church.'"
The recent closed-door 'shadow council' meeting in Rome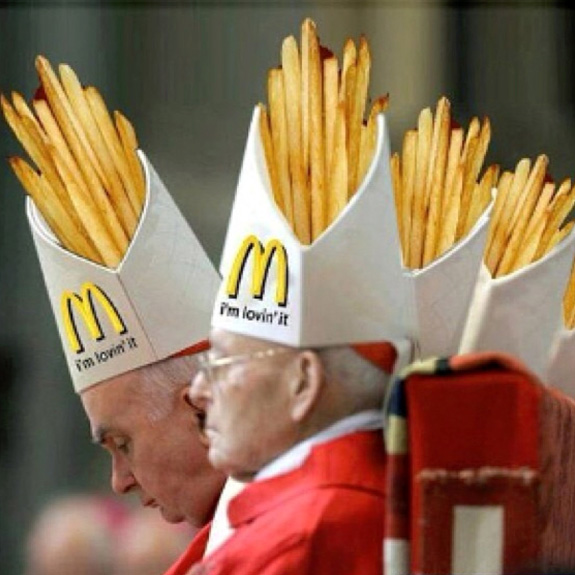 Then there was the recent closed-door "shadow council" led by the German bishops at the Jesuit Pontifical Gregorian University in Rome on May 25, 2015.
European Bishops met in Rome at a
secret meeting
, advocating contraception, homosexual acts, and reception of Holy Communion to couples in irregular and second marriages.
It was attended by the full German, Swiss, and French bishops' conferences.
During the secret council meeting, few media journalists were allowed to sit in, and only under the strictest condition that they not report any bishop's proper name nor mention what they heard there. Sub-secretive meetings were also held that day.
Two months later, the meeting's documents
were released
, but not in English.
The summation of the May 25th council was:
1] A rejection by the bishops that any act can be called "intrinsically evil."
2] That the Church's incomprehensible intolerant terminology must be changed.
3] That there must be a relaxing of moral norms.
4] That divorced and remarried couples would no longer be morally guilty.
Could it be that Pope Francis did not know that hundreds of European bishops were meeting in his Archdiocese? What other explanation could there be for his silence against such errors.
Is Francis' goal to forever change the morals of the Church?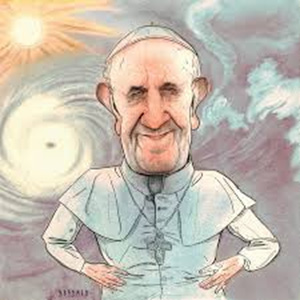 One of Pope Francis' top advisers, Archbishop Victor Fernandez, told Italian newspaper Corriere della Sera in a May 10, 2015, interview that Pope Francis' plan is to change the Church in ways that cannot be undone by future popes. Archbishop Fernandez told the interviewer:
"The Pope goes slow because he wants to be sure that the changes have a deep impact. The slow pace is necessary to ensure the effectiveness of the changes. He knows there are those hoping that the next Pope will turn everything back around. If you go slowly, it's more difficult to turn things back.... You have to realize that Pope Francis is aiming at reform that is irreversible."
While a majority of Catholic hierarchy remains silent against Francis' cockeyed steering of the barque, perhaps out of fear of losing their positions, it's stunning to remember that Francis removed the beloved high-ranking canon lawyer Cardinal Raymond Burke as the Prefect of the Vatican's Supreme Tribunal of the Apostolic Signatura for his outspoken criticism of the push by some prelates, notably Cardinal Walter Kasper, to liberalize the Church's teachings on marriage for divorced and remarried Catholics and homosexuals.
The same day, November 8, 2014, in an interview just moments after Francis removed him, Cardinal Burke remarked: "There is a strong sense that the Church is like a ship without a rudder."
Killing the soul – the boiling frog anecdote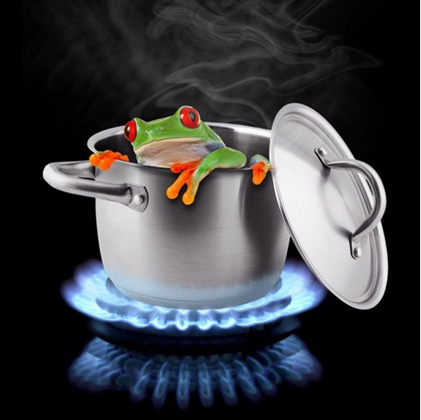 There is an old adage that you can't kill a frog by dropping it into hot water because the frog will react immediately and jump out unharmed. But some say if you put the frog in lukewarm water and gradually turn up the heat to boiling, the frog will not become aware of the threat until it is too late. You will have killed the frog before he knows it.
The image is evocative. What can frogs teach us regarding the killing of one's soul?
The encroachment of illicit teachings by our Pope and his chosen progressive bishops are at work very much the same way upon the souls of the faithful whom God has entrusted unto their care. The Pope's own spokesman, Archbishop Victor Fernandez, admitted in the above paragraphs that Francis is purposely working very slowly to permanently change the Church's teachings so that its members will not become fully aware until it is too late. Many Catholics' souls will have become deadened to the threatening errors that Francis speaks so often, everywhere.
Wake up, Catholic bishops, protect your flock, as manly shepherds should. Speak up against errors coming from the highest levels of the Church. The Pope is supposed to be infallible on matters of faith and morals. Meanwhile, millions of Catholics are at odds with each other and with their hierarchy – some laity are leaping like frogs out of the Church in disgust, while others, those who are not well catechized, are slowly losing their souls.
© Barbara Kralis
---
The views expressed by RenewAmerica columnists are their own and do not necessarily reflect the position of RenewAmerica or its affiliates.
---