Matt C. Abbott
A pro-life economic agenda

By
Matt C. Abbott
November 5, 2010
Morally speaking, there can be no compromise when it comes to protecting the unborn from death through abortion. Period.
That said, I'm no expert in the subjects of economics and philosophy; I'm a student in that regard.
Consider this material "food for thought."
I recently received the following (edited) e-mail from Michael D. Greaney, CPA, MBA, director of research for the Center for Economic and Social Justice:
At the suggestion of Mr. Guy Stevenson, a CESJ (Center for Economic and Social Justice) National Field Secretary, I am sending you a PDF of my latest book, Supporting Life: The Case for a Pro-Life Economic Agenda.

This e-mail is prompted by Mr. Stevenson sending me a link to your column reporting Dr. Charles Rice's keynote address, 'The Catholic Church in the Obama Era,' at the meeting of the Society of Catholic Social Scientists at Notre Dame. I am copying Dr. Rice as well as Father Edward Krause, C.S.C., Ph.D., chaplain of the SCSS, on this e-mail. Father Krause is a member of CESJ's Board of Counselors and also wrote the foreword to my book.

I have also copied Mr. Robert Marshall, pro-life member of the Virginia House of Delegates for Manassas. Mr. Marshall has, I understand, been working with the Tea Party in Virginia, of which Dr. Rice mentioned he is a supporter. Virginia, according to reports, is the most active and influential of the various states in the Tea Party movement. CESJ's president, Dr. Norman G. Kurland, has met with Dr. Rice and has worked with Mr. Marshall, and, I am sure, would be willing to bring Dr. Rice and Mr. Marshall together, if only for a telephone conference to strategize on advancing a pro-life economic agenda through the Tea Party.

Since 1987 I have served as director of research for the CESJ, a non-profit, all-volunteer think tank in Arlington, Virginia. Our interfaith membership comes together on the basis of a set of shared Core Values and Code of Ethics to promote the economic justice principles of Louis Kelso and Mortimer Adler as found in the two books they co-authored, The Capitalist Manifesto (1958) and The New Capitalists (1961), and the social doctrine of Pope Pius XI as analyzed by the late Father William J. Ferree, S.M., Ph.D., eulogized at his death as 'America's greatest social philosopher.' The goal of our 'Just Third Way' is the establishment of an economically just society characterized by the 'four pillars':

1) A limited economic role for the state.

2) Free and open markets within a strict juridical order as the best means of determining just wages, just prices, and just profits.

3) Restoration of the rights of private property, especially in corporate equity, and (the 'fatal omission' from virtually all economic, political, and financial thought today),

4) Widespread direct ownership of the means of production.

Economic and social justice as CESJ understands and promotes them are based on the Aristotelian concept of the natural moral law as refined by Aquinas, Maimonides, and Ibn Khaldûn. That is, each human being as a special creation of God is a 'reflection' of God's Essence or Nature, which is self-evident in His Intellect. In English, that means that every human being is 'made in the image and likeness of God' comprising the 'analogously complete' capacity to acquire and develop virtue. (Meaning, in turn, that every human being as a human being is as fully human as every other human being.) Thus, God's Nature, not His expressed Will, is the basis for the natural moral law. God's Nature being reflected in human nature, we can discern the precepts of the law through reason alone by observing what the human race has accepted as 'good' in all times and places, rather than accepting someone's possibly flawed and personal interpretation of what he or she believes to be God's expressed Will.

This necessarily means that every human being has by nature certain inherent or absolute (inalienable) rights that cannot be infringed, redefined or denied without rendering that individual or class presumably less than human. This list of 'natural rights' includes, but is not limited to, life, liberty (freedom of association), private property, and the pursuit of happiness (the acquisition and development of virtue).

As a sidebar, we've noticed that many people, even in the pro-life movement (who should know better), often confuse having a right (the right to something) with how society defines the exercise of that right (the bundle of rights of something). Thus, many pro-lifers fall into the sophistries employed by the culture of death and assume that because the state has, in part, the power to define the exercise of a right within certain limits, it can declare who has rights. Consequently, the pro-life movement has focused on trying to get the state to assert a power it does not really have, to counter the misuse of that non-power by adherents of the culture of death.

This is 'bad.' Why? Because having rights defines one as a 'person.' When we assume that the state has the power to decide who or what is a person, as John Maynard Keynes effectively asserted in his deplorable Treatise on Money (1930) and Thomas Hobbes in Leviathan (1653), as well as a host of other totalitarian and socialist thinkers, we surrender all power to the State ("raw judicial power" — Roe v. Wade), as the Supreme Court admitted in Pierce v. Society of Sisters (1925) and as Mortimer Adler and Heinrich Rommen agreed.

As a result, efforts to try and use the state to establish justice and restore the rights of the unborn are self-defeating. This is because such an effort takes for granted that the state had the power in the first place to remove those rights. On the contrary, the state does not, and never did, have any such power — legitimately. The state did not confer God-given rights, and it has effected a usurpation of God's authority delegated to people, not the state, by taking away those rights.

The corrective to such a disordered condition of society is not to demand state action, but to organize and take action ourselves, as Pope Pius XI explained in Quadragesimo Anno (1931) and Divini Redemptoris (1937), and as Father Ferree clarified. This 'act of social justice' was the subject of Father Ferree's 1941 doctoral thesis, The Act of Social Justice (1943), and was summarized and 'popularized' in his 1948 pamphlet, Introduction to Social Justice.


Below is the foreword to Michael Greaney's book
Supporting Life: The Case for a Pro-Life Economic Agenda
.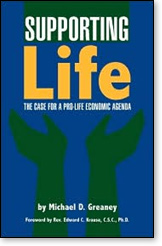 Although our graduations are separated by time, and our colleges by subject, both the author of this book and I are graduates of the University of Notre Dame du Lac in South Bend, Indiana. We are connected in other ways as well. We both write for
Social Justice Review
, the editorship to which I succeeded on the death of our mutual friend, the late and very much lamented Father John H. Miller, C.S.C., S.T.D. In addition, we both serve on boards of the Center for Economic and Social Justice ("CESJ"), a non-profit think tank in Arlington, Virginia; I on the Board of Counselors, and Mr. Greaney on the Board of Directors.
Mr. Greaney and I share something else: a concern for the integrity and reputation of our alma mater. Both of us believe this may have been seriously damaged in May of 2009. It was then that Father John Jenkins, C.S.C., president of Notre Dame, bestowed an honorary degree on U.S. President Barack Obama following the issuance of a directive that no Catholic university was to bestow honors on politicians supporting a right to abortion.
Whatever your opinion of Father Jenkins's action, this book responds to Mr. Obama's call during his speech at Notre Dame for "common ground" on which Pro-Life and Pro-Choice adherents can meet and come to some peaceful resolution. I believe that Mr. Greaney's suggestions in this regard merit serious consideration. By "common ground," of course, we mean a common acceptance of the basic principles on which society is based. It does not mean that we necessarily accept someone else's interpretation or application of those principles — that is where the debate occurs, in the realm of politics, not morals.
Mr. Greaney's analysis is divided into five parts. The first part is an examination of the natural law as the foundation of a just social order. The second part is an admitted amateur's opinion of the constitutionality of the right to an abortion established by
Roe v. Wade
viewed from within the natural law context that provides the basis of the U.S. government. The third takes the presumed right of choice and draws some logical conclusions. The fourth part introduces us to what many people might consider a new way of looking at social action: social justice. The fifth part offers a possible Pro-Life economic agenda to remove many of the root causes of the conflict.
The third part of this book is based on what some people may regard as a dangerous concession to the Pro-Choice position: the acknowledgment that the United States Supreme Court considers abortion a constitutionally protected right. As a professor of moral philosophy, "ethics," I can assure anyone troubled by these or similar considerations that acknowledging reality in no way violates a "well-formed conscience," nor in any way constitutes a concession.
On the contrary, St. Thomas Aquinas — considered a "sure guide" by the Catholic Church and whose Aristotelianism is shared by the Jewish philosopher Moses Maimonides and the Islamic scholar Ibn Khaldûn — tells us that we must accept and obey even the most egregiously unjust law if we personally are not forced to do that which we regard as evil, and if the result of disobedience or even changing the law would seriously disrupt the social order.
We cannot, however, stop there. The social doctrine of Pius XI as analyzed by Father William Ferree refines our understanding of the proper course of action in the face of injustice. When society is badly organized — and unjust laws are certainly evidence of that! — and correcting the situation is beyond our individual capacities, there is recourse. That is to organize with like-minded others and work to reform the institutions of the common good. Once we have reformed our institutions by means of these acts of "social virtue," acts of individual virtue become possible. The goal of social justice is not to replace individual virtue, but to enable it.
Nor can we stop there, either. We must replace bad or defective institutions with institutions better adapted to assist each human being to acquire and develop virtue, that is, to become more fully human. Traditionally, within civil society our capacity to acquire and develop virtue, as well as the best protection for each person's inalienable rights to life and liberty, has been access to the means of acquiring and possessing private property in the means of production. Our growing dependency on the State and our acquiescence in unjust laws and institutions will only be broken when each human person can become an owner not only of his or her own labor, but of capital as well.
I should make it clear that CESJ is not a Catholic, nor even a religious organization. CESJ was founded to promote understanding of the social doctrine of Pope Pius XI and the economic justice principles of Louis O. Kelso and Mortimer J. Adler. The former is as analyzed by Father William J. Ferree, S.M., Ph.D., a CESJ co-founder, while the latter provides the basis for "binary economics." Both are founded on the inherent dignity of the human person before God. Economic and social justice are essential supports of individual sovereignty, albeit realized within a social context. Human dignity and personal sovereignty are both based solidly on the natural law, the principles of which are common to all the great religions and philosophies.
Read this book and reflect on its proposals, with special emphasis on "Capital Homesteading." Then consider in what way you might be able to assist in advancing this "Just Third Way" beyond both capitalism and socialism. A visit to the website of the Center for Economic and Social Justice,
www.cesj.org
, would be a good place to start.
Rev. Edward Krause, C.S.C., Ph.D.
Professor of Moral Philosophy
Gannon University, Erie, Pennsylvania
© Matt C. Abbott
---
The views expressed by RenewAmerica columnists are their own and do not necessarily reflect the position of RenewAmerica or its affiliates.
---