Fr. Tom Bartolomeo column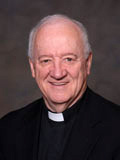 I was ordained a Catholic priest for the Diocese of Rockford, Illinois, in 2006 at age 69. After graduating Saint John's University, New York, B.A. (1965) and M.A. (1967) in English, I taught a year of high school and a few years of college at Thomas Nelson Community College, Hampton, Virginia, and Kansas State University where I pursued, but did not complete, a doctoral program in English.

In 1972, I returned to New York where I entered business and held various managerial responsibilities over several years, marketing, public relations, and retail sales and began my own small retail business. During these years, I dabbled in theater and politics, worked for a Congressional campaign (1974), and later for my own candidacy for New York State Senate in 1978 and lost.

I began studies for the priesthood at Holy Apostles Seminary, Cromwell, Connecticut, where I received an M.S. in Divinity (2005), was ordained, and moved to Rockford, Illinois.

I am in a continuing process of life advocacy, writing, teaching, speaking, and family counseling.

February 2013

---
Fr. Tom Bartolomeo

March 3, 2013

As I began to prepare for this Sunday's liturgy, the 3rd Sunday of Lent, a labor we bear together in living out the Word of God at Mass my thoughts turned to . . .

---
Fr. Tom Bartolomeo

March 1, 2013

The Catholic Church has stood more than two millennia. Were it to 'fall' it would have happened long ago suffering as it did numerous schisms and scandals . . .

---
Fr. Tom Bartolomeo

February 16, 2013

Three generations have passed since passage of the Civil Rights Act of 1964 and the non-violent civil disobedience which roused the conscience of a nation that . . .

---
Fr. Tom Bartolomeo

February 14, 2013

I. Building up the Household of God In 1960 the American culture and the Catholic Church in America was not ready for the sudden appearance of "the Pill" and . . .

---
Fr. Tom Bartolomeo

February 13, 2013

Front and center contesting our government's recent Health and Human Services Mandate stands the Catholic Church, not on political grounds but on higher moral . . .

---
The views expressed by RenewAmerica columnists are their own and do not necessarily reflect the position of RenewAmerica or its affiliates.