Siena Hoefling column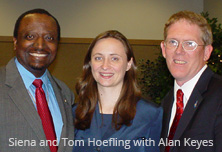 Siena Hoefling and her husband, Tom, are longtime pro-life activists from Iowa.

---
Siena Hoefling

June 6, 2018

It was a decision that tossed a crumb to religious liberty with one hand, while it took the whole cake away with the other. The "cake-baker case," properly . . .

---
Siena Hoefling

April 25, 2017

Most of us assume that abortion was introduced in Roe v. Wade. But in fact, that Supreme Court opinion was part of a liberal trend to remove protection from the . . .

---
Siena Hoefling

April 24, 2017

[Updated April 24, 2017 – originally posted April 14] "That attack on children yesterday had a big impact on me. Big impact. That was a horrible, . . .

---
The views expressed by RenewAmerica columnists are their own and do not necessarily reflect the position of RenewAmerica or its affiliates.