Matt C. Abbott
Homosexual activists protest in front of Holy Name Cathedral

By
Matt C. Abbott
February 14, 2011
On Sunday, Feb. 13, in front of Chicago's Holy Name Cathedral, a group of homosexual activists protested Cardinal Francis George's opposition to "civil unions" as well as the Church's opposition to homosexual "marriage."
Thankfully, a group of Catholic and Protestant counter-demonstrators was present to defend the Church. Among the pro-family counter-demonstrators was Peter LaBarbera, president of Americans For Truth About Homosexuality, an organization dedicated to exposing and fighting the homosexualist agenda.
In an e-mail to me, LaBarbera described the situation as follows (edited):
"AFTAH's silent counter-protest was a success. My sign read, 'Thank you, Cardinal George, for Defending Marriage.' At one point about 10 people were holding 'No Same-Sex Marriage' signs. The Gay Liberation Network's protest was smaller than last year, Church officials told us. Of course, they chanted against the cardinal's and the Church's supposed hate.
"At another point two homosexual activists stood in front of us with their huge anti-bigotry banner. Then the cops moved them back to their side of the sidewalk. There was also a large contingent of people from a church group whose goal was to talk with the homosexual activists — a ministry approach."
Though he's not Catholic, LaBarbera strongly defends the Church's teachings on marriage and family.
"We felt compelled to come to Holy Name Cathedral to defend Cardinal George, who is being smeared as a 'hater' because he eloquently spoke out against the recent 'civil unions' bill," says LaBarbera.
"But the real bigots in this story are the Gay Liberation Network protesters. That GLN accuses the Catholic Church of hate merely because of its teachings on marriage and family is itself an act of hatred and bigotry."
Below is a photo of the protest, courtesy of LaBarbera. (Visit AFTAH's website:
www.americansfortruth.com
)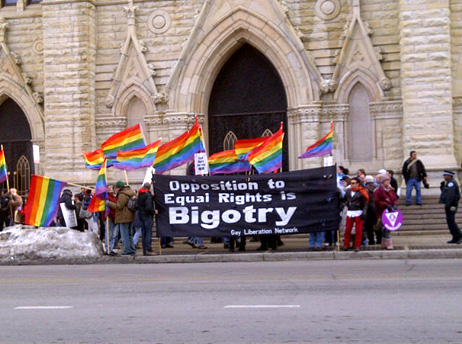 © Matt C. Abbott
---
The views expressed by RenewAmerica columnists are their own and do not necessarily reflect the position of RenewAmerica or its affiliates.
---