Matt C. Abbott
Obama's jobless rate drop?; False accusations and bishop-enablers

By
Matt C. Abbott
December 3, 2011
I asked (via email) Brian M. McCall, associate professor of law at the University of Oklahoma College of Law, to comment on the apparent drop in the U.S. unemployment rate to 8.6 percent, as well as the Obama administration's role in the current state of the economy.
Professor McCall's response:
'These employment statistics are of little value in assessing our nation's real health. They do not in any way account for whether the 'new' jobs are productive of real wealth. Are they simply new bureaucratic positions (whether labeled 'private' or 'public') generating paper or creating and selling phantom goods (like derivatives), or are they people actually manufacturing and producing real things that satisfy human needs — food, clothing, housing, etc.?

'When we started deconstructing our agricultural and manufacturing productive base and shipping it overseas, the measurement of new jobs no longer reflects any prospects for prosperity but merely represent the creation of new manipulative busy work. The Obama administration, with its Wall Street ministers (Geitner et. al.), care only about busy work and phantom goods. That is all they know.'

---
Catholic journalist John Allen has an interesting take on the recent case of a falsely accused priest in Ireland, Father Kevin Reynolds, who was featured on an "investigative" program on the Irish national television network RTE.
Click here
to read Allen's column.
On a somewhat-related note, Catholic attorney James M. Bendell, West Coast litigation counsel for the American Catholic Lawyers Association, recently wrote an article on the suppressed-but-still-functioning Society of St. John (I should note that Mr. Bendell has represented individuals who have sued the SSJ, but ACLA is not directing those cases), which can be seen below in PDF.
Interestingly, the common denominator in these cases of clergy sexual abuse
and
priests falsely accused is the gross negligence or outright corruption of a number of bishops. As John Allen points out, "innocent priests have too often been forced to pay the price for the church's corporate failures. Symbolically, Reynolds serves as a potent reminder of the dangers of a rush to judgment, which does no one any good — least of all, the victims of sexual abuse."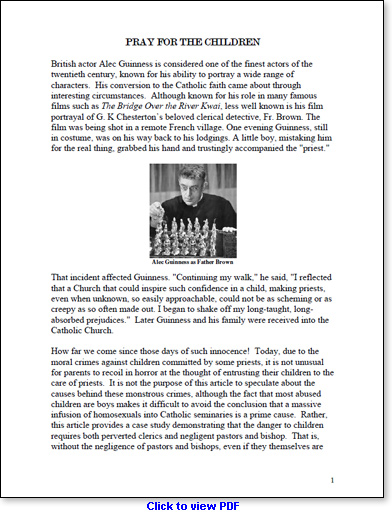 ---
Pertinent links:
Brian M. McCall's writings
American Catholic Lawyers Association
© Matt C. Abbott
---
The views expressed by RenewAmerica columnists are their own and do not necessarily reflect the position of RenewAmerica or its affiliates.
---