Matt C. Abbott
'Mitt Romney's Deception' and the homosexual lobby

By
Matt C. Abbott
January 20, 2012
I know, I know — no politician is perfect. Heck, none of us is perfect, obviously. Far from it.
That said, the main thing that bothers me about GOP presidential candidate Mitt Romney — no, it's not his affiliation with Mormonism, although you should take a look at RenewAmerica.com president and editor Stephen Stone's new e-book
A Mormon Story: Authoritarianism Knows No Bounds
(
click here
) — is his seemingly cozy relationship with the homosexual lobby, as evidenced in the book
Mitt Romney's Deception: His Stealth Promotion of 'Gay Rights' and 'Gay Marriage' in Massachusetts
, authored by pro-family activist Amy Contrada.
Thanks to Ms. Contrada for allowing me to publish the following excerpts (sans endnotes) from her book. For more information about, and to order, Ms. Contrada's book,
click here
.
---
Excerpts from
Mitt Romney's Deception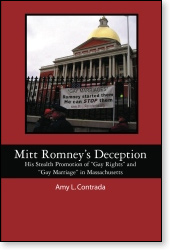 The Catholic Charities adoption fiasco is a prime example of Romney's inaction (while he postured as acting for the good), and of his expertise in covering his tracks.
In 2005, the
Boston Globe
revealed that Catholic Charities of Boston had placed a small number of special-needs children with homosexual couples for adoption. The Archdiocese of Boston responded in early 2006, stating it would no longer place children with homosexual couples (as the Church considers homosexuality "gravely immoral"). A media storm quickly followed.
Responding to charges that it was illegally discriminating against homosexuals, the Archdiocese then asked the state to grant a religious exemption to Catholic Charities, but the Legislature balked. Existing Massachusetts non-discrimination laws referencing "sexual orientation" plus "legal gay marriage" would not allow the Church to follow its moral precepts, it was claimed.
Governor Romney said his hands were tied by the law, the Legislature's refusal to act, and the Supreme Court ruling which had forced same-sex marriage on the state. All he could do was to file a bill to "protect religious freedom" in Massachusetts, specifically targeting the laws covering adoption, and hope for the best. The Legislature then killed his bill, and the Church had to end its adoption services in order not to violate its own tenets. But Romney had done all he could for religious freedom!
But that's not exactly what happened. In fact, Romney erroneously blamed the Church's predicament on non-existent law and could have rescinded the administrative regulations that would not let Catholic Charities deny placement of children with homosexual couples. Romney also failed to point out that religious freedom was already protected in both the state and federal constitutions. The Archdiocese could have fought this in court but did not — perhaps out of fear of losing major donors with liberal views (who were well represented on Catholic Charities' board). In the end, the homosexual activists and their allies got their way, and it was another public whipping for the Catholic Church — all of which Romney could have prevented.
Romney falsely claimed the law required Catholic Charities to place children with homosexual couples
This story is significant because it lays bare Romney's hypocrisy and self-contradiction. He simultaneously accepted homosexuality and laws or policies banning discrimination on the basis of "sexual orientation," yet blamed those very laws or policies for threatening "religious freedom." If he understood that conflict in March 2006, how could he ever have supported laws banning discrimination on the basis of "sexual orientation"? (It is unclear whether he still supports such laws; see Chapter II.) Did he (and does he) not see how they set up conflicts with basic constitutional rights?
Romney blamed Massachusetts law for the problem. But there is no overarching law in Massachusetts concerning "sexual orientation" discrimination. The phrase "sexual orientation" appears in only certain specific Massachusetts statutes (signed into law by Democrat Governor Michael Dukakis in 1989). In any case, these statutes do not trump freedom of religion, constitutionally protected both the First Amendment to the U.S. Constitution, and the Declaration of Rights of the Massachusetts Constitution.
One could even question Romney's motives. He had said in 2003 that he favored "adoptive parent rights" for same-sex couples, but on many other instances tried to sidestep that question. In a clear statement at the height of the Catholic Charities adoption story, he said that same-sex couples have "a legitimate interest" in adopting children...
C. J. Doyle, head of the Catholic Action League of Massachusetts — long-time insider and fearless truth-teller in the world of Massachusetts politics — had a rich understanding of this complex story. He explained on the MassResistance radio show (WTTT Boston) on March 25, 2006:
'Governor Romney is trying to have his cake and eat it too. He wants to go around the country and tell evangelicals and Catholics and pro-lifers and pro-family people that he supports religious freedom without having any kind of actual political downside here for the Republican Party in Massachusetts. From everything we've been able to understand about this, this is not a statute, this is not a law, this anti-discrimination provision, it's nothing but a CMR, a Commonwealth of Mass. Regulation.

'And because of your excellent research, Brian [Camenker of MassResistance], we've confirmed that. This is a regulation that was promulgated, we believe, in September of 1997 that prohibits so-called sexual orientation from being used as any kind of a litmus test in adoptions. Apparently this was done by the Department of Early Education, which is the licensing agency for adoption agencies here in Massachusetts.

'There is no statute, there is no act of the Legislature, there is no act in resolve of the General Court, it's a regulation promulgated by a bureaucrat, by an executive agency. 'And a regulation that is promulgated by an executive agency can be rescinded by executive order. And that's precisely what the governor is not doing. He can simply rescind this by executive order. Instead, he's proposing a new law. Now this, of course, this has somewhere between slim and no chance at all of getting through the Legislature at all given its current composition. The Massachusetts General Court, our Legislature, is dominated by special interests. And one of the most powerful special interest right now is the homosexual community.

'And our legislators, a majority of them are nominally Catholic, are far more afraid of political reprisals from homosexuals than they are of political reprisals from the Catholic Church. Romney is saying we need a law, knowing full well that that law stands virtually no chance whatsoever of being passed, while he's avoiding taking the obvious and logical and expedient step, which is to simply repeal it by executive order....

'Our attorneys [Massachusetts Catholic Conference] have told us the same thing, if it's promulgated by an executive agency; an executive order can repeal this. So we have the governor filing a bill which he knows has no chance whatsoever of being passed, and then going on about how he wants to support religious freedom, while avoiding taking the hard, necessary, controversial but obvious step in protecting religious freedom which is rescinding this by executive order....

'And I'm afraid that the Bishops and the Catholic Charities really threw in the towel without a fight. This has been a serious defeat for religious freedom. They've withdrawn from the adoption business.... Everyone knew all along that Romney was not going to do anything by executive order. There were no votes in the Legislature. The only way to fight this was to litigate it. And frankly I think they stood a very good chance, not only under the free exercise clause of the U.S. Constitution, but under Article 2 of the Declaration of Rights of the Massachusetts Constitution.... And they simply threw in the towel. And this talk about an exemption is entirely PR.

'Now the rumor that we're hearing is that Catholic Charities was very, very concerned that a prolonged legal battle — a protracted legal conflict — would adversely impact their major donor fundraising and would particularly adversely impact contributions from large corporations. Now many of these corporations, under pressure from homosexual activists, have signed a pledge not to contribute to any organization which 'discriminates' against homosexuals, like the Boy Scouts. So they were worried about losing major donor funds and corporate funds....

'The opponents of religious freedom never start by assaulting the right to worship, frontally, to assault the right to worship on Sunday morning. They start by trying to marginalize the charitable, restrict the charitable and the educational and the social service activities of churches, and try to narrow the parameters of religious liberty. This is what we're seeing here in Massachusetts....

'In this case, it speaks to the insincerity of Catholic Charities in terms of seriously wanting to find an exemption. I think they were quite willing to allow the governor to be disingenuous with them because they really didn't want to continue this fight....

'It's very important to point out that the jurisprudence of both the United States and the Commonwealth of Massachusetts has always understood that religious freedom consists in more than simply the liberty to worship. It consists in the right to act in accordance with one's religiously formed conscience....

'Imagine you're handing over children to two effeminate men who sodomize one another. Isn't there any issue of moral turpitude here? And they will drag the children to their gay rights rallies and use them as props in their propaganda plays on same-sex marriage and other things.

'It should be pointed out that the Catechism of the Catholic Church teaches that homosexual behavior is 'grave depravity.' The Catholic religion has always taught that homosexual relations are intrinsically immoral; they're contrary to natural law. In Catholic tradition, the sin of impurity against nature comes right after willful murder as one of the sins that cries out the heaven for vengeance, so this is something the Catholic religion has always unequivocally condemned.'

---
Pertinent links:
MassResistance
!
Catholic Action League of Massachusetts
Americans for Truth
'
Distinctive Beliefs of the Mormon Church
'
'
Considerations regarding proposals to give legal recognition to unions between homosexual persons
' (Vatican document)
'
Gay Marriage
'
© Matt C. Abbott
---
The views expressed by RenewAmerica columnists are their own and do not necessarily reflect the position of RenewAmerica or its affiliates.
---