Matt C. Abbott
The March for Life, 'Doonby,' and Justin Bieber's mom

By
Matt C. Abbott
January 23, 2013
So here we are ... 40 years after
Roe v. Wade
and
Doe v. Bolton
. Well over 50 million lives lost to abortion; virtually no prospect of overturning
Roe
in the foreseeable future; a majority of Americans who are uncomfortable with, and even desire certain restrictions on, abortion, yet don't want to see it outlawed; a bunch of libertine politicians that merely reflect a libertine culture; and too few church leaders willing to "talk the talk
and
walk the walk" (
canon 915
, anyone?) in regard to promoting a culture of life.
Whew.
OK, now that I have the negativity out of my system (not really), I would be remiss if I made it appear that the pro-life movement hasn't accomplished anything in these 40 years.
Click here
to read about some of the accomplishments, courtesy of Eric Scheidler, executive director of the Pro-Life Action League.
---
For those attending The March for Life, Catholic filmmaker Peter Mackenzie and NET TV will hold screenings of
Doonby
– "the mystical thriller about individual liberty. The provocative film stars John Schneider, Jenn Gotzon, Ernie Hudson, Joe Estevez, Jennifer O'Neill, Robert Davi, Will Wallace and Erin Way, with a cameo by Norma McCorvey ('Jane Roe' of
Roe v. Wade
)."
The screening information is as follows:
Date: Thursday, January 24, 2013; Time: 7 p.m.
Location: E Street Cinemam, 555 11th Street NW, Washington, DC 20004

Date: Friday, January 25, 2013; Time: 4 p.m.
Location: Residence Inn Capitol, 333 E Street SW, Washington, DC 20024

Those interested in attending one of the above screenings should RSVP to DoonbyEvents@gmail.com as soon as possible.
Doonby
has received favorable reviews from Father Gianfranco Grieco, office head of the Vatican's Pontifical Council for the Family, and Richard Land of the Southern Baptist Convention. Click
here
and
here
to see trailers of the film.
---
Pattie Mallette, mother of teen celebrity Justin Bieber, is the executive producer of a pro-life short film titled
Crescendo
.
Click here
for more information.
---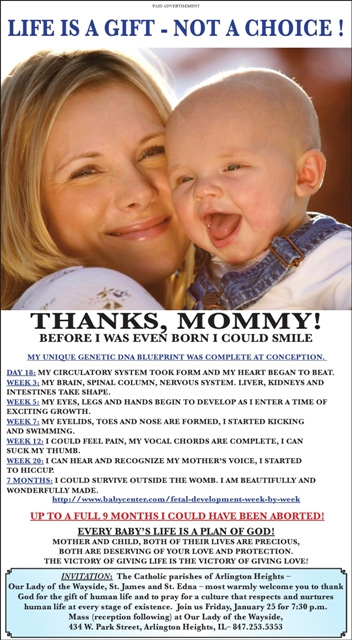 © Matt C. Abbott
---
The views expressed by RenewAmerica columnists are their own and do not necessarily reflect the position of RenewAmerica or its affiliates.
---