Matt C. Abbott
Obama and Bowe Bergdahl; A rainbow in the sanctuary

By
Matt C. Abbott
June 3, 2014
The controversy surrounding Bowe Bergdahl continues.
From the
website of TIME
:
Army Sergeant Bowe Bergdahl was freed by the Taliban over the weekend after they held him for nearly five years, in exchange for five Taliban leaders, who will spend a year cooling their heels in Qatar. You might have heard about it on the news.

Chances are you haven't heard of the six soldiers who died hunting for him after he went missing, according to military officials. Now that Bergdahl has been sprung – in exchange for five senior Taliban officials, who had been imprisoned at Guantanamo – soldiers who served with Bergdahl are grumbling that he deserted and shouldn't be hailed as a hero, especially given the resulting cost in American lives....

Gary Morella, an orthodox Catholic and military veteran, wrote the following in regard to the controversy (slightly edited):
As a member of the Naval Security Group Command during the Vietnam War from 1968 to 1972, I'm appalled that, once again, Obama has trashed the sacrifices of all those who gave their lives fighting the war on terrorism since 9/11 by releasing terrorist commanders responsible for killing them. This is an unconscionable moral atrocity that cries out treason, and it's high time those in Congress starting shouting that word from the roof tops in regard to what Obama has been doing, is doing, and will continue to do to our military unless he's reined in!

It has been no accident that the casualty rate for our military increased inordinately on Obama's watch via Obama's mandated use of PC ROE, which puts the lives of our troops at unnecessary risk in favor of placating the self-esteem of the radical jihadists. Obama even had the unmitigated gall to consider ordering our military to defend the Al-Qaida allied, pro-radical jihadist, Shariah Law or death, anti-American Muslim Brotherhood-supported Syrian Rebels in an Arab civil war – the same Al-Qaida our military has been fighting and dying to protect us from in the war on terror. (This is treason per Article III, Section 3 of the Constitution in giving aid and comfort to the enemy in time of war.)

I'm a retired member of the research faculty at Penn State. One of our own, Medal of Honor recipient Navy SEAL Lt. Michael Murphy, and two members of his SEAL team caught in an ambush, along with a helicopter full of SEALS and Special Ops personnel attempting to rescue them, were killed on the Hindu Kush. How dare Obama release enemy commanders responsible for these deaths, trashing the sacrifices of these brave men and a slap in the face to their families! It's beyond a crime in that it's a sin crying out to Heaven for vengeance.

---
In New York City, there's been talk (by the "powers that be" at the Archdiocese of New York) of closing certain parishes, including Holy Innocents Church, which offers the Traditional Mass.
Father John Zuhlsdorf recently wrote at his blog:
I have been sent part of a transcript of a sermon given in New York City by Fr. [Justin] Wylie at a favorite church of mine, Holy Innocents in the Garment District. Holy Innocents has been a great success story. However, a recommendation was made by a committee that it, along with Fr. [George] Rutler's parish St. Michael's in Hell's Kitchen, should be closed.

Fr. Wylie has some hard words, imbued with charity and priestly concern, to those who desire the traditional Roman Rite as well as to the priests and bishops who have, for decades, abused the same through neglect or outright persecution. And you know who you are.

Click here
to read Father's blog entry in its entirety.
Meanwhile, "gay" Masses and ministries, complete with rainbow flags (see below), continue – 21 years and counting – at
The Church of Saint Francis Xavier
.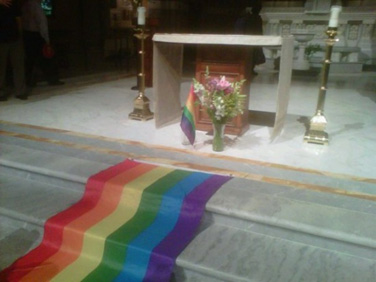 No word on whether the archdiocese is considering closing
this
particular parish.
I sincerely doubt that'll happen. After all, the "powers that be" are likely more afraid of – or perhaps more
sympathetic to
– the powerful homosexual network than they are of those pesky orthodox Catholics (of which I'm one). Not to mention that a number of homosexuals have lots of money to throw around, and, let's face it, most churches are in need of money.
So it may ultimately come down to the almighty dollar, but keep in mind: The homosexual network has had its tentacles deep into the Church for many years, and that network would love nothing more than to see orthodox parishes get shut down.
Our Lady of Fatima, pray for us.
© Matt C. Abbott
---
The views expressed by RenewAmerica columnists are their own and do not necessarily reflect the position of RenewAmerica or its affiliates.
---