Michael Bresciani
Democrats' demon platform for 2022: Codify the death of unborn, transgender the rest

By
Michael Bresciani
October 22, 2022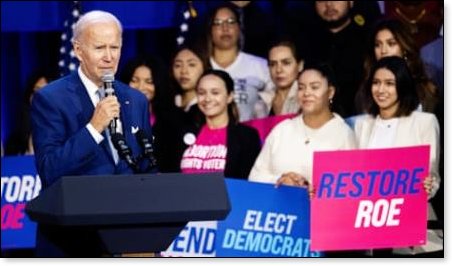 During every election cycle, politicians make promises, some are possible, while a great deal of them are blather and hype.
Joe Biden has taken it one step further, and makes not a promise but a "vow."
The Guardian says, "With Democrats' congressional majorities at risk this November, Joe Biden vowed on Tuesday that the first bill he would send to Capitol Hill next year would codify Roe v Wade – if Americans return his party to power with wide enough margins to pass abortion protections."
Vows are usually associated with marriages and religious orders, so Biden's bold promise indicates two very important things about Joe Biden.
First, it indicates that he is desperate to fend off the red wave that is obviously rolling across the nation. Secondly, it is a clear picture of reprobate thinking that completely ignores all convention, American history, and this severe warnings of the Holy Scriptures.
"And whosoever shall offend one of these little ones that believe in me, it is better for him that a millstone were hanged about his neck, and he were cast into the sea." (Mark 9:42)
Perhaps the aborted children can't say it, but being killed rather than being accepted and nurtured is cause for offense.
Following that, being offered up to the demonic entities leading the great transgender charge is also very offensive. Science will not bend; scriptures will not bend, and time will not bend because when time runs out, those who were misled and those who urged them on will stand together at the judgment seat.
Those who say exposing children to drag shows is grooming are refuted, but the evidence is overwhelming.
One example is the youngster who was brought to a drag show by his school chemistry teacher in Houston, Texas.
Red State reported on the story and said, "Recently, Libs of TikTok posted a video showing a parent at a Houston Independent School District board meeting accusing one of his son's teachers of taking him to a drag show without the father's permission. He said his chemistry teacher, who also writes for an LGBTQ magazine, "recruited" his underaged son and took him to the show in which one of the performers was a convicted sex offender — convicted of sexual assault on an 8-year-old boy. The video also shows a video that was secretly recorded by the child."
When Republicans take the House and possibly the Senate in November, school drag show bans and full-scale legislation against the practice will begin to sweep the nation – not a moment too soon.
Related
The Tide Is Turning Against Transgender Activism
The Real Cost of President Biden's Radical Transgender Activism
Photo: The Guardian
To read more articles by Michael Bresciani click here.
© Michael Bresciani
---
The views expressed by RenewAmerica columnists are their own and do not necessarily reflect the position of RenewAmerica or its affiliates.
---