Michael Webster
Patriot Act unconstitutional

By
Michael Webster
April 19, 2009
The
USA PATRIOT Act
broadly expands law enforcement's surveillance and investigative powers and represents one of the most significant threats to civil liberties, privacy and democratic traditions in U.S. history. The act in its current form gives
sweeping search and surveillance
to domestic law enforcement and foreign intelligence agencies and
eliminates checks and balances
which had been the difference between the free world and the suppressed.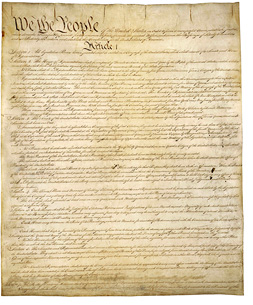 Page one of the original copy of the Constitution


That difference previously had given courts the opportunity to ensure that those powers were not abused. PATRIOT and follow-up legislation now in development threaten the basic rights of millions of Americans and has turned America into a suppressed state. A new bill introduced in this 110th Congress is designed to extend the USA Patriot Act allowing what many experts say are illegal provisions which will continue to allow the FBI, DEA, ICE, ATF, U.S. Military and other federal agencies to spy on investigate and arrest innocent Americans. The law because of the act allows for violations of Americans constitutional rights that our fore Fathers did not intend. Constitutional lawyers all across America say the Patriot Act should be repealed not reinstated. President Bush signed into law the earlier renewal of the controversial Patriot Law on December 30, 2005
as
the provisions were due to expire they were extended with Public Law 109-160 that pushed the date from December 31, 2005 until February 3, 2006. The date of expiration was again changed from February 3, 2006 until March 10, 2006.
The original Patriot Act was passed into law on October 24, 2001 by the Congress of the United States, just 45 days after the September 11 attacks, with few Congressman even reading it and virtually no debate. There are significant flaws in the Patriot Act, flaws that threaten your fundamental freedoms by giving the government the power to access your medical records, tax records, information about the books you buy or borrow without probable cause, and even worse the power to break your door down at your home at any time of the day or night and conduct unconstitutional searches and seizures or if your lucky and are not home they can search your home or business in secret without telling you for weeks, months, or even indefinitely.
According to Electronic Frontier Foundation (EFF) the law dramatically expands the ability of states and the Federal Government to conduct surveillance of American citizens. The Government can monitor an individual's web surfing records, use roving wiretaps to monitor phone calls made by individuals "proximate" to the primary person being tapped, access Internet Service Provider records, and monitor the private records of people involved in legitimate protests.
PATRIOT is not limited to terrorism EFF writes on their web site. They point out that the Government can add samples to DNA databases for individuals convicted of "any crime of violence." Government spying on suspected computer trespassers (not just terrorist suspects) and all of this and more requires no court order. Wiretaps are now allowed for any suspected violation of the Computer Fraud and Abuse Act, offering possibilities for Government spying on and monitoring any computer user's searches, e-mails and in fact record every stroke on any computer. Foreign and domestic intelligence agencies can more easily spy on Americans.
Powers under the existing Foreign Intelligence Surveillance Act (FISA) have been broadened to allow for increased surveillance opportunities. FISA standards are lower than the constitutional standard applied by the courts in regular investigations. PATRIOT partially repeals legislation enacted in the 1970s that prohibited pervasive surveillance of Americans. PATRIOT eliminates Government accountability
.
While PATRIOT freely eliminates privacy rights for individual Americans, it creates more secrecy for Government activities, making it extremely difficult to know about actions the Government are taking. PATRIOT authorizes the use of "sneak and peek" search warrants in connection with any federal crime, including misdemeanors. A "sneak and peek" warrant authorizes law enforcement officers to enter private premises without the occupant's permission or knowledge and without informing the occupant that such a search was conducted.
The Department of Justice, with little input from Congress and the American people, is developing follow-on legislation — the Domestic Security Enhancement Act (nicknamed Patriot II) — which would greatly expand Patriot's already sweeping powers.
The federal government has turned American freedoms into a world wide mockery with their unchecked spying on ordinary Americans, part of a broad pattern of the executive branch using "national security" and or "suspected terrorism " as an excuse for encroaching on the privacy and free speech rights of Americans without adequate oversight. It eliminates many protections against unlawful imprisonment and now many rights in U.S. legal system are absent — such as the important right of
habeas corpus.
As written the act violates due process for all Americans. All the president has to do is call a citizen an "enemy combatant," and the person's due process rights disappear. The US Government says that U.S. citizens can be detained and then tried in secret trials — in absentia, and can use secret evidence that the accused cannot see or challenge. If evidence is obtained by coercion, or torture government lawyers contend that it should still be allowed as a basis for conviction, there by erasing 300 years of Anglo-American jurisprudence.
You should be very uncomfortable with the collection of your records by the governmentwhich are using the Patriot Act to demand your social security number and other private financial or medical information by order of secret courts and the muzzling of those citizens who receive such orders from speaking publicly about them. This is a violation of both the 1st and 4th amendment. You should also oppose the collection of both private and business records by banks, pharmacies and other businesses which are using the Patriot Act to demand your social security number and other private financial or medical information. Criticism of former President Bush's admission that he had received warnings only weeks before September 11th has made it more important to understand the origins of the act. There has never been a more urgent need to preserve fundamental privacy protections and our system of checks and balances than the need we face today. As illegal government spying, provisions of the Patriot Act and government-sponsored torture programs transcend the bounds of law and our most treasured values in the name of national security and just the allegation of suspected terrorist activity be it true or not. The current Act that was extended and updated you can read online at this site:
www.epic.org.
Financial Transactions
The sections of the Patriot Act that deal with financial transactions fall under Title III, which is also known as the International Money Laundering Abatement and Financial Anti-Terrorism Act of 2001. It stands on its own as a separate act of Congress as well as being part of the Patriot Act, and is an amended version of the 1986 Money Laundering Control Act and the 1970 Bank Secrecy Act. The earlier acts tended to focus on preventing money laundering and international cash flow as it related to the drug trade, or to gambling, smuggling, and other types of criminal activity. In the 2001 version, the focus has shifted towards money laundering as a means of financing international terrorism.
The current act encourages financial institutions to collect certain data to identify customers and their transactions in case any of the activity should be flagged as "suspicious" by a government agency. "Suspicious" in most cases means involving any foreign nationals or corporations. The Patriot Act considers any such accounts or transactions worthy of intense scrutiny. (Although the scrutiny will, of course, be more severe for certain nationalities than for others.)
What if you are a US-born, US citizen, do not have any arrest record, and are not involved in any type of criminal activity? If you'd just like to open a bank account or engage in another banking transaction, can a bank force you to provide your social security number? How about fingerprinting you? Is either of these strictly required by law? Not exactly — although if you do not wish to provide your social security number you will have to obtain an alternate taxpayer identification number. This information (along with your name, address, and date of birth) is used as part of the required Customer Identification Program (CIP) used to verify customer identity (and to compare customer information with lists of known terrorist suspects). Such information may also be required by other money service businesses such as currency exchanges. All having the effect of the financial institution acting as agent to and for the US Government.
Fingerprints are not a requirement of the Patriot Act, and they are certainly not required by all financial institutions — so if your bank insists on this procedure, you may wish to take your business elsewhere.
Cash Transactions
Cash transactions are certainly not prohibited, but they bring more government scrutiny, and they are now more inconvenient for certain vendors to process. If you deposit, withdraw, or make a purchase involving more than $10,000 in cash in one day, the other agency involved has to file a Currency Transaction Report (CTR) with the IRS that reports details such as your name, address, and taxpayer identification number. If you purchase over $3,000 of traveler's checks, money orders, or cashier's checks, such a transaction will also be reported to the IRS via a Monetary Instrument Log (MIL). And should you engage in any activity that indicates you may be engaged in money laundering or otherwise violating the law, your transaction may even trigger your being put on the no fly list and on the Suspicious Activity Report (SAR). The SAR will be filed without your knowledge — it is, in fact, against the law for you to be informed of the SAR as your knowledge would compromise the subsequent investigation.
If you want the Patriot Act to be repealed you should immediately write your Congressperson and express your concerns, if you and millions of others don't America's leadership in freedom and many of our own basic freedoms and liberties will be a thing of the past.
© Michael Webster
---
The views expressed by RenewAmerica columnists are their own and do not necessarily reflect the position of RenewAmerica or its affiliates.
---