Matt C. Abbott
Learning from the bizarre

By
Matt C. Abbott
February 1, 2013
If it isn't the crazy realm of politics, violence and bloodshed throughout the world (outside
and
inside the womb), celebrities being celebrities, and the clergy abuse scandal that still won't go away – including a retired West Coast cardinal who's fortunate not to be in prison and an East Coast priest who allegedly dressed up as a woman, bought a porn shop, had sexual encounters in the parish rectory, and sold large amounts of methamphetamine as part of a drug ring ... there's the bizarre story of Manti Te'o and his imaginary girlfriend.
It's been all over the news the last couple of weeks. Te'o is the now-former Notre Dame linebacker whose sob story of the girlfriend who died of leukemia turned out to be a bizarre and elaborate hoax perpetrated by an apparently homosexual young man-pretending-to-be-a-young-woman, Ronaiah Tuiasosopo.
When the story first broke, I was skeptical that Te'o could be duped to such a degree. Yet it appears that's the case, although I suppose there are still certain unanswered questions. Te'o was recently interviewed by Katie Couric, and my RenewAmerica colleague Tom O'Toole has a good analysis of the matter (
click here
to read his Jan. 28 column in its entirety):
If nothing else, the Couric-Te'o interview showed how a lie, even a seemingly small and insignificant one, often takes on a life of its own until it snowballs out of control. What started as Manti's little 'love lie'; telling his dad he met Kekua when in fact the relationship was totally over the Internet and phone, turned into Te'o telling reporters that he had met her (so as not to contradict his dad's story to the press), to telling a national TV Heisman audience that Kekua was still 'dead' after finding out she was either alive, or perhaps a hoax (as it later turned out) two days prior....

...Manti, despite his minor flaws, remains a good player with a big heart, but I think deep down he realized that Notre Dame cannot win the national championship with a hoax, for the song does not say 'What though the lie be great or small, ol' Notre Dame will win over all,' but something quite the opposite. To be successful, Notre Dame football, like Notre Dame, must always be about the Truth....

I asked former sportscaster Damian Goddard – who experienced the wrath and persecution of the homosexual lobby's sympathizers for merely tweeting in support of traditional marriage (
click here
for the story) – to comment on the Te'o saga.
Goddard said in an email:
"The whole episode is nauseating on so many different levels. On one level, it just reinforces the whole 'cult of personality' fixture sports has always been. I'm sickened that society is so apt to forget that these athletes are flawed characters, just like the rest of us.
"On another level, it also underlines the power of the mainstream media and how it manipulates with divergent distractions. Listen, I admit it's newsworthy stuff. But did you catch the discrepancy in coverage between the 'fake girlfriend' story and the 'march in support of 55 million lives lost' story? On one hand, genocide. On the other, gender-bending phone calls to a college football player. Weird. And sick."
Indeed.
So can we learn anything from this mini-soap opera? Well, yes ... at least, those of us who are single.
I asked relationship expert Anita A. Chlipala (she definitely exists; I've met her) to comment on the Te'o story as it pertains to online dating and relationships.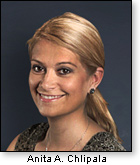 "Singles who are seeking relationships online need to verify that the people are who they say they are – and that requires in-person contact and time," Chlipala said in an email. "If Manti Te'o was not in on the hoax, it's alarming that he had a girlfriend for a year but never met her or even saw her via video contact.
"I encourage my clients to do online dating, and we discuss being cautious and patient. It takes time for patterns to develop and to see if a person's actions match their words. Communication is also non-verbal, and commonly texts or email can often get misinterpreted. Although technology helps us stay connected and can be a great tool for intimacy when people are apart from each other, it can't be the foundation of a relationship."
---
Related links:
Damian Goddard's website
Anita A. Chlipala's website
© Matt C. Abbott
---
The views expressed by RenewAmerica columnists are their own and do not necessarily reflect the position of RenewAmerica or its affiliates.
---