Matt C. Abbott
Jason Collins, Tim Tebow and the culture war

By
Matt C. Abbott
May 1, 2013
(
A version of the following column originally appeared at American Thinker
.)
Two sports stories made headlines the other day: The New York Jets released openly Christian quarterback Tim Tebow, and NBA player Jason Collins came out of the closet, making him the first openly gay professional athlete in the four major U.S. sports: basketball, football, baseball and hockey.
It's not surprising to hear of Tebow's release; he rarely played for the Jets and ended up being their third-string quarterback. I'm certainly no sports analyst, but it seems to me that he really wasn't given much of a chance in New York, especially considering that starting quarterback Mark Sanchez struggled for several games and was eventually benched.
I'd like to think Tebow's release had everything to do with his performance on the field (for the few minutes he did play) and not due to his "controversial" Christian beliefs. Call me conspiratorial, but I'm not entirely convinced that's the case.
Then we have the news that NBA player Jason Collins has announced he's gay. The mainstream media are, not surprisingly, gushing over him, even saying he's courageous for proclaiming his homosexuality to the world. But it appears that several NBA executives – speaking anonymously, of course – are far from certain that his career in the NBA will continue.
From ESPN.com
:
Of the first 14 teams reached by ESPN.com in an anonymous survey, six said they expect to see Jason Collins in the NBA next season in the wake of his revelation Monday that he is gay.

The other eight teams that expressed some measure of doubt all cited Collins' age and corresponding questions about his ability to make a productive on-court contribution as the overriding reason he wouldn't be able to find a job for his 13th season, not because of fallout from the announcement....

'The reality,' said one Western Conference executive, 'is that he's been an end-of-the-roster kind of player for the last couple years.'

But hold on. I can't imagine that these politically-correct executives don't fear the wrath of gay activists and their numerous sympathizers. You see, for them, an avowed Christian like Tim Tebow is someone they enjoy kicking to the curb. Not so for the first openly gay NBA athlete. And heaven forbid that a team takes a pass on Collins because they don't think he can play at a professional level anymore, but then some media outlet reports that an executive with said team had voiced opposition to gay marriage or ate at Chick-fil-A!
Heads would roll.
If you're going to use the word "courageous" to describe Tebow or Collins, I think it's more fitting for the avowed Christian athlete than it is for the athlete who publicly identifies himself by behavior that is contrary to the natural law but celebrated by pop-culture.
I asked two faithful priests whom I've quoted at length on past occasions in this column – Father Richard Perozich of the Diocese of San Diego and
Father James Farfaglia
of the Diocese of Corpus Christi – to comment on the Collins story.
Father Perozich wrote (slightly edited):

"I am saddened that a man would define himself by a psychosexually-delayed development that moves him to act with another man as a woman does with her husband. It is unfortunate that there is no spiritual leadership Jason has claimed in order to lead him to chastity instead of down the road toward depraved sexual acts. Prayers for his conversion and for anyone who encourages him to continue in his current state rather than to engage a mature sexuality."
Father Farfaglia wrote (slightly edited):
"The Bible, in St. Paul's Letter to the Romans, chapter 1, verses 18–32, is very clear regarding the sin of homosexuality. The causes and solutions to the present day collapse of our culture are discussed in the late Robert Bork's book
Slouching Towards Gomorrah
. Our country certainly needs a lot of prayer – and we need every Christian to live the Gospel with greater authenticity, maturity and coherence."
I also asked former NFL player Ken Hutcherson, currently senior pastor of Antioch Bible Church in Kirkland, Wash., the following questions pertaining to the Collins matter:
What are your thoughts about a professional athlete like Jason Collins announcing that he's gay? Do you think it's appropriate for someone to announce that he or she is living the homosexual lifestyle? How should committed Christians respond to such an announcement?
Pastor Hutcherson wrote (slightly edited):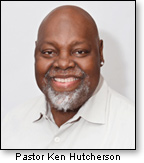 "Well, most guys may not like it, but they've been scared to say anything about it. Who cares that he's gay, except to those who have an agenda to push and who use anyone who will join. Jason is being used, and he will have a price to pay. Many guys, knowing [that he's gay], will have some thoughts about being in the shower when he's there. I would not like having a guy who likes other guys standing and looking at all the naked guys, so I think the players can act as accepting as they please, but there will be some who will not be comfortable with it.
"I think anyone should have the right to come out of the closet and announce it all they want. The problem is trying to make a statement so I have to accept it. It is now the truth that if anyone speaks against [the homosexual lifestyle and agenda], they will be the one disciplined or kicked off the team for being intolerant. Who are the intolerant ones when someone is discriminated against for their opinion or religious beliefs? They're opening a can of worms that will backfire on the professional sports world.
"What should Christians do about this? They're going to do as they have done for years. Professional sports have always had guys who live very strong secular lives that are not pleasing to the Lord. You let them know and show them the examples of a Godly life and take advantage of sharing the love and forgiveness of Christ. If Christians can't deal with sin in professional sports, there would be no Christians at all in sports."
Well said, Pastor Hutcherson!
© Matt C. Abbott
---
The views expressed by RenewAmerica columnists are their own and do not necessarily reflect the position of RenewAmerica or its affiliates.
---