Matt C. Abbott
Deathbed visions

By
Matt C. Abbott
June 18, 2016
Below is an email interview I conducted with registered nurse Kelley Jankowski, a married mother of six children and author of
An Army in Heaven
, an intriguing, touching and sometimes chilling book featuring 24 accounts of "deathbed visions of hospice patients, as well as those in a critical care setting who have died and then returned to describe their experience on the other side."

Thank you to Mrs. Jankowski for taking the time to answer my questions. Click here to order a copy of her book.
---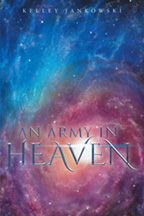 Could you give my readers an overview of your nursing background? What attracted you to Catholic hospice?
KJ
: I did cardiac critical care for many years beginning from 1984 through 2010. I loved critical care and the fast-paced, critical-thinking that was associated with it, because you had to know what you were doing in order to be able to respond quickly. Toward the end, I realized my favorite patients were the DNR patients. I felt such a connection with them because my focus was on them and not heroic interventions. To be able to facilitate their comfort and help their families work through their grief was so fulfilling.
I started actively searching for an inpatient hospice facility and found one about 25 miles away from my home. I felt drawn to this type of nursing, as it encompasses such a pivotal moment in a person's life, one that we will all face. Being in a Catholic facility provided me with the spiritual support needed to do this type of work. I would come in early and make a visit to the Blessed Sacrament and go again before I would leave. I learned very quickly that I needed that to regroup and refresh, as only God provides so generously the strength needed to do such an emotionally-draining job.
What persuaded you to write about your experiences with hospice patients? How were you able to record/recall them in such detail?
KJ
: I have kept a journal for most of my nursing career, but really did so after my encounter with "Simon." Although the chapter reads as though he told all of this to me in one meeting, I actually knew Simon for several years. His chapter was an accumulation of many encounters with him. He was the one who initially said, "Maybe you should write this down?" As with "Alan," I asked him if I could take notes, and he was more than happy to oblige.
I put together these stories after they passed, from the notes I had taken as they were in piecemeal, and I tried to make it flow together as best I could. Many times I remembered their expressions as they described in detail what they saw. The absolute awe on their faces as they remembered Jesus, and the tears that so frequently accompanied these sessions, were so incredibly touching that I sometimes wonder if I did them justice. How do you express in written language what the mind can barely comprehend?
As far as compiling this into book form, I have shared these accounts with my family for years and many times they said, "Mom, you need to write these stories down." When I shared them with my patients to explain what was waiting for them, I saw that it brought them and their families so much comfort. I felt it was finally time to put it in book form to maybe bring comfort to a larger audience going through a terminal illness, or dealing with the loss of a loved one.
Could you describe your most pleasant preternatural experience with a patient?
KJ
: Not long ago, I cared for a woman who saw angels in her room and I often heard her talking to them from the hallway. I came in one night to check her and asked her who she was talking to. She very matter-of-factly explained that several angels were in her room, one of which was her guardian. I asked her if she could see my angel. She looked up behind me, slightly to my right, and said, "Yes, I do." I asked her what he looked like and, after a pause, she said, "He looks very much like you." I found her response very interesting, and yet she never revealed what she talked to them about.
Toward the end she, too, saw Jesus, and it wasn't long after He arrived that she passed. When she saw Him, she sat up in the bed and reached into the air, but the expression on her face was surreal. So much joy, and she repeatedly said "How beautiful You are!" over and over. What a privilege to be at the bedside of the dying – an absolute privilege.
Could you describe your most unpleasant preternatural experience with a patient?
KJ
: It is very difficult to watch someone die who has no faith at all. It nearly always is a struggle and they tend to have significant terminal restlessness, or pre-death agitation. The last chapter of my book [about a patient, "Douglas," whose behavior toward the nurses caring for him was nothing short of demonic] was by far the most unpleasant spiritual experience I've encountered as a nurse.
Another man who sticks out in my memory was in his early 70s who adamantly refused anyone to enter his room who had any religious affiliation. He made sure we all knew that he didn't want "a priest, a preacher, a nun – nobody is going to talk to me about God." He couldn't stop us from praying for him though, which I think we all did. But how do you help someone who is at the end of their life and refuses God?
The only thing you can do is pray. His death was quite difficult; his agitation was so severe, very similar to "Mark," who saw Satan in the corner [of his room]. Unlike Mark, this man refused God up until the very end. I don't know what he saw at the end of his life, but it didn't look pleasant. An expression of fear swept across his face before he finally became weaker and weaker and then went unconscious. I still pray for that man after all of these years, as I believe and trust wholeheartedly in God's mercy. I am not his Judge, so you never know. Only God knows the heart of a man.
What do you think readers will appreciate most about your book?
KJ
: I hope they will appreciate the depth of the encounters that so many of my patients experience at the end. Some are life-altering; and some encounters with Jesus are so tender and loving that I hope it stirs their souls and draws them closer to, and into a deeper relationship with, God.
---
Pertinent link
:
"
Army in Heaven: nurse logged amazing, sobering deathbed accounts
"
© Matt C. Abbott
---
The views expressed by RenewAmerica columnists are their own and do not necessarily reflect the position of RenewAmerica or its affiliates.
---