Tom DeWeese
Black is black. White is white. A is A. There ain't no grey

By
Tom DeWeese
December 1, 2021
Below is an article by an associate of Tom DeWeese at the American Policy Center, Kathleen Marquardt, the Center's vice president.
It's been almost a year, and in spite of the fact that most people were watching their televisions almost non-stop on January 6 and 7, 2021, most did not understand they were watching a false flag operation. They saw what the Deep State/Globalists (DS/G) wanted them to see – an attack on the Capitol by Trump supporters. Media added the false "shootings and beating by the conservatives.
The people did see a coup happen, yet many (most) don't realize it. We were told that the actions on the 6th in the Capitol by the crowd was an insurrection. But, when the walls, barriers, fencing went up "protecting the people inside", there was silence. No explanation. That, should have signaled us that a coup had been successfully staged and achieved – by the DS/G. We The People are no longer allowed to enter; a puppet government has been put in place. Yet we hear not a word from those in place or from the people they are now controlling through their actions – us! And, because all watch MSM, most people are referring to Biden as President of the United States, and Harris as Vice President. They are not. [Read More]
____________________________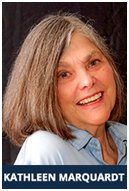 Kathleen Marquardt has been an advocate for property rights and freedom for decades. While not intending to be an activist, she has become a leader and an avid supporter of constitutional rights, promoter of civility, sound science, and reason. She is dedicated to exposing the fallacies of the radical environmental and animal rights movements. She has been featured in national publications including Fortune, People, the Washington Post, and Field and Stream, as well as television news programs such as Hard Copy, The McLaughlin Group, Geraldo, and many others. Today, she serves as Vice President of American Policy Center. Kathleen now writes and speaks on Agenda 21/2030, and its threat to our culture and our system of representative government.
CONTACT INFORMATION
Phone: (540) 341-8911
<NOSPAM>americanpolicy.org>contact@americanpolicy.org
© Tom DeWeese
---
The views expressed by RenewAmerica columnists are their own and do not necessarily reflect the position of RenewAmerica or its affiliates.
---