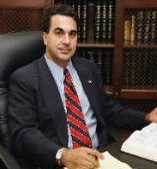 Monte Kuligowski
God's great patience with Christopher Hitchens

By
Monte Kuligowski
September 29, 2010
"I have no pleasure in the death of the wicked," says the Almighty in Ezekiel, "but that the wicked turn from his way and live."
Christopher Hitchens, the infamous British atheist (or anti-theist, as he says) who is widely known for his 2007 book "God is Not Great," made it known in advance that he would not be "participating" in the pray-for-Hitchens-day recently held by various concerned Christians.
Hitchens' health condition caused by esophageal cancer that has spread to his lymph nodes and lungs was among the reasons to have set aside a day to pray on his behalf.
Hitchens recently
told the AP
that the people praying for him fall into one of three groups. The first are those who delight in his suffering and might wish to hasten his death. The second are those who want Hitchens to have a conversion experience. And the third group consists of those who are asking God to heal him.
Hitchens naturally isn't crazy about the first group. "To hell with you who pray for me to go to hell," is his message for that group.
"Thanks but no thanks," is his retort to those "who want me to convert and recognize a divinity or deity."
Regarding the third group, Hitchens says, "It's fine by me, I think of it as a nice gesture. And it may well make them feel better, which is a good thing in itself." It's a nice gesture, sort of like saying, "God bless you," after someone sneezes.
As Hitchens experiences a heightened awareness of his weakness and the loss of all he has — himself — Christians will continue to pray. But the three separate groups, as Hitchens sees them, might just be a little simplistic.
It seems to me that Christians who set out to pray for Hitchens might find themselves in all three groups — starting in the first. They might need to ask God to help direct their thoughts from wanting Hitchens to be punished to praying for Hitchens' salvation and healing.
It's a natural response for humans to want vengeance on their enemies, especially when an enemy of a religion has worked overtime to vilify and defame that which is most sacred to its members. Though Hitchens has criticized many religions, his vile attacks against the God of the Bible are second to no others. If he had crossed the line in
blaspheming
Mohammed he most likely would be missing a head about now.
The feelings of wishing harm to one's enemies, of course, aren't limited to Muslims — the feelings are universal. With regard to the wicked and his enemies, King David, in the Psalms, asks God to "break their teeth, O God," and to "consume them in wrath, consume them, that they may not be: and let them know that God ruleth in Jacob unto the ends of the earth."
In the New Testament, James and John ask Jesus to empower them to "command fire to come down from heaven" to consume certain perceived enemies of Christ.
Jesus, of course, didn't grant their suggestion. Neither did He support Peter when he cut off the ear of the servant of the High Priest after the mob had come to take Christ away. Jesus told Peter to put away his sword and He touched and healed the man's ear. Though Christ had the power to part his enemies with a whisper and walk through them, as He had done prior, He chose a different way.
Christians who pray for Hitchens likewise must choose, against natural impulses, a different way — the way of Christ. Jesus commands His followers in Matthew to: "Love your enemies, bless them that curse you, do good to them that hate you, and pray for them which despitefully use you, and persecute you."
Perhaps the greatest evidence
in all the world
to prove to Hitchens that God lives and loves ought to be the fact that Christians pray for him. For that is no insignificant matter in context of whom Hitchens has made himself to be. No real Christian can only pray for Hitchens' physical healing. If gaining the whole world is nothing compared to the loss of one's soul, how can a Christian constrain his prayers to short-term healing? The love of Christ compels those having surrendered their hatred of God's enemy to pray for the man's eternal soul.
Grace from Christ empowers believers with compassion and the awareness that for some the wounds of this world lead to atheism. Past pain and hurt is sometimes turned into anger at God. And anger at God is sometimes turned into a religion against God. The secular war against God may well be a cathartic and consensus building outlet but it is fleeting at best and ultimately futile.
Because of the greatness of God's mercy and patience, Christopher Hitchens lives another day. And like the rest of us, so long as he has another moment he has another opportunity to receive the love and forgiveness of Christ.
© Monte Kuligowski
---
The views expressed by RenewAmerica columnists are their own and do not necessarily reflect the position of RenewAmerica or its affiliates.
---