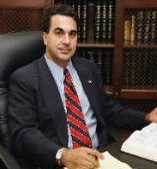 Monte Kuligowski
Barry Soetoro: the boy who would be king

By
Monte Kuligowski
November 15, 2010
President Obama recently visited "a nation that knew him as Barry," as worded by a New York Times personal interest
story
on Obama's visit to Indonesia. What we likely will not learn from the Times is why the residents of Jakarta knew Obama as Barry.
The Los Angeles Times has a
piece
out on the visit titled, "Obama says new Israeli home construction harms peace efforts." In the piece, the author surmises: "The fact that Obama once lived in Indonesia has spawned conspiracy theories that he is a closet Muslim, a public conversation his staff is not eager to fuel."
Mr. Obama's accusatory words against Israel in Indonesia are about as disconnected as the L.A. Times' use of conspiracy theory language in its story covering Obama's disconnected moment.
It's all so awkward.
Why did a nation know Obama as Barry? Why would Obama rail against Israel in his boyhood country? Why would an American newspaper run advance "conspiracy theory" protection for the mystery man?
The Obama presidency is beginning to look like a giant juxtaposition of abnormality and awkwardness. Whether he's home or abroad it never quite feels as though Obama should be representing the United States.
In his
piece
, "A Referendum on the Redeemer," Shelby Steele summarizes Obama's domestic policymaking as "grandiose, thoughtless and bullying." His foreign policy is as mysterious as Obama himself. "All this would be enough to explain the disillusionment with this president," Steele writes. "But there is also a deeper disjunction. There is an 'otherness' about Mr. Obama, the sense that he is somehow not truly American."
Steele believes that it's not so much that Obama is an "'other' so much as he is a child of the 1960s." Obama's ideology puts him "in the position of forever redeeming a fallen nation, rather than leading a great nation."
Well, I don't know that we need to catalog the "otherness" of Barry, his radical sixties ideology, the shared anti-colonialism resentment of his father, the turbulence of his childhood or any other factor in any particular order. Each piece fits together and contributes to the mystery of Barry Soetoro, aka, Barack Hussein Obama, Junior.
Mr. Obama's visit to the Islamic land of his childhood shouldn't so much spawn conspiracy theories that Obama might be a "closet Muslim," as much as it should remind us that a man with Obama's unusual background should not have become president without proper vetting. When I'm reminded of the oddness of Obama's total life and Muslim / Marxist influences it renews the outrage that such a fraud could have be perpetrated on the American people by an enraptured news media.
How many voters knew in November of 2008 that Obama was registered as a Muslim for school in Jakarta as Barry Soetoro (the surname of his Muslim step-father)? Or that young Barry studied the Quran, memorized Muslim prayers and enjoyed the Muslim call to prayer? Obama
reminisced
in 2007 that the Islamic call to prayer is "one of the prettiest sounds on earth."
That doesn't make Obama a practicing Muslim but it might explain his transparent warmness to Islam and contempt for traditional Christianity. Information from his past might help to explain why
Obama
recently could not speak against the Islamic practice of jihad when asked about it during his Indonesia visit.
Mr. Obama's class warfare politics may also be rooted in his time in Indonesia from 1967 to 1971. Thomas Lifson explains the socio-economic system in Indonesia at the relevant time period in his
piece
, "The Grudge: Barry Soetoro's Indonesian Expatriate Hell." Based on employment, Obama's family would have been "lower caste members of the Jakarta expatriate American community." Lifson argues that it was during those formative years that Obama developed his disdain for corporations and his class envy. A young Barry would have been able to contrast the upper lifestyles of those who worked for the American corporations with his own lot and with the deep poverty of the indigenous people.
A young Barry would have learned the civics of a socio-economic / political system that stood in stark contrast to the United States. Mr. Obama's Indonesia experience may well be another piece to puzzle together his apparent inability to understand the middle class of the United States.
In the New York Times piece cited above, one Jakarta playmate of Obama's, Slamet Januadi, recalls a young Barry
asking
a group of boys "whether they wanted to grow up to be president, a soldier or a businessman." Barry explained that "A president would own nothing while a soldier would possess weapons and a businessman would have money." Slamet and his brother responded that they wanted to become soldiers and another boy said he wanted to become a businessman. "Then Barry said he would become president and order the soldier to guard him and the businessman to use his money to build him something." The boys told Barry, "'You cheated. You didn't give us those details.'"
Barry is apparently rather skilled at withholding details — like the details of his life; the details of who he is; the details of his "stimulus" plan; the details of his healthcare "reform;" etc.
A statement expressing a desire to order people and confiscate wealth might flow naturally from a child in a third world country where dictatorial power is as natural as our constitutional system. And we would not be surprised to learn that such a boy would grow up to become president — just not the president of the United States of America.
© Monte Kuligowski
---
The views expressed by RenewAmerica columnists are their own and do not necessarily reflect the position of RenewAmerica or its affiliates.
---