Stephen Stone
'The fervent prayer of the righteous'

By
Stephen Stone
January 23, 2017
I understand prayer to be an
individual
expression of submission to God's will.
By that I mean: (1) prayer is a petition to God springing from the depths of the soul of
each petitioner,
notwithstanding the group setting in which many prayers are uttered; and (2) prayer is a demonstration to God that we are individually willing to do, and accept,
His will above our own,
notwithstanding that prayer is frequently a request for blessings.
What I'm emphasizing is that for God to honor our prayers, we need to do our part and make sure we —
alone
— are sincere in seeking His will, not simply relying on others to pray on our behalf; we also need to make sure it is His will,
not necessarily our own,
that we are seeking in the first place.
The model for prayer appears in the Sermon on the Mount, in
Matt. 6:9-13
:
After this manner therefore pray ye: Our Father which art in heaven, Hallowed be thy name.

Thy kingdom come. Thy will be done in earth, as it is in heaven.

Give us this day our daily bread.

And forgive us our debts, as we forgive our debtors.

And lead us not into temptation, but deliver us from evil: For thine is the kingdom, and the power, and the glory, for ever. Amen.

(It's important to keep in mind that in the verse just before this prayer, Jesus says that "your Father knoweth what things ye have need of, before ye ask him" — see
verse 8
.)
As we analyze the "Lord's Prayer" thoughtfully, we notice that the most fundamental thing we are to pray for is that "God's will be done here on earth as it is in heaven." In other words, to pray as we ought, we must want
this mortal life
to conform, as much as we are able, to the
divine pattern for righteousness decreed in the heavens,
at least as far as our own conduct and influence are concerned, as we understand that divine pattern from God's word.
Put another way, we must want to help create a "heaven on earth" (beginning with our own example), realizing that the only alternative is to cooperate in building its opposite — either by default or complicity.
The next most important thing to pray for is our daily material support from God's hand, realizing that He is fully capable of supplying all our need (as Jesus emphasizes in the last part of the same chapter,
Matt. 6:24-34
), provided we rely on Him in childlike faith:
But seek ye first the kingdom of God, and his righteousness; and all these things shall be added unto you. (Matt. 6:33, italics added)

The next thing to pray for is charity — the predisposition to treat others as we would want to be treated, being generous with our substance (as well as, presumably, with our time and talents) to those we encounter around us. (See
Luke 10:25-37
.)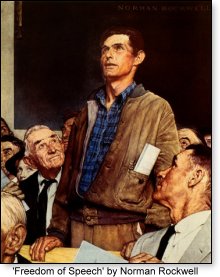 And finally, we are to pray for God's help in avoiding doing that which is evil or displeasing to Him. We must pray for His tutoring and guidance as we seek His sanctification, allowing Him to remake our character and behavior in His own image.
The hallmark of spiritual maturity, and hence of willingness to submit to God, is to be "
spiritually born of Him
," by the miraculous power of the Holy Ghost. We might therefore rightly assume that the key to
praying as we ought
is to be sincerely converted to Christ, and thus transformed by His Spirit into a "new creature" (
2 Cor. 5:17-21
) who has taken upon us "the divine nature" (
2 Pet. 1:2-4
), so our prayers are efficacious and so we are not prone to "ask amiss" (
James 4:3
).
Hence our title, taken from
James 5:16
:
The effectual fervent prayer of a righteous man availeth much. (emphasis added)

Paradoxically, of course,
the more sincerely we pray as we ought at any point in our lives
— no matter where we are spiritually in God's estimation — the more we make it possible for Him to bring about our true conversion, and thus spiritual rebirth, if we have yet to attain it, as well as His blessings in any particular.
If we sincerely "knock," He will "open the door." (See
Matt. 7:7-11
.)
In either case, the central principle of salvation is the sincerity of our prayers, and the degree to which God accepts the feeble offering of our will in subordination to His as He seeks to bless us both spiritually and materially, knowing beforehand what we need.
Which brings us to the crucial matter at hand...
All this comes to the forefront in the battle to reclaim our country from the "fundamental transformation" masterfully engineered — with disturbing success — by Barack Obama and his administration during the past eight years. That battle to correct now-deeply entrenched error will not be won quickly or easily, despite hopeful signs that America is now headed in a much better direction than it was under the "Obama/Clinton/media axis," the popular repudiation of which we have, thankfully, just witnessed.
After all the grassroots activism by so many patriotic Americans (led by stalwart, if imperfect, voices of reason) to spare our country from unthinkable disintegration and calamity in recent years, it's vital that each of us make sure
we
are doing the single most important thing needed for our nation to survive in liberty:
praying as Christ prayed.
It's not enough to rely on political action alone in so important a cause, vital as such action may be. It's also not enough to rely on the exemplary, skilled efforts of standout patriots among us. Nor is it enough to depend on the prayers or religious efforts of others. If our country is to survive, God requires our own
individual faithfulness
— as shown by our righteous life, the sincerity of our supplications for deliverance, our commitment to overcome — through Him — our lapses and weaknesses, and above all, our submission to His will, no matter the outcome, as we seek to supplant evil with good, as He defines such things scripturally.
As America's future still hangs in the balance right now,
we need to humbly pray to God with all our might for His deliverance,
while we do all within our power to conform our life to His scriptural pattern of righteousness and faith.
Our most important duty as citizens of this divinely-endowed nation is to live in harmony with God's will, not our own.
Prayer
is the way we tell God we are ready for His "will to be done, in earth as it is in heaven."

© Friberg Fine Art
Revised and updated January 23, 2017, from an article published September 30, 2013, by Stephen Stone.
© Stephen Stone