Stone Washington
Now go, go and take America!

By
Stone Washington
July 12, 2013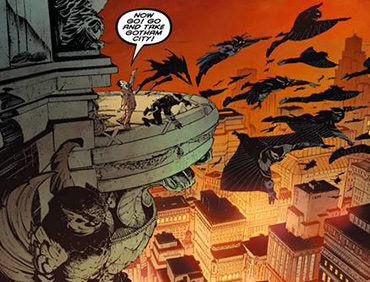 "Beware The Court of Owls that watches all the time, Ruling Gotham from a shadow perch, behind granite and lime.

They watch you at your hearth, they watch you in your bed, Speak not a whispered word of them, or they'll send the Talon for your head."
~The Court of Owls proverb
Prologue
Since my first Halloween costume at age 4, I have had a healthy obsession with Batman. I've just finished reading the epic book, "Batman the Court of Owls, Vol. I" – where the Dark Knight is unremittingly assaulted by a secret society – an evil cabal known as the Court of Owls. Since the time of Bruce Wayne's great-grandfather in the late 1800s, these unwelcomed squatters have secretly hidden themselves inside the thirteenth floor of Wayne Enterprises – a floor that doesn't exist. This covert cabal of men and women has ruled Gotham for centuries, even before the city's existence... from the shadows. As I read this book, I couldn't escape the historical irony that this story of Batman is not so different from the current political narrative of our country...the many, secret enemies of the United States of America.
Batman vs. The Court of Owls
The story begins with Batman narrating to the readers of the Gotham City newspaper, the "Gotham Gazette." Batman is dealing with a major prison break and is in the midst of fighting many of the super villains he locked up inside Arkham Asylum. The Dark Knight explains how most people define Gotham City, a city modeled after the colossal New York City. Here, metaphor predominates as the super-villains terrorize Gotham – "Gotham is Two-Face," meaning Gotham is a city at odds with itself." "Gotham is Killer Croc," meaning the city is little more than a cannibalistic monster.
However, I must pose two essential questions to my readers –
What
do you think America is?
Who
do you think America is?
Later on in the story Batman is trying to solve a murder mystery that revolves around an unknown assassin targeting Bruce Wayne (Batman's alter ego). After Wayne gives a keynote speech on his new Gotham City initiative for building futuristic city, he meets mayoral candidate, Lincoln March who needs Wayne's vote in exchange for taking part in the investments towards Wayne's initiative. The two have a private meeting at the old Wayne Tower the next day. Their conversation is customary and friendly, until Lincoln March warns Bruce that it is especially crucial that the two befriend each other now that "something bad has come back to Gotham, something ancient and powerful... and evil," March explains.
Suddenly the Talon, with lightning speed, overcomes several security guards and fatally wounds Lincoln March while seriously injuring Bruce Wayne. After Wayne counterattacks with multiple martial arts kicks and punches the assassin kicks him out the window and continues to attack Wayne as they plummet off the tallest building in Gotham City. It appears that Bruce Wayne will die instantly, as he is unable to grab onto any of the twelve concrete gargoyles that protect the tower. Yet, as he's falling he catches onto a secret "thirteenth gargoyle," while the assassin continues his fall smashing into a car below, ending the killer's life... or so it seems. Yet soon the assassin resurrects himself back to life!
After some extensive investigation Batman realizes that the assassin that attacked him was a "Talon" assassin, a metaphysical entity that can regenerate himself at will due to a potent serum flowing through his blood created by the Court of Owls. The Court has no home other than what it steals from others for it secretly invaded multiple underground rooms in buildings owned by Wayne Enterprises and infested it with Talon assassins waiting to strike at the heart of Gotham City. Batman uncovers multiple portraits of the Court of Owls members dating back to 1891 and as early as 2006. Right when Batman uncovers one of the newer Wayne Enterprises buildings, it explodes, sending Batman into a chaotic fiery blast barely surviving. Later in the story Bruce recounts his first attempt at solving a mystery and his first failure, learning a very valuable lesson: never let your emotions guide you on a case. Batman then sets out for the sewer tunnels to solve the mystery of how his Great-great grandfather, Alan Wayne, mysteriously died and his corpse was uncovered in the very same tunnels. But Batman is suddenly ambushed by Talon who shoves the Dark Knight through a tunnel wall causing him to descend far down into a deep dark abyss.
Enter the Labyrinth
Batman awakes to find some of the Court of Owls members on a large TV screen, silent, stoic, welcoming Batman to the Labyrinth. Like Homer's Odysseus in the Underworld, for eight days Batman journeys through a never ending maze, remaining in his element: the darkness, until Batman is exposed to the light that surrounds him and a large owl fountain. After drinking from the water the fountain provides, Batman journeys through some very strange rooms consisting of, a room with a miniature scale model of Gotham City, containing a tablet of multiple Gotham residents, and a room full of dozens of red coffins, revealing one of the coffins to be open, and finally a room with multiple pictures of different people, showing them regressing into a greater state of insanity for each new picture. Suddenly we see that Batman is also descending into a condition of madness as he hallucinates about his appearance (he views himself as an owl); yet he still refuses to acknowledge the Court of Owl's existence... until.... He is suddenly impaled from behind with a blade by means of the Talon.
The Talon then holds Batman up like a trophy to the dozens of chanting Court of Owls perched silent with that dead-eyed stare. Following the Court's demands, the Talon viciously pummels Batman with multiple punches and kicks until he smashes him through a wall, leaving the Dark Knight paralyzed in pain and exhaustion. The Court immediately surrounds Batman and picks at him with their claws. Surely Batman is doomed now? As they carry him to his death, Batman notices a picture of his deceased great-great grandfather and sympathizes for his ancestor, who was in fact assassinated by the Court.
At this critical moment, Batman renews his strength and in a miraculous burst of rage Batman rises up and charges at Talon, scaring off all the Court of Owls. In the final showdown Batman completely clobbers the Talon. He kicks, punches, and smashes the powerful assassin through a wall with apparent ease, crushing him for good. Batman then creates a small bomb which allows his escape from the Court of Owl's endless labyrinth. In the aftermath of Batman's escape, the sinister Court awakens all their other Talon assassins who lie dormant for decades, centuries within each of the red coffins, until this critical moment when their leader now unleashes them upon Gotham City –
Now Go! Go, and take Gotham City!
Batman has passed the test of the Ages. He has conquered his fearsome foes, his secret enemies that have plagued him, his family and his city for generations by refusing no longer to play the victim, but triumphing as the victor!
Epilogue
Here are several lessons America must learn from Batman's eternal battles between good and evil, against unwanted squatters, and secret enemies like the Court of Owls. It is a tragic story with obvious parallels and situations tormenting American society today. Batman represents the modern day Conservative hero of ages past – the Founding Fathers, Lincoln, Frederick Douglass, Booker T. Washington, Sen. Joe McCarthy, Margaret Thatcher, Reagan, Mark Levin, Laura Ingraham – the lone man in the arena who battles against legions of secret, hidden evil forces America has had to face since 1607 when the Pilgrims arrived to these majestic shores of Jamestown, Virginia. The Conservative hero faces two challenges – To uphold the eternal ideals of America's Republic, while trying to overcome the many weaknesses of human nature that likes to compromise with evil.
Commissioner Gordon (the head of the Gotham City police department) represents the U.S government, a social contract with the people that was supposed to protect America from harm, yet often fails due to entrenched corruption and deception. For example, America's enemies of both political parties have made our southern border with Mexico porous, weak and dangerous. Congress, our legislative branch and "Two-Face" politicians want to destroy our immigration laws and immediately legalize 30 million Mexicans which will deconstruct America.
The Talon assassins represent radical Muslim terrorism enemies within who like mercenaries historically have sought to undermine America and her essential institutions, living in the shadows, working night and day to conquer America's spirit and enact societal chaos. The labyrinth Batman was trapped in represents a maze that everyone under the Democrat Party promotes, a leviathan bureaucracy with many tentacles, an endless maze of confusion, lies and distorted truths that the Left, socialists, liberals, atheists falsely promises people.
Finally, the Court of Owls, who control the chaos from the shadows; they secretly integrate themselves within other people's homes and pervert, twist and crumble prime capitals of America such as Gotham. In real life the Court of Owls represents the Democratic Party, the bureaucrats in Washington who devastate America from within and systematically direct the mayhem that occurs throughout the country, Detroit (next door to where I live being a prime example of a once great city destroyed by leftist policies. America, we must learn the lesson of history lest as philosopher Santayana warned, we will repeat it. America, we must learn from Batman and the Court of Owls – Do not fall victim to the socialists, progressives and liberals never-ending manipulation and class warfare. Do not become a Talon assassin, for if you do your only purpose will be wittingly or unwittingly bringing about the downfall of America.
© Stone Washington
---
The views expressed by RenewAmerica columnists are their own and do not necessarily reflect the position of RenewAmerica or its affiliates.
---