Harold Witkov
President Obama or Boss Bela Oxmyx?

By
Harold Witkov
July 10, 2009
Imagine you are in a spaceship landing on a strange distant planet and you find its population ruled by mob bosses who mirror Chicago's Al Capone. This is exactly what happened (Episode 46) to Star Trek's Captain Kirk of the USS Enterprise when he beamed down onto Iotia II and discovered a society with Tommy gun hits, kidnappings, "cement overshoes," and a punk kid demanding "a piece of the action." This gangster mentality throughout the entire planet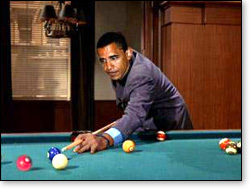 all came about because many years earlier the Federation Spaceship Horizon landed on Iotia II at a time when the planet's population was becoming mechanized. One of Horizon's crewmembers inadvertently left a personal book behind (
Chicago Mobs of the Twenties
), prior to Horizon's departure from the planet, and the Iotians, known for their imitative ways, adopted the book as their (Machiavellian) bible. All this was verified a century later when Kirk, Spock and McCoy beamed down on Iotia II from the Enterprise and found a world full of gangster types running the planet, including the most powerful mob boss of all, Bela Oxmyx.
Chicago, Illinois, has always been the city that works (if you know how to work it). In many ways, the Chicago of today has not changed from the past. In Chicago, it is often difficult telling apart the politicians from the criminals. Council members wear wires, tote guns, have gangster nicknames and often end up serving time. One Governor is already in the penitentiary and another is probably going to join him in the near future. Chicago is strictly a one party town (that rubbed out Republicans from its turf long ago).
Now imagine you are from a highly advanced planet and you beam down, from your spaceship, upon planet Earth's surface in the present-day capital city of the United States, Washington D.C. There you find a population ruled by a crime boss from Chicago. Now imagine that this Bela Oxmyx-type boss brought his syndicate with him, including a delightful assortment of hacks, thugs and tax cheats. Imagine these mobsters taking over the banks, running the car industry, printing their own money, and doing away with the Republicans, making it a one party town. What would you do?
I know what I would do. I would take out my communicator and say, "Beam me up Scotty. There's no intelligent life down here."
© Harold Witkov
---
The views expressed by RenewAmerica columnists are their own and do not necessarily reflect the position of RenewAmerica or its affiliates.
---