Anita Crane
'October Baby' could be a life saver

By
Anita Crane
September 18, 2012
Americans are flocking to independent films in this year of 2012. One of these indies, "October Baby" with John Schneider, is now on DVD and very timely as Catholics and others prepare to vote on November 6. In fact, this movie will always be timely for women, men and teens who think they're experiencing a crisis pregnancy.
"October Baby" is a believable coming-of-age love story by brothers Jon and Andy Erwin, who were influenced by the Catholic Church.
"We were raised Christian, we're Protestant, both of us go to more of a Baptist-affiliated church," said Andy Erwin.
"But in our film, one of the beautiful scenes happens in a cathedral and that was intentional because of the beauty of the historical church — how that set it in a much grander context than we could have anywhere else; but, secondly, because I've always admired the amazing leadership that the Catholic Church has had, especially on life issues. I think they've championed the cause of life in such a beautiful way that I have a deep respect for that."
In its own way, this non-political movie gently dispels the Democrats' false propaganda of a "war" on women by putting a human face — a young woman's face — on the right to life. In its own way, "October Baby" appeals to young adults and older generations. And in its own way, the film refreshingly shows what it means to be a good man through the characters played by John Schneider and Jason Burkey.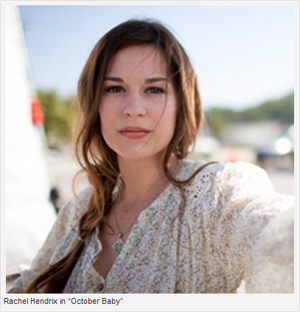 Rachel Hendrix stars as Hannah, a 19-year-old college freshman who steps onstage for her theatrical debut. Before Hannah can utter her first lines, she collapses and goes into convulsions — stunning the audience, including her parents, played by John Schneider and Jennifer Price.
After medical tests, all signs point to one underlying factor: Hannah's difficult birth. To Hannah's shock, she finds out she was adopted after a failed abortion attempt.
Hannah feels somewhat betrayed by her adoptive and biological parents, so she turns to her lifelong friend Jason (Burkey), who takes her on a spring break road trip with some quirky characters (including Chris Sligh as Bmac). Jason helps Hannah to find her birth mother (Shari Rigby) and, along the way, Hannah meets Mary (Jasmine Guy), a nurse who reveals why Hannah's life is more significant than she could have imagined.
"October Baby" was inspired by abortion survivor and speaker Gianna Jessen, whom Jon heard at a pro-life banquet. Due to the attempt on her life, Jessen suffers seizures but joyfully calls her disability "the gift of cerebral palsy."
Considering the fact
at least
55.5 million babies have been aborted in America since the Supreme Court's ruling on Roe v. Wade, it's very likely Christians know a post-abortive mother or father who secretly grieves. It's likely post-abortive parents sit in the pews of our parishes or, worse yet, shy away from the sacraments because they think they're unworthy of forgiveness. Still other Catholics, non-Catholic Christians or irreligious neighbors and friends may be preparing to have their unborn children aborted.
"Now that the film has been made, it's not what people expect," Andy explained. "But in the initial development stages, people told us 'Don't touch this story. This is too risky. Move on to something safe for your first film.' We thought about it, but this one just so grabbed our hearts, we had to tell this story whether it was risky or not."
Hendrix was surprised by audience reactions. She said: "I agreed to take the part in the film before I knew what it was about. With the story being so great, I would have been crazy not to take it.
"Now, after the encounters I've been having with people, I'm blown away because I didn't know 'October Baby' would have such power. It's immediate after the film. Usually two or three women come to me, and a man goes to Jon the director or Jason the actor. And they say, 'Let me tell you what this film did for me.'"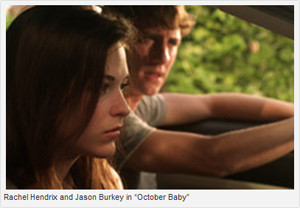 "What I liked about the script is that it wasn't preachy," said Jason Burkey. "As we've been doing screenings and more and more people are seeing the film, we're hearing stories of people who are really actually being healed by watching this film because it relates to their life in some way, to abortion in some way, because it's kind of forcing them to face these secrets they've held all their lives."
In 2008, many American voters ignored Barack Obama's aggressive abortion campaigns. As an Illinois lawmaker, he rejected bills to save innocent little abortion survivors. As president running for re-election, his abortion agenda is full-scale. In addition to his unconstitutional orders demanding all organizations to cover abortion-inducing drugs, he produced a
White House commercial for the abortion chain Planned Parenthood
and issued a 2012 Democratic Party platform promising free abortions.
The Erwin brothers made "October Baby" because they believe all Christians can and must unite in the noble cause of protecting the fundamental human right to life.
"As Protestants and Catholics, are there places and times to discuss differences?" asked Andy. "Sure, that's fine. But there are things that we can unite over and come together as Christians and this is definitely one of those."
In addition to Hannah's love story, the "October Baby" DVD features brief interviews with real people such as abortion survivor Jessen, post-abortive mother Pat Layton, and others offering their personal testimonies on the beauty of every human life, even in cases of disability and terminal illness. It's available from
the American Family Association
, who financed the film in part.
© Anita Crane
---
The views expressed by RenewAmerica columnists are their own and do not necessarily reflect the position of RenewAmerica or its affiliates.
---