Anita Crane
President Obama alleges that Pope Francis supports Planned Parenthood

By
Anita Crane
September 27, 2015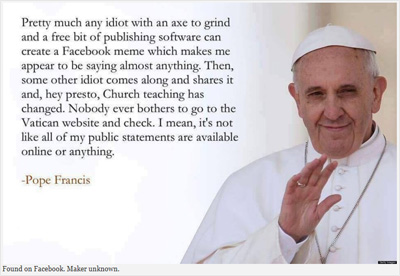 Pope Francis – or Papa Francisco, as I like to call him in his native language – has been the top news story all week. After cordial publicity with the Holy Father, President Barack Obama is therefore deceptively trying to use him to fund Planned Parenthood. I sent this news to the Holy Father care of Archbishop Charles Chaput and I hope Papa will respond publicly to the president's statement. Given all his events in Philadelphia, given the thousands of people he is meeting, it's unlikely he will address this matter immediately.
Papa Francisco has come to the United States of America at a very dramatic time in our nation's history. If Catholics ever needed the Vicar of Christ, it is now. We are 25 percent of the U.S. population and we could have a huge impact on securing human rights, but we are a dysfunctional family and it complicates our strategy in fending off government attacks against the Church and vulnerable persons, especially unborn baby Americans.
Catholic doctrines on the fundamental human right to life and matrimony will never change. In his speeches to Congress and the United Nations, Papa Francisco spoke about the human rights to life, liberty and the pursuit of happiness. Some Catholics are disappointed about those speeches because they wanted an explicit call about everyone's duty to defend human rights. I confess that even I wish that Holy Father was more explicit in his address to Congress.
Now, I don't know whether President Obama is deluded or shameless, but his rhetoric is disturbing.
Yesterday, at a joint media conference with Chinese President Xi Jinping, Obama was questioned about House Speaker John Boehner's resignation from Congress and past Republican efforts to defund the criminal abortion chain Planned Parenthood. Please see Obama's full response in the video clip. It is dangerous propaganda.
In part, Obama said: "We'll continue to have significant fights around issues like Planned Parenthood and significant fights around issues like immigration, but perhaps the visit by the Holy Father to Congress may have changed hearts and minds.
"I know that Speaker Boehner was deeply moved by his encounter with Pope Francis. I want to congratulate him, by the way, on facilitating that historic visit. I know it meant a lot to John and his family. And I would just ask members to really reflect on what His Holiness said, not in the particulars, but in the general problem that we should be open to each other, we should not demonize each other, we should not assume that we have a monopoly on the truth or on what's right, that we listen to each other and show each other respect and that we show regard for the most vulnerable in our society. It's not a particularly political message but I think it's a good one at a moment when in our politics so often the only way you get on the news is if you're really rude or you say really obnoxious things to people or you – other people's point of views are demonic and evil and leave no room at all for the possibilities of compromise.
"I'd like to think that that spirit will continue to permeate Washington for some time to come and I know that in his heart that's who John Boehner was. It was sometimes hard to execute but as I said, he was a good man and a reasonable man and he's going to be around for a while. And I hope that we can get things done before he steps down."
Here is a key excerpt from the Holy Father's
September 25 address to the United Nations
:
As I wrote in my letter to the Secretary-General of the United Nations on 9 August 2014, "the most basic understanding of human dignity compels the international community, particularly through the norms and mechanisms of international law, to do all that it can to stop and to prevent further systematic violence against ethnic and religious minorities" and to protect innocent peoples.
Along the same lines I would mention another kind of conflict which is not always so open, yet is silently killing millions of people. Another kind of war experienced by many of our societies as a result of the narcotics trade. A war which is taken for granted and poorly fought. Drug trafficking is by its very nature accompanied by trafficking in persons, money laundering, the arms trade, child exploitation and other forms of corruption. A corruption which has penetrated to different levels of social, political, military, artistic and religious life, and, in many cases, has given rise to a parallel structure which threatens the credibility of our institutions.
I began this speech recalling the visits of my predecessors. I would hope that my words will be taken above all as a continuation of the final words of the address of Pope Paul VI; although spoken almost exactly fifty years ago, they remain ever timely. "The hour has come when a pause, a moment of recollection, reflection, even of prayer, is absolutely needed so that we may think back over our common origin, our history, our common destiny. The appeal to the moral conscience of man has never been as necessary as it is today... For the danger comes neither from progress nor from science; if these are used well, they can help to solve a great number of the serious problems besetting mankind (Address to the United Nations Organization, 4 October 1965). Among other things, human genius, well applied, will surely help to meet the grave challenges of ecological deterioration and of exclusion. As Paul VI said: "The real danger comes from man, who has at his disposal ever more powerful instruments that are as well fitted to bring about ruin as they are to achieve lofty conquests."
The common home of all men and women must continue to rise on the foundations of a right understanding of universal fraternity and respect for the sacredness of every human life, of every man and every woman, the poor, the elderly, children, the infirm, the unborn, the unemployed, the abandoned, those considered disposable because they are only considered as part of a statistic. This common home of all men and women must also be built on the understanding of a certain sacredness of created nature.
Such understanding and respect call for a higher degree of wisdom, one which accepts transcendence, rejects the creation of an all-powerful élite, and recognizes that the full meaning of individual and collective life is found in selfless service to others and in the sage and respectful use of creation for the common good. To repeat the words of Paul VI, "the edifice of modern civilization has to be built on spiritual principles, for they are the only ones capable not only of supporting it, but of shedding light on it."
© Anita Crane
---
The views expressed by RenewAmerica columnists are their own and do not necessarily reflect the position of RenewAmerica or its affiliates.
---