Gabriel Garnica
Beyonce inauguration lip sync is a familiar Obama tune

By
Gabriel Garnica
January 24, 2013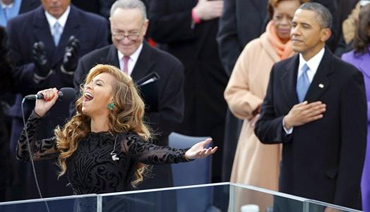 The first family handpicked their close friend, megastar Beyonce, to sing the National Anthem at President Obama's inauguration because they must have felt that she would accurately and powerfully convey the message which the returning Administration wanted to convey to the millions watching. As it turns out, she did just that.
The news that Beyonce's dazzling rendition of the National Anthem at President Obama's inauguration was a total fake, a well-orchestrated and choreographed acting job, was a crystallization of the Obama Administration from day one and, likely, from way before that.
As millions watched in awe, The Marine Corps Band acted as if they were blowing on wind instruments and horns and banging on drums while Beyonce very emphatically acted as if she was belting out the anthem as Whitney Houston did at the Super Bowl during the Persian Gulf war in 1991. All of this before a massive crowd at the National Mall which included numerous dignitaries as well as a worldwide television audience, all oblivious to the deception they were being fed as reality. Sound familiar?
Marine Capt. Gregory Wolf said that there "was no opportunity...to rehearse with the Marine Band before the Inauguration, so it was determined that a live performance by the band was ill-advised for such a high-profile event." In other words, Beyonce did not prepare adequately and decided to fake it so as to not look foolish in front of millions. Interestingly, fellow performers Kelly Clarkson and James Taylor had no trouble singing on the same stage, dispelling any notion that the weather conditions or technical issues forced the decision. If she wanted to dazzle the world as Whitney Houston did so long ago, she seemed to have forgotten that Houston prepared well in advance for her classic rendition.
The disclosure that Beyonce was faking it stunned Obama-administration insiders and inauguration planners, and resulted in a flurry of finger-pointing, with White House people refusing to comment and referring all questions to the Presidential Inauguration Committee and Sen. Charles Schumer, the inauguration's master of ceremonies, who likewise refused to comment and referred all questions to Beyonce's people. People pretending to be sincere while hiding ignorance and a lack of preparation and then passing the buck. I guess you can call it Benghazi meets Milli Vanilli.
This is the same Beyonce whom Obama once said "could not be a better role model for my girls....She carries herself with such class and poise and has so much talent." This is the same Beyonce that has been often accused of
stealing
other dancers' choreography
repeatedly
and then pretending that the work is her own creation. I once met a professional dancer who complained that Beyonce's stealing of other people's work without giving them any credit is fairly well documented in the artistic world. She is obviously very talented, and does not need to pretend, so why does she continue this nasty habit of faking things? Perhaps it is simply because she has learned that she can get away with it. Does not sound like a great role model to me, much less the actions of someone with class or poise. Perhaps she needs to associate with better role models herself.
On Monday, January 21, 2013, a returning Administration pretended to be non-partisan as it delivered a subtle, yet stinging proclamation of its agenda and priorities, including its unmatched support of abortion. Its hand-picked singer pretended to sing as the band pretended to play. Its leader spoke of life, liberty, dignity, and respect while pretending that these promises did not apply to the unborn. The Administration's pet media fawned and swooned at his every word while pretending not to notice that this king has not worn clothes in a very long time.
Just four days later, in that same National Mall area, thousands of pro-life marchers will brave freezing temperatures and rough weather to stand up for and defend those very same unborn, and they will not be pretending, unlike that media, which will be pretending once again that these marchers are any combination of crazy, dangerous, stupid, or invisible. Defenders marching for the very same truth that pretenders ignored just a few days earlier at the very same spot. Voices for the voiceless in the shadows of pretenders for the oblivious. Sounds like Beyonce's fictional performance hit just the right note for just the right occasion.
© Gabriel Garnica
---
The views expressed by RenewAmerica columnists are their own and do not necessarily reflect the position of RenewAmerica or its affiliates.
---