Fred Gielow
Whatever happened to Freedom21?

By
Fred Gielow
December 27, 2012
With the death in May 2012 of Henry Lamb, founder of Freedom21, what is to become of the organization Henry worked so diligently to create?
The Freedom21 board of directors has been considering for some while how best to attend to Henry's educational materials, CDs, DVDs, books, and other writings. Now, the board is pleased to announce: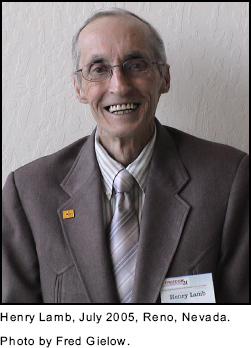 The Freedom21 website (
Freedom21.org
) and its contents will remain in existence and be administered by NCCS (National Center for Constitutional Studies), under the direction of Jeremy Nelson. Everyone agrees Henry's writings must be preserved and made available to the public.
The
Freedom.org
website remains in possession of the Lamb family, and its disposition will be a family matter. Those who presently use Freedom.org for their email will find it necessary to make other arrangements for an email address.
The
Sovereignty.org
website will be transferred to Michael Coffman, who has agreed to maintain it and its contents.
The
Repeal17Now.org
website has been transferred to Bert and Kathy Smith in Utah and will continue to be used to promote the repeal of the 17th Amendment to the U.S. Constitution.
Various books, pamphlets, CDs, and DVDs presently available at the Freedom Store (
Freedom21.org/ Store/FreedomStore.html
) will soon be shipped from the Tennessee warehouse to NCCS. From that point forward, NCCS will process and ship all orders.
Throughout this reorganization process, the guiding principles have been to honor Henry Lamb's work, make available access to it, and remain true to Freedom21's mission (see above). A special thank you is due the Lamb family for its cooperation and willingness to spend long hours working through the vastness of Henry's legacy.
Members of the Freedom21 Board of Directors include Norman Davis, Fred Gielow, Howard Hutchinson, Irene Lamb, Ronnie Merritt, Michael Oberndorf, and Bert and Kathy Smith. Howard Hutchinson serves as chairman.
© Fred Gielow
---
The views expressed by RenewAmerica columnists are their own and do not necessarily reflect the position of RenewAmerica or its affiliates.
---