Eric Giunta
Tea partiers celebrate victories, say Romney/Ryan ticket was too moderate

By
Eric Giunta
November 9, 2012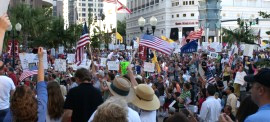 While some are arguing Tuesday night's election returns signaled a repudiation of the conservative "tea party" wave that swept the nation in the years immediately following the 2008 election, leaders and insiders within the movement insist they're not going away anytime soon.
"The phrase 'tea party' became a catch-all term for a lot of different things; but if you look at the liberty movement, the one started by Congressman Ron Paul in 2007/2008, we're seeing more excitement than ever," Matthew Hawes, vice president of Campaign for Liberty, a libertarian political organization founded by Paul, told Sunshine State News. "We're seeing a lot of progress."
While Republicans failed to retake the White House or the Senate, and several of their members in the House of Representatives lost their seats to Democratic challengers, there may be some basis to Hawes' optimism.
Of the 87 Republican freshmen congressmen who rode the tea party wave in 2010, just nine lost their new seats Tuesday. Of the 55 members of the House's official "Tea Party Caucus" who ran for re-election, at least 51 did so successfully.
Likewise, the libertarian conservatism represented by the likes of soon-to-retire Texas congressman Ron Paul saw several victories. Of the 17 House and Senate candidates endorsed by Paul, 12 of them were elected or re-elected, including Senate newcomer Ted Cruz of Texas and House newcomer Ted Yoho of North Central Florida.
Indeed, Hawes suggests that Republican nominee Mitt Romney failed so miserably in his presidential bid precisely because his platform and persona did not align with the tea party, and so did not present a credible alternative to what the Democrats had to offer. . . .
Catch the rest of the story at
Sunshine State News
!
© Eric Giunta
---
The views expressed by RenewAmerica columnists are their own and do not necessarily reflect the position of RenewAmerica or its affiliates.
---